Toronto Maple Leafs defenseman Rasmus Sandin is a restricted free agent who currently does not have a contract for this upcoming season. From all accounts there has not been much ground gained between Maple Leafs general manager (GM) Kyle Dubas and Sandin's representatives. Trading the young defenseman appears much more likely than ever before.

Sandin's agent Lewis Cross recently told Sportsnet's Luke Fox that contract talks were going nowhere. It is a sad sight for Leafs Nation as the young defenseman was supposed to be a cornerstone piece for the organization who drafted him in the first round, 29th overall, in 2018. With Toronto having Morgan Rielly, Jake Muzzin and Mark Giordano penciled in on the left side of the blue line for at least the next two seasons, Sandin is likely looking at the team's depth chart wondering where he fits in.
Related: Maple Leafs Should Target 3 Remaining Free Agents
If Toronto isn't going to play Sandin on a regular basis and kick-start his development, a trade should be explored. Here are three targets the Maple Leafs should consider should they be committed to moving their young defenseman.
Barrett Hayton, Arizona Coyotes
A former Sault St. Marie Greyhound traded for a former Sault St. Marie Greyhound, this trade has Dubas' written all over it. Arizona Coyotes forward Barrett Hayton should be a target of the Maple Leafs should they decide to move Sandin. He's 22, and like Sandin, has under 100 games of NHL experience under his belt, and currently sits without a contract for the 2022-23 season.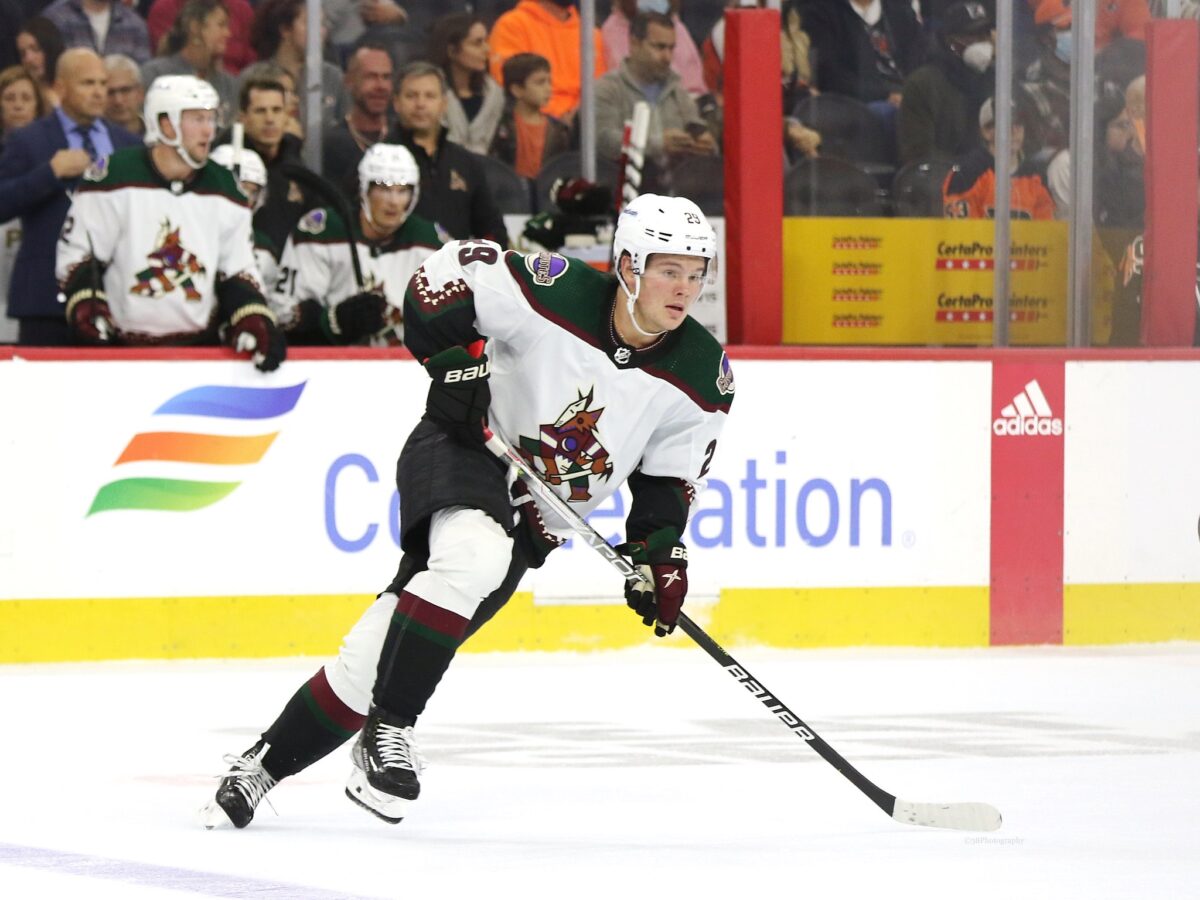 Hayton appeared in 60 games last season, recording 10 goals and 24 points. He projects to be a top-six forward who can contribute in all situations and played mostly center last season in the desert.
Would a 1-for-1, Sandin for Hayton, swap be something the Coyotes are interested in? Likely not, but they're expected to move defenseman Jakob Chychrun before the start of the season and could have a huge hole to fill, one Sandin could help replace. Dubas has enough when it comes to prospects to include, so if the team is serious about moving on from Sandin, they should be serious about paying for the type of player who will have an impact in Toronto for years to come.
Ryan McLeod, Edmonton Oilers
Ryan McLeod was drafted 11 spots after Sandin in 2018 and the Edmonton Oilers forward is someone the Maple Leafs should consider if a trade materializes. McLeod showed a lot of promise last season and could fit in nicely in Toronto, a team the Mississauga, Ontario, native is very familiar with.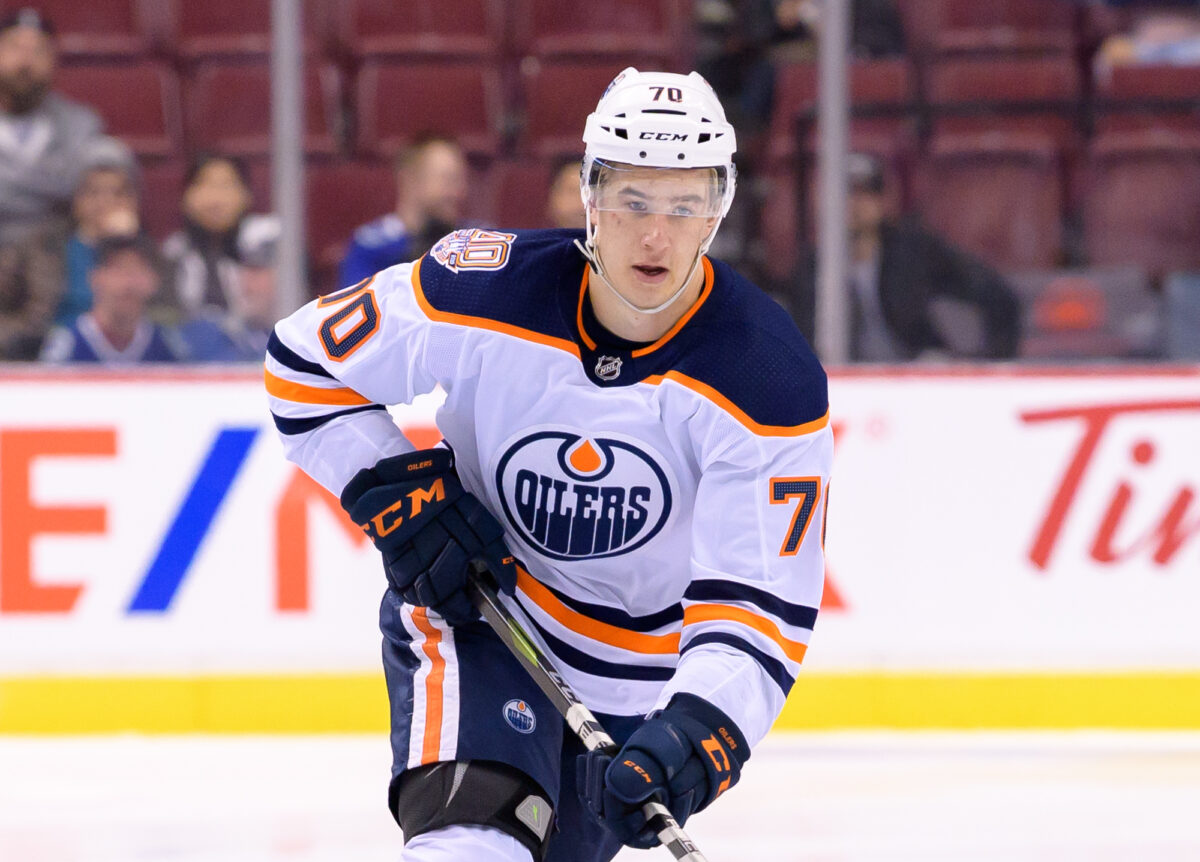 Toronto is thin at left wing and with six regulars entering the final season of their contracts, McLeod is the type of young talent Dubas should target. He's under team control, he's coming into his own in the league and at 6-foot-3 would bring some nice size to the Maple Leafs' lineup.
Edmonton doesn't have a ton of depth on their blue line and given they've had interest in many former Maple Leafs recently, I'd expect they would be open to adding Sandin. He could pair nicely with youngster Evan Bouchard and be a solid pair for the Oilers for years to come.
As for McLeod, he tallied 21 points in 71 games in his first full season in the NHL and at 22 years old already has 20 games of Stanley Cup Playoff experience under his belt. A 1-for-1 trade here is something I could see should contract talks continue to go "nowhere" in Toronto.
Maxime Comtois, Anaheim Ducks
Twenty-three-year-old Maxime Comtois is someone who should be on the Maple Leafs' radar. He's versatile, under team control, and has shown the ability to score in the league. The Anaheim Ducks forward flashed his brilliance two seasons ago, scoring 16 goals in 55 games and last season ended up battling some injuries and opportunity, recording only 16 points in 52 games.
With the ability to play left wing and down the middle, Comtois would be a valuable weapon for the Maple Leafs and give them some roster flexibility. Looking ahead, Dubas has some serious work to do next summer as Toronto has six forwards who are pending unrestricted free agents, so adding Comtois who is a restricted free agent after the 2022-23 season would give Dubas some security moving forward. Worth noting, the Leafs' GM is in the final season of his contract, so it's hard to say how much he's looking ahead past this season.
As for Anaheim, they've shown boldness with some of their earlier offseason moves, which included signing free-agent defenseman John Klingberg to a one-year contract. Sandin would be a nice add in southern California and would be a great candidate to play next to Jamie Drysdale for the foreseeable future.
Maple Leafs Should Do Whatever They Can to Sign Sandin
While Dubas could have some serious talent to consider should Sandin's name be out there in the trade market, the Maple Leafs GM would be wise to get the defenseman signed to a long-term contract. Even with Giordano, Muzzin and Rielly occupying the left side, Sandin has shown the ability to play his off side and is the type of young talent who could have an impact on the organization for the next decade. He should be ahead of Justin Holl on the team's depth chart and Toronto should keep Sandin and move on from the veteran right-handed defenseman, who is in the final season of his contract with the Maple Leafs.
---
---
---
Latest News & Highlights
---