In the world of sports, especially hockey, players venture from city to city — and team to team — throughout their respective careers. In most cases, it's understood by fans, teammates and team officials that this is a business. That's simply how life in the NHL goes.
But in a few instances, a special individual comes along who sticks around for what seems like a lifetime. They embed themselves in the culture of the city that cheers for them on a nightly basis and from a fan perspective, they almost become an extended family member.
That's exactly what Marc-Andre Fleury has done throughout his career with the Pittsburgh Penguins.
In the near future, the Penguins' faithful will likely stand by as Fleury moves on in his career, and they'll have to watch him man the crease for another NHL franchise. The longest-tenured Penguin on their current roster will look out of place elsewhere — but when it comes to his career — it's a much-needed change for someone who should be starting on a regular basis. It's something everyone has to accept.
It seems as if Fleury already has.
Fleury Pays Tribute to Teammates
The Penguins will face the Philadelphia Flyers on Feb. 25 at Heinz Field as part of the NHL's Stadium Series. While Matt Murray will likely be between the pipes for that contest, Fleury is making plenty of news with his mask for the event.
https://twitter.com/RealDanaHeinze/status/827182128689475584
Fleury's mask is covered with images of teammates, past and present, as he pays tribute to those who have helped him throughout his career. The players featured on the left side of his lid are Jordan Staal, Mario Lemieux, Max Talbot and Kris Letang, while Pascal Dupuis, Sidney Crosby, Chris Kunitz and Evgeni Malkin occupy the right. In a statement originally reported by Bill West of the Pittsburgh Tribune-Review, Fleury said the following of his pictured teammates.
There are guys that helped me out when I came in and guys I played with for a long time, guys that were good friends. It's tough. I feel bad if I left out some guys. Just had this much room on it. I wish I had more.
Fleury went on to apologize to anyone he left off and talked about how lucky he has been to have such great teammates throughout the years. All of this sure comes off as a player who understands his time in Pittsburgh is coming to a close, and the next chapter is about to begin. And ultimately — whether he moves on prior to the NHL's trade deadline on March 1, or remains in Pittsburgh until the offseason — is likely going to rest on his shoulders.
Holds the Keys to His Own Future
Penguins' general manager Jim Rutherford understands the role Fleury has played in Pittsburgh for so long. He knows how important the 32-year old netminder has been to the organization and therefore, he knows that letting Fleury decide what's next is the appropriate way to proceed.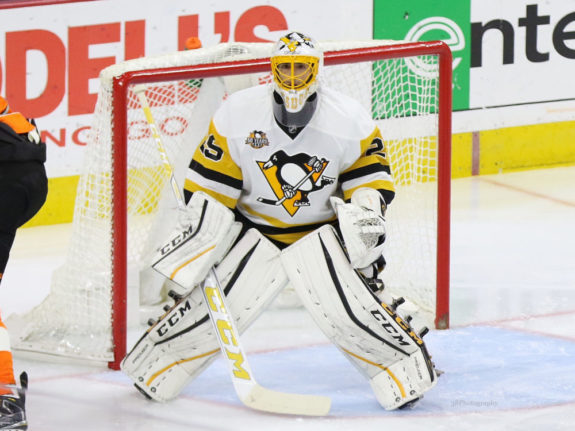 According to Rutherford, he still prefers to keep both goaltenders and, considering the importance of solid backups, it's tough to blame him. However, he's planning on keeping lines of communication open with Fleury and determine if he's comfortable with his current situation for the remainder of the season.
"We just have to keep an eye on what direction Marc wants to go here in the next few weeks", Rutherford told the Tribune Review.
How will Fleury proceed going forward?
Only he knows the answer to that question, of course. But it's safe to assume that he isn't content sitting around while Murray mans the crease in Pittsburgh. When the Columbus Blue Jackets visited Pittsburgh last Friday night, Murray started his eighth consecutive game, making it abundantly clear that Fleury has been fully relegated to backup duty. Fleury was given the second game of Pittsburgh's back-to-back situation — a common responsibility for backup tenders — and posted a 22-save victory over the St. Louis Blues. He was very, very good in the contest and showcased to the world that he's still able, and simply waiting for his shot at being No. 1 yet again.
He has continued to handle the situation with grace and professionalism that many others would be incapable of — but at some point — an athlete of this caliber wants to play. He wants to be 'the guy.' Rutherford giving Fleury the keys to his future shouldn't come as a surprise to anyone. If Fleury doesn't use them, and sticks around for another playoff run on the bench, that should surprise everyone.
A subtle goodbye or not, Fleury knows and seems to have accepted the end of his days in a Penguins sweater are upon us.