On Monday, the Washington Capitals' Marcus Johansson submitted his initial request of $5.25 million ahead of arbitration set to take place on Wednesday in Toronto. The Washington Capitals have countered with an offer of $3.85 million, reported Sportsnet's Elliotte Friedman.
Marcus Johansson:
Club arb offer: $3.85M. Player ask: $5.25M

— Elliotte Friedman (@FriedgeHNIC) July 18, 2016
The two sides are no strangers to arbitration, as around this time last summer, the Capitals made an offer of $3 million and Johansson requested $4.75 million ahead of the forward's arbitration hearing. At the conclusion of the proceedings, an independent arbitrator awarded $3.75 million on a one-year contract.
It is not uncommon for a player and his club to find themselves at opposite ends of the spectrum leading up to arbitration, as a team often makes a low offer while the player demands more than he expects to receive. Johansson's agent, J.P. Barry of CAA Sports, had previously said that he thought that the parties would begin negotiating again once each side filed their respective pre-arbitration briefs and determined where each stood.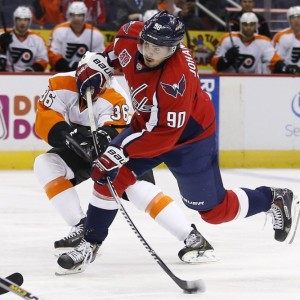 What is unique, however, is that if the two sides are unable to come to an agreement before Wednesday's hearing, Johansson will reportedly be the first player that has completed this process twice.  At an arbitration hearing, a player's value is often determined by numerous factors including a look at the player's past production and the salaries being earned by comparable players on other teams, among other analytics.
During the 2014-15 regular season, Johansson appeared in all 82 games for the Capitals, tallying 20 goals and 47 points. In 14 playoff games that year, Johansson scored a goal and four points. Last summer's arbitration resulted in an award of a one-year, $3.75 million deal. However, during the 2015-16 regular season, the former 2009 24th overall pick of the Capitals had a statistically similar season, playing in 74 games and compiling 17 goals and 46 points. In 12 games during this year's playoffs, Johansson tallied seven points.
When comparing Johansson to other similar players, forward Nazem Kadri scored 17 goals and 45 points in 76 games with the Toronto Maple Leafs during the 2015-16 regular-season. In April, the Maple Leafs signed Kadri to a six-year, $27 million extension.
While Johansson's current $5.25 million demand is merely a request, it seems likely that he will receive some kind of raise for the 2016-17 regular-season, regardless of whether or not an arbitration hearing takes place.