After a five game hard fought series against the Providence Bruins in the opening round of last season's Calder Cup playoffs, the Washington Capitals decided to go in another direction. After four seasons including a Calder Cup championship in 2010 under the direction of Mark French, the Capitals decided to not renew French's contract, later hiring current Hershey bench boss Mike Haviland.
"It started the day we decided not to extend Mark French's contract," Hershey Bears' General Manager Doug Yingst said of the process in hiring Hershey's next head coach. "It was about five minutes after that the emails started hitting with people that were interested. We had to prioritize through that and it come down to an interview process which took place last week. We made the decision and finalized everything else yesterday."
The Hockey Writers got the opportunity to speak to Mark French as he continues his first season of coaching the Kontinental Hockey League (KHL), for Medveščak Zagreb. He talked numerous topics including his decision to coach in the KHL and Dmitry Orlov's future.
 THW: What lead to your decision to coach in the KHL?
French: "Everything happened so fast. I got the offer from Medvescak, I was looking for a new club, I wanted a new surrounding that was pleasant for both my job and my family. The KHL was very intriguing for me, and this seemed like a great opportunity. Going to a stronger league than the AHL was a big challenge, as was coaching in Europe where they play a slightly different style of hockey from North America."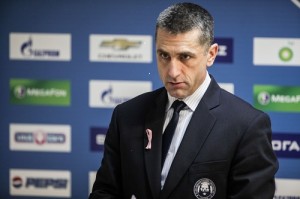 THW: Did any AHL teams show interest in you as a head coach?
French: "Like I said, everything happened so quickly, the offer came in just a few days and I decided to accept it and come to Zagreb, so I wouldn't know if some other club had something in store for me."
THW: How does your coaching philosophy change in the KHL?
French: "I tried to bring in the same philosophy both on and off the ice because we have a lot of players from North America on the team and they played in North American style, but of course, we had to adjust to some things. We had to change our tactics because there is more control here."
French posted a 180-100-10-22 record in his four seasons as Hershey's head coach. Although his former club lost in the opening round of the postseason in his final three years behind the bench, French's team went 22-15 under his direction. He finished fifth all time in Hershey Bears win during regular season play. His sixty win season in 2009-10 set an AHL record for points by a team in one season.
Mark French Joins the Bears in 2007-08
He joined the Bears as an assistant coach during the 2007-08 season, helping guide Hershey with former head coach Bob Woods. His hiring came after Bruce Boudreau joined the Washington Capitals as their head coach.
THW: How involved are you in the free agent signings in the KHL and how does that compare to the AHL?
French: "I was included because they asked me if I knew the players they were planning on bringing on, if I had coached them and then management decided which player to bring. The decision was entirely up to athletics director Aaron Fox and the directly of hockey operations. It was similar in the AHL too."
THW: On any future thoughts of returning to the AHL to coach again in the future.
French: "I've been coaching for some 15 years now and if someone asked me 15 years ago where I would be in 2013, I never would have been able to guess. I think it's best to live in the moment, to focus on where you're currently at, to give it your best on what you're currently working on, to treat those around you well and to keep doing what you're doing at the end of the day."
THW: On Dmitry Orlov's future with the Washington Capitals.
French: "Watching Washington from the outside like this, they're a really good team. They have a good defensive core and it's not easy to always be at the same NHL level. As far as I know Dmitry, he's particularly good for that. He's a young player that's developing, he's talented and I believe this his talent, character and work ethic will enable him to be a successful NHL player."
Stay tuned at The Hockey Writers for more thoughts from Mark French on his 2009-10 Calder Cup championship season in Hershey.
You can follow Matthew on twitter @m_speck and email him at mspeck21@yahoo.com with any questions or comments.
Matthew Speck covers the Washington Capitals organization for The Hockey Writers. He provides coverage of both Washington at the NHL level and prospect related content. Matthew also covers local sports for the Lebanon Daily News in Central Pennsylvania. You can email him at mspeck21@yahoo.com with any questions or comments.