The Calgary Flames were at a crossroads in the summer of 2004. The club was reeling, having just lost to the Tampa Bay Lightning in Game 7 of the Stanley Cup Final. One of a few culprits for a team that ran out of gas just shy of the finish line was a lack of depth players that could step into the NHL lineup credibly.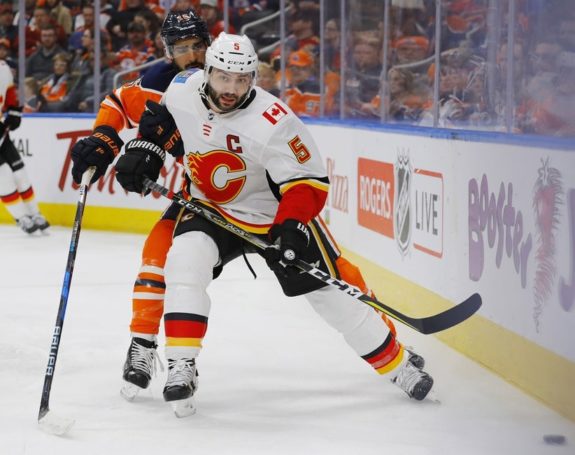 On July 6, 2004, Flames general manager Darryl Sutter attempted to address his organization's shoddy depth by signing seven players to deals. One of them, an unknown defenseman from the Ontario Hockey League named Mark Giordano, eventually became team captain and one of the most important players in franchise history.
Humble Beginnings
Not selected in either the Ontario Hockey League's or National Hockey League's entry drafts, Giordano made the OHL's Owen Sound Attack on a try-out. When he wasn't selected in the NHL Draft in any of his years of eligibility, he was preparing to go to university until he was contacted by the Flames. At the time, the Flames were smarting after their lack of organizational depth contributed to them losing in the 2004 Stanley Cup Final and were seeking to add some depth. Giordano signed with the Flames on July 6, 2004, along with David Heintz, Richie Regehr, Patrik Nilson, Justin Taylor and Dustin Johner.
https://t.co/3rfRbcfjsY – FAN960: Mark Giordano on the Flames offseason #NHLFlames

— Flames Reddit (@FlamesReddit) July 13, 2018
Giordano spent the 2004-05 lockout with the Flames' shared AHL affiliate, the Lowell Lock Monsters, amassing 16 points in 66 games. The following season (2005-06) he moved onto the Flames' new affiliate, the Omaha Ak-Sar-Ben Knights, and had 58 points in 58 games. He played the first seven games of his NHL career. He completed his entry-level contract by spending 48 games with the Flames in 2006-07, generating 15 points. At the very least, he had proven he was a capable NHL depth body and a superb AHLer.
Sutter didn't see things that way, hoping to hedge the team's bets a bit by giving Giordano a new two-way contract. Giordano's camp felt he had performed well enough to get a one-way. Neither side blinked during the negotiations, so Giordano signed a deal in Russia and played in the Russia Superleague for the 2007-08 season. Contract talks fired up by mid-season and Sutter re-signed Giordano in the spring – it was a one-way contract.
NHL Regular
Once Giordano returned from his tenure with Dynamo Moscow, he quickly moved his way up the Flames' lineup. He slid into the top four of the Flames' defense and largely stayed there for the duration of his contract. His offensive output soon improved dramatically.
2008-09: 19 points in 58 games
2009-10: 30 points in 82 games (leading the Flames' defenders in scoring)
2010-11: 43 points in 82 games (leading the Flames' defenders in scoring)
2011-12: 27 points in 61 games (second among defenders in scoring, but he missed 21 games)
2012-13: 15 points in 47 games
Giordano entered this five year period as an interesting depth body, but gradually became the best-kept secret in the NHL during that period and ended up becoming a fixture on the team's top pairing. His emergence allowed the Flames to ship out the likes of Robyn Regehr and Jay Bouwmeester in an effort to shore up other parts of their roster – their efforts didn't work, but he was good enough that they could try it.
The departure of Jarome Iginla at the 2013 trade deadline led to another leap forward for Giordano.
Burgeoning Leader
Iginla was traded to the Pittsburgh Penguins in the spring of 2013 as the Flames essentially threw in the towel on their window of playoff contention and allowed their long-time captain a chance to win a Stanley Cup elsewhere. While Iginla chased the one thing that had eluded him in his career, the Flames turned to Giordano to lead them and named him their first new captain in over a decade.
It's unusual for players to take a big step forward when they enter their 30s. It's also unusual for players to head to Russia for a year during their theoretical hockey-playing prime, but Giordano's not your typical player. At the age of 30 he became captain of a Canadian franchise and improbably elevated his game again – 2013-14 began a run of five consecutive seasons where Giordano received votes and strong consideration for the Norris Trophy.
Entering Rarefied Air
In his career to date, Giordano has played 755 games with the Flames – fifth all-time. With a full 82-game season, he'll reach 837 games and pass Theoren Fleury, Al MacInnis and Regehr and slide into second place behind Iginla in Flames longevity. He's fourth among Flames defensemen in all-time scoring, third among all Flames blueliners in all-time goal-scoring, 10th among all Flames in assists and 17th all-time in points. Several of the players he's rubbing elbows with in terms of points and longevity are in the Hockey Hall of Fame.
As he enters the 2018-19 season, Giordano has been captain for five seasons. The 2018-19 campaign will be his sixth season wearing the C, tying him with Hall of Famer Lanny McDonald for the second-longest tenure as Flames captain – behind Iginla. If Giordano plays out the remainder of contract in Calgary, which seems likely, he'll end up being captain for just as many seasons as Iginla.
Giordano probably won't end up being a Hall of Famer unless he wins some hardware before the end of his career. But his name is all over the Flames franchise record books and he's gradually cementing his status as one of the best Flames of all-time.