While there has been a lot of excitement over the past few weeks with the NHL season starting, hockey fans will have another thing to look forward to with the American Hockey League season slated to start on Feb. 5.
For Toronto Marlies fans, there are hoping for a bounce-back season in 2020-21. Coming off of a disappointing 2019-20 season that saw them finish seventh in the North Division, the Marlies will be icing a fairly different roster compared to what fans saw last season. With offseason departures and the fact that there is a "taxi squad" containing six players who are serving as injury/COVID-19 replacements, there will be a lot of opportunities for new players to step up.
Although the Marlies will only see three teams this upcoming season (Manitoba Moose, Laval Rocket and the Belleville Senators), there is still going to be some great hockey that will take place. Under the guidance of head coach Greg Moore, the Marlies will be hoping to start off the season on the right note and will look to some key contributors to lead the way. With that being said, here are three Marlies to watch for this upcoming season.
Timothy Liljegren
One of the more polarizing prospects that the Maple Leafs have drafted over the past few years, Liljegren will definitely be one to watch this upcoming season with the Marlies. Having suited up in 40 games with the Marlies last season, he scored 5 goals and added 25 assists for 30 points.
While some people have criticized Liljegren's game in the past, he definitely took an enormous step in the right direction last season. Having been given an expanded role, Liljegren stepped up to the plate and handled it extremely well. What impressed me the most about his game last season was his offensive play. He used to lack confidence in joining the rush but now he loves to get involved in the play and knows exactly when to make the jump.
In the offensive zone, he is great at walking the blue line and finding teammates in the slot. He has immense patience with the puck on his stick and is good at getting the puck on the net.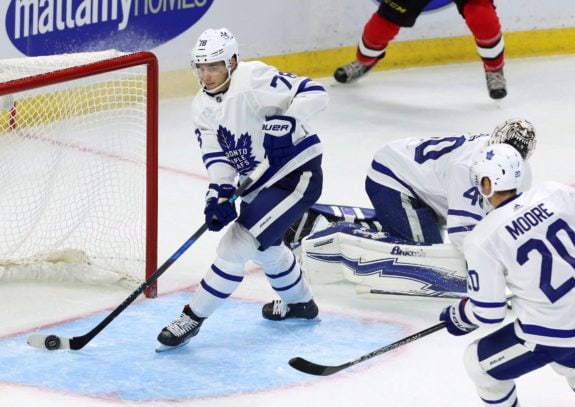 Liljegren also took a massive step defensively as well. He used to make ill-advised passes that caused him to turn the puck over to the opposition but I rarely saw that last season. He has great confidence with the puck now and is great at making plays under pressure. He plays with an active stick and is angling off the opponent so they don't get a good shot off on the net. I truly believe he will take another step in his game this upcoming season and could rival for a spot on the Leafs roster as soon as next season.
Joseph Woll
One of only three Maple Leafs goalie prospects currently in the system, Joseph Woll is considered the future of the Leafs in net. Having played his first season of professional hockey last year, he managed to collect a record of 11-16-4 to go along with a 3.75 goals-against average and a .880 save percentage.
While his adjustment to the pros was a rough one, I still liked what I saw from Woll last year. One of the highlights came in his first AHL game where he ended up earning a shutout against the Manitoba Moose. He struggled to find his game as the season went on but I don't think anyone should be worried. With Frederik Andersen being a free agent after this season and Jack Campbell only signed through 2021-22, the starter role is wide open for the taking starting in 2022-23 if both goalies don't resign with the Leafs.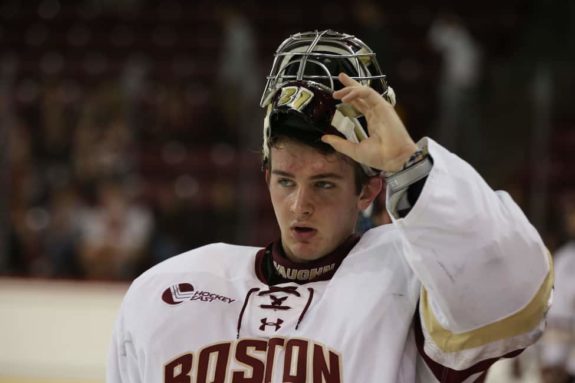 What impresses me the most about Woll is the fact that he tracks the puck exceptionally well. He is great at reading the play and does not give up big rebounds often. His lateral movement in net is good and he is confident when playing the puck. While I don't think he is close to being ready for the NHL, I think with him developing in the AHL over the next few seasons, it will really help his game. The Leafs don't have the best track record when it comes to producing goalies so I really hope that Woll can have a good season and continue to solidify himself as a solid option for the future starting role.
Kristians Rubins
A player that some Maple Leafs fans may not know a lot about, Kristians Rubins has been developing quite nicely over the past few seasons. Having spent the 2019-20 season playing for the Marlies, he managed to score two goals and added 12 assists for 14 points in 47 games.
What stands out the most about Rubins is his size. Standing at 6-foot-4, he is not afraid to be physical in the corners and uses his long stick to routinely break up passing lanes in the defensive zone. He is great at clearing danger in front of his own net and makes good decisions with the puck on his stick. Although he has never really been known for his offensive talent, he put up decent numbers with the Marlies last season. He is great at getting the puck on net and can often find teammates in the slot with ease.
Having signed a two-year entry-level contract in April, Rubins will get a great opportunity to see some major minutes on the Marlies this upcoming season. He will most likely see some penalty killing and power play time and will be relied upon in late-game situations as well. He has continued to defy expectations and it will be exciting to see what he can do when the puck drops on Feb. 5.
Hockey Is Back
With the AHL puck drop less than two weeks away, the Marlies' schedule has yet to be announced with some saying it is due to a delay with the Canadian government. Although they haven't played since March 2020, there will still be some great competition once they do get back on the ice. I for one can say I am pumped that the AHL is back and hope that it can provide some relief for fans in the midst of the pandemic.
---
---