When do the problems a player creates on and off ice start to outweigh his contributions to his team?
It's an age-old question, one with no easy answer. There's no clear line; every situation is different. Every team has a different tolerance level for what they'll live with from a talented player who might drive the organization to distraction with his behavior, but whose presence plays a critical role in the club's success.
Such has become the case for the New York Rangers and defenseman Tony DeAngelo.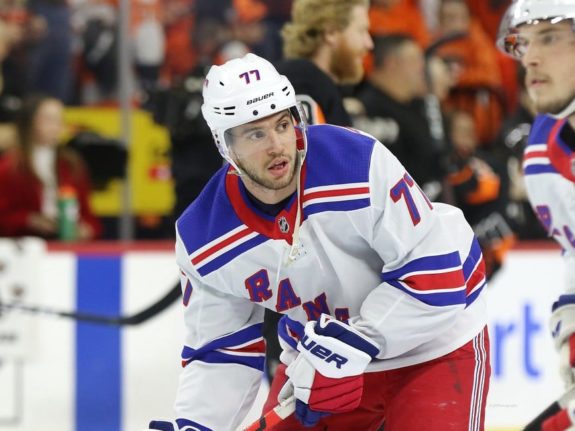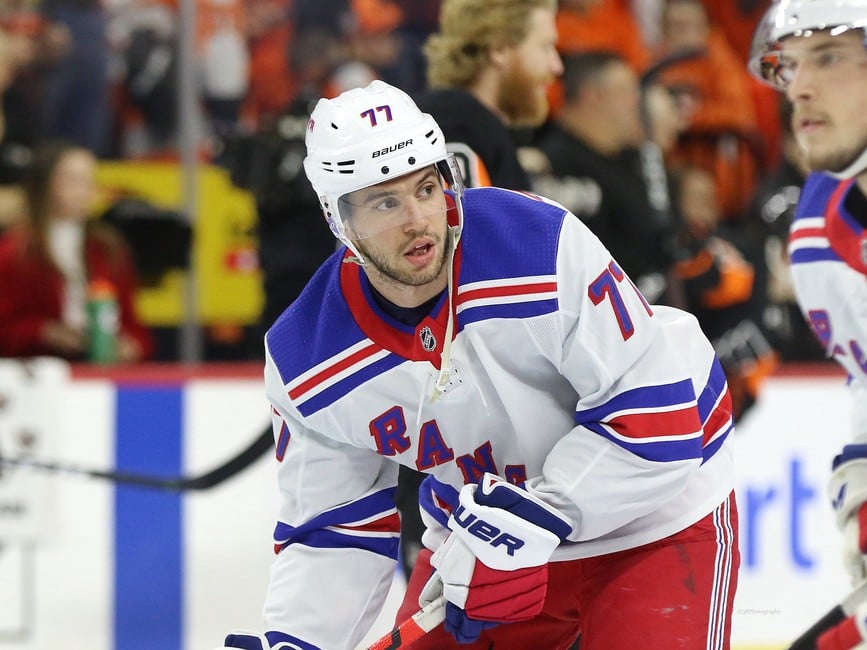 It's possible that DeAngelo, the fiery 25-year-old who's going into his fourth season in a Blueshirt, is who he is at this point. Prone to off-ice controversy, social media flaps and on-ice mini-meltdowns, mixed with uncommon skills that make him all but impossible to give up on, the Rangers face a conundrum that countless teams have before.
DeAngelo's Latest Issues Are Familiar Ones
It couldn't have been surprising to anyone that DeAngelo was called for unsportsmanlike conduct when he slammed the penalty box door and yelled at officials after being called for holding in the Rangers' season-opening 4-0 loss to the New York Islanders on Jan. 14. The response from coach David Quinn was also predictable: DeAngelo, who has struggled with what Quinn has termed "maturity issues" throughout his career, ended up getting benched for two games.
DeAngelo's in-game transgression closely followed another off-ice issue, unsurprisingly relating to his outspoken political stance: He announced that he would be deleting his Twitter account, calling the social media giant a "disgrace" following its decision to ban now-former President Donald Trump after the insurrection at the U.S. Capitol on Jan. 6, and joining Parler.
That social media site is a home for far-right conspiracy theorists and threats of violence against members of government and others, and was used to coordinate the attack on the Capitol, which led to five deaths.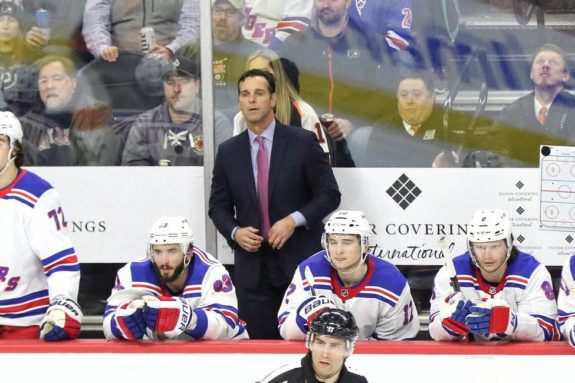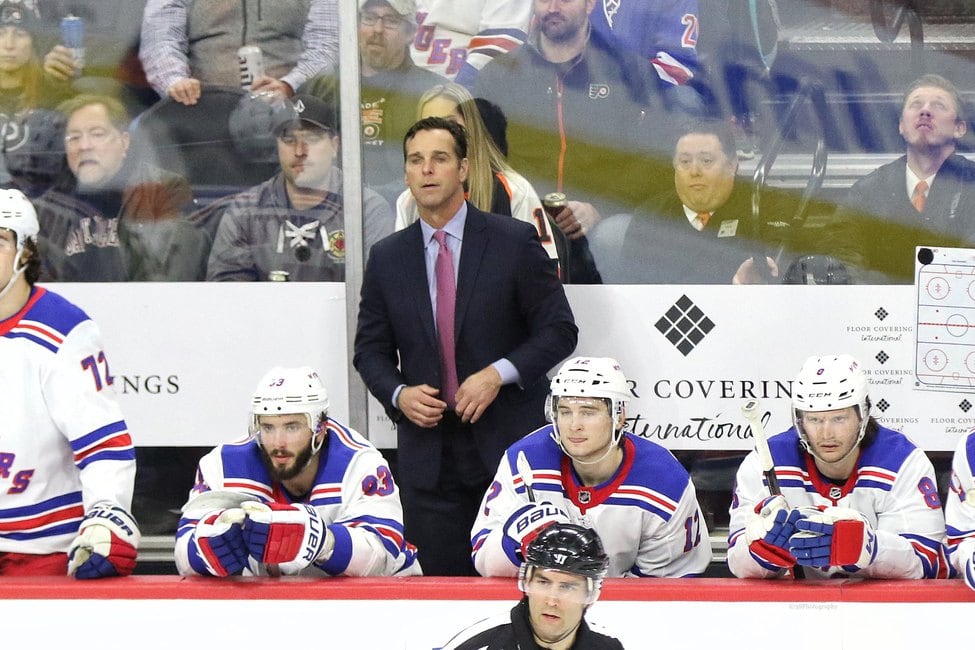 DeAngelo's public pronouncement prompted a discussion between him and the Rangers, which Quinn refused to go into detail about with reporters.
It's certainly not the first time DeAngelo has stirred controversy on social media. Following Election Day, his Twitter account was temporarily deactivated after he appeared to question whether COVID-19 was real, and also liked a post from Trump (before the ex-president's own ban) that is thought to have incited the events at the Capitol. He also liked a tweet that contended former Vice President Mike Pence could reject electoral college electors, which is not true.
DeAngelo has challenged a fan to a fight online, another example of the brash social media style that has often taken the focus off his hockey career. He was also suspended multiple times while in juniors for derogatory comments that violated the league's policy against hateful speech and has endured benchings and disciplinary actions from Quinn.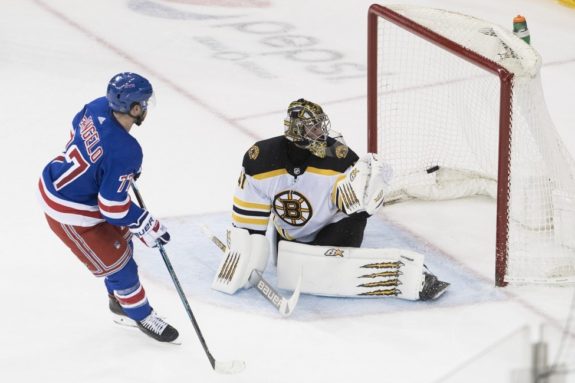 So why do the Rangers tolerate a player who can't stay clear of trouble, from on-ice behavior to apparent support for a dangerous social media entity to cringe-worthy online posts that sometimes reflect badly on his team?
It's the talent, of course.
Can Rangers Afford to Part Ways With DeAngelo?
DeAngelo's 15-goal, 38-assist effort in 2019-20 included three goals and 16 assists on the power play. His lateral movement and quickness atop the offensive zone and ability to get his shot through traffic played an integral role in the Rangers ranking seventh in the league in power-play percentage at 22.9.
DeAngelo's skills are critical to the Rangers' success with the man advantage, and his puck-moving ability brings an added dimension to the Blueshirts' offense. His three-goal, two-assist performance against the New Jersey Devils last January was a study in his ability to dominate from the point.
Of course, he's far from a perfect player. DeAngelo may never prove to be particularly good in his own end, which limits Quinn's options on defense late in games when the Rangers are protecting a lead. DeAngelo's Corsi for percentage (CF%) as well as his xGF have never reached 50 in his four NHL seasons (courtesy naturalstattrick.com).
Quinn reinserted DeAngelo for Friday's matchup with the Pittsburgh Penguins, and his impact wasn't on the positive side: No points and a minus-2 rating. He was a minus-2 again in Sunday's 3-2 loss to the Penguins.
Therein lies the push and pull with DeAngelo and the Rangers. His sought-after contributions are constantly in conflict with his shaky defense and the on- and off-ice headaches he causes – not always necessarily in that order. Further clouding matters, DeAngelo, despite his controversial side, is well-liked by teammates and doesn't seem to cause distraction in the dressing room.
So what to do with him? It's clear that the negative aspects have given the Rangers significant pause in committing long-term to such a lightning rod of a player. Rather than handing DeAngelo a long-term deal this past offseason, they signed him to just a two-year, $9.6 million contract despite the growth of his point total from 30 to 53 over the past two seasons. That pact allows the front office to keep its options open, with the short contract term making DeAngelo appealing as a trade chip (he has three seasons of team control remaining, this one included).
DeAngelo's Controversial Nature Could Prove Too Much
The Rangers almost certainly will never say otherwise, but DeAngelo's makeup matters. Plenty of fans will claim – perhaps fairly – that he is being persecuted for his political leanings. Politics, however, aren't the only issue with DeAngelo's actions, and even if that were the case, the organization has every right to be concerned about a player joining a social media platform that was used to enable and incite a violent insurrection. Even if the statement about joining Parler was just noise, DeAngelo should clearly understand the impact that it has – and how it affects his employer's brand.
There is, of course, a double standard at play here, as there generally is for any team in a similar situation. If DeAngelo was Connor McDavid or Nathan MacKinnon or Victor Hedman, would the Rangers have hedged their bets with him contractually? As mentioned, there's a line for every organization, and it varies from the front office to front office and player to player. While that might be inconsistent, it's each team's prerogative to determine exactly where to draw that line.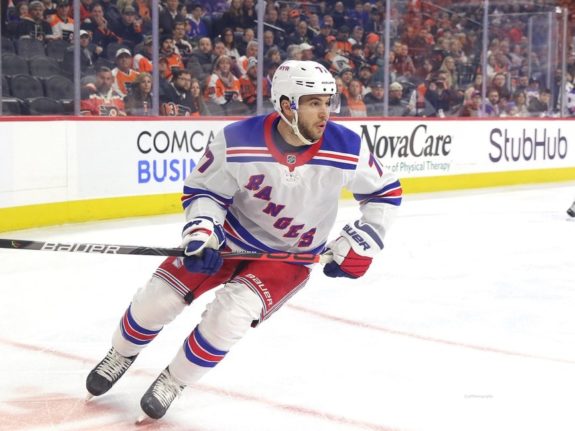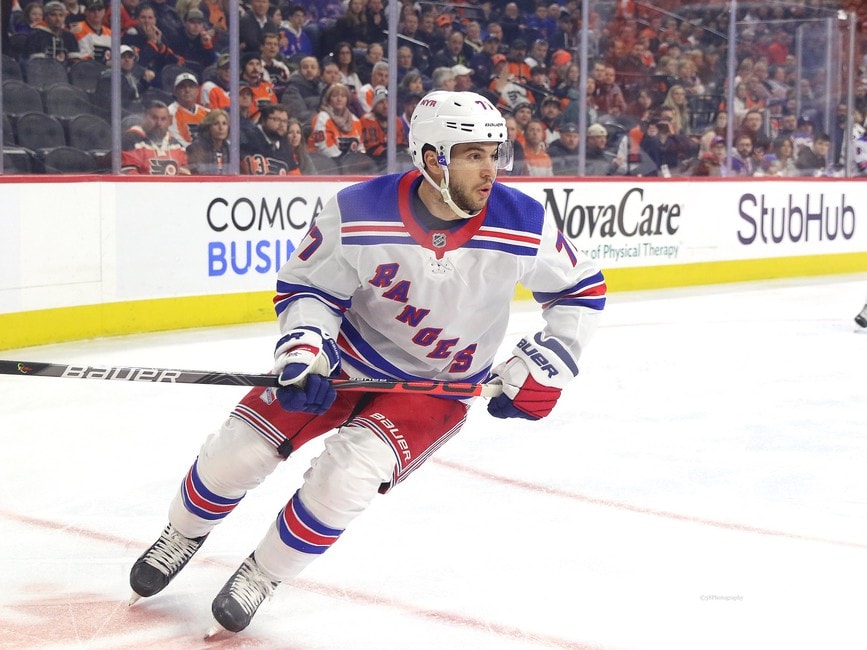 If DeAngelo was a shutdown, top-pair defender in addition to a dynamic offensive force, the club might not have maintained an "escape hatch" of sorts in the form of the short-term deal. DeAngelo has played the primary role in his future on Broadway being uncertain, both through seemingly never-ending controversy as well as the fact that he's not a complete player – and may prove not to be throughout his career.
A more blunt way to look at the two-year commitment to DeAngelo is the Rangers kicking the can down the road. They may simply not know what to do with their talented enigma yet. Are they comfortable doing away with a player who has helped drive their success on the power play, turning over first-unit point responsibilities to the rising Adam Fox? Or do they in fact see DeAngelo as indispensable and are hoping his confrontational, opinionated personality softens – and his play in his own end improves – over the next two seasons?
Whether DeAngelo stays in a Blueshirt long term is probably up to him. Working at his defense would go a long way toward that happening. If the Rangers also want to see the constant turmoil toned down both on and off ice, though, No. 77 might have to decide if he is willing to do that – and if he's even capable of doing so – if he wants to stay.
---
---