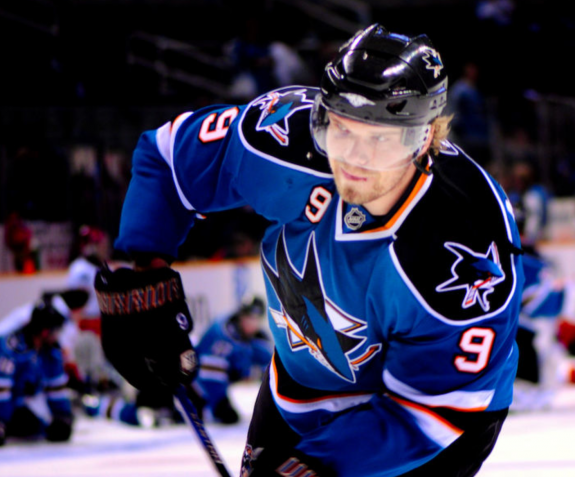 In August of 2007, the San Jose Sharks signed a young, speedy winger by the name of Milan Michalek to a lucrative six-year, $26 million contract extension.
The 23-year-old Michalek had burst onto the scene during his rookie season with the Sharks, scoring 17 goals as the team's top rookie. He followed that up with 26 goals in the second season. Sharks' General Manager Doug Wilson saw him as a viable complement to Joe Thornton and Jonathan Cheechoo on the top line.
"He's certainly a multi-situational player who is very mature in his game with certainly a great upside," Wilson said at the time. "We think he's going to be a dominant player for many years."
But Michalek would never develop into the "dominant player" that the Sharks were looking for. His numbers dipped in his next two seasons, and to make matters worse, Cheechoo's production fell considerably as well from his 56-goal season in 2005-2006.
So, looking to surround Thornton with linemates who were proven scorers, Wilson dealt both Michalek and Cheechoo to the Ottawa Senators in 2009 for sniper Dany Heatley.
Not the Answer Either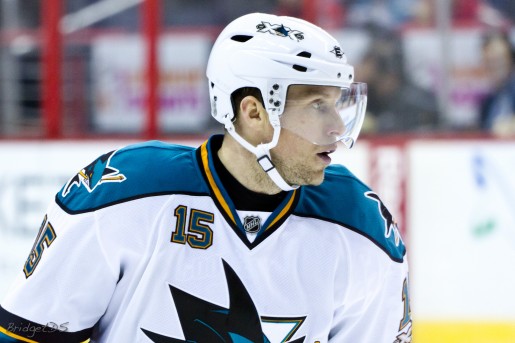 At that time, Heatley was dealing with his own issues. He had angered the Senators' fan base greatly by demanding a trade, then used his no-trade clause to reject a deal that would have sent him to Edmonton. Instead, the prolific goal scorer accepted a deal to San Jose.
"We're completely comfortable with the type of player and type of person Dany is," Wilson said when he made the trade. "Some of the best players in the league have been traded to other teams and had great success. We have zero concern."
For a year, Heatley was the type of player that the Sharks needed. He netted 39 goals in his first year with the Sharks, forming a great 1-2 combo with Thornton, who found ways to get him the puck. But he tapered off in his second season, and it was clear that he was not the answer that would lead the Sharks to the Stanley Cup they so craved. As Ray Ratto of CSN Bay Area put it, acquiring Heatley was "a swing for the fences that never reached the warning track."
In that case, then what Wilson did next was a swing and a miss.
Still No Answer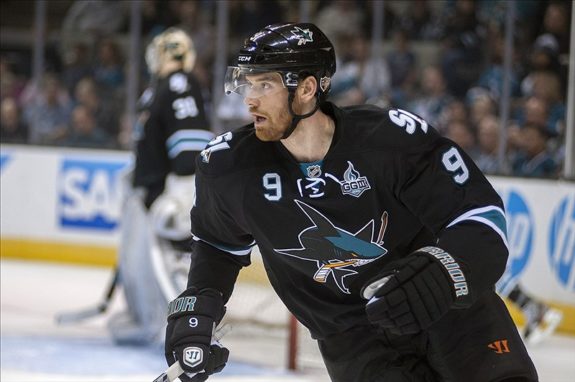 Perhaps craving the speed that he had with Michalek, Wilson swung a deal to acquire Martin Havlat from the Wild, straight up for Heatley. A seasoned veteran, Havlat had scored more than 20 goals in five seasons in his career, and maybe Wilson wanted more of a finesse playmaker than a pure goal-scorer.
"He's got world-class speed," said Wilson about Havlat. "We realize that we gave up some speed in the Brent Burns deal. I think the need to get that in our top-six was important. This player can play with anybody. He's a high-end player that's got that breakaway speed."
But rarely have the Sharks seen that speed. To say that Havlat hasn't lived up to his potential with the Sharks would be an understatement. He provided flashes of brilliance during the early part of his first season, but then he injured himself while coming off the bench on a line change (literally), and has simply not been the player that the Sharks expected when they traded for him.
Sidelined by injuries for much of his time in San Jose, Havlat has been relegated to merely a third-line role when he has been healthy. He has not scored more than 10 goals in either of his first two seasons with the Sharks, and it doesn't seem like he'll reach the double-digit mark this year either. For a player who the Sharks thought would be a top-six forward, Havlat has disappointed.
So what gives? Time and time again, Wilson has attempted to swap a highly-skilled player for a highly-skilled player, and none of those players have worked out.
Milan Michalek? Nope. Dany Heatley? Nope. Martin Havlat? Hell no.
Rest assured, the Sharks are doing just fine with the roster that they have right now. Thornton may be playing alongside a defenseman-turned-forward in Burns and a 20-year-old rookie in Tomas Hertl, but if the Sharks want more firepower on the top line with Thornton, they could always move up Patrick Marleau, Joe Pavelski, or Logan Couture like they do on the power play.
However, it's hard not to think about it: what if just one of Wilson's moves had worked out? What if Michalek had became the "dominant player" that Wilson though he would be? What if Heatley had continued scoring 40-plus goals a season instead of a career-low 26 goals in the 2010-2011 season? What if Havlat wasn't the bust that he has become? Would the Sharks be a different team, perhaps even have won that elusive championship by now?
Hindsight is always 20/20, but boy oh boy, would the Sharks love to make some retractions.
Eric is a journalism student at the University of Southern California and a sports editor at the Daily Trojan. He grew up in the Bay Area and has followed the Sharks since a young age. He served as a beat writer on the team for SFBay.ca during the 2014-2015 season. Previously, Eric has worked at FanSided and Bleacher Report.