Ilya Bryzgalov pitched a shut-out in his first full game with the Oilers. He dropped the second of a back-to-back against the Blue Jackets allowing four goals on 23 shots. But he was right back between the pipes to start Edmonton's game against the Dallas Stars on Sunday night. He bounced back quite well, making 28 saves on 29 shots, but his night was unfortunately cut short.
Toward the end of the second period, Stars forward Ryan Garbutt crashed the net hard, and took Bryzgalov out with him. Despite Garbutt's suspension history, the incident did not appear to be intentional. Garbutt was taking the puck to the goal and collided with the Oilers netminder. It would be too early to speculate that Bryz has a concussion but the contact was most certainly with his head and he had trouble getting to his feet. Garbutt, meanwhile, had a very strong game, scoring both Dallas goals. Captain Andrew Ference and Ales Hemsky scored for the Oilers. There wasn't much information on goalie Bryz after the game.
"He's got an upper body injury," said Dallas Eakins. "We're going to have to reassess in the morning. I've been upfront with you guys, I'm not being upfront now. I've got to keep this one under wraps until we check him a little further." (Oilers Blog)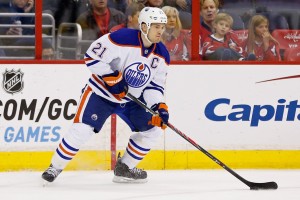 Devan Dubnyk was very solid in relief, allowing just one goal on 16 shots and standing tall in the shoot-out to help seal the Oilers 3-2 win. Edmonton has now won five of their last seven games. Bryzgalov getting the net for a third straight game either points to coach Eakins wanting him to be in top game shape, or it shows a renewed confidence in the Oilers goaltending situation.
Because of Bryzgalov's troubles in Philadelphia, he lost a lot of respect in regards to his goaltending ability. His success in Phoenix became attributed to their defensive style of play. But his time with the Flyers wasn't simply about poor play. His contract was an albatross before it even started, the team as a whole wasn't performing consistently, and the HBO 24/7 cameras displayed an unsavory side to his personality. It was a perfect storm for failure. Now whether or not he can recapture what he had with the Coyotes remains to be seen, but he earned a chance at an NHL job, no question.
Hopefully for both the team and Bryzgalov himself, this injury isn't anything serious, and leaving the game was just a precaution. The Oilers need some stable goaltending, and while most would not say stable and Bryzgalov in the same sentence, he deserves a chance to prove his worth on the ice. His reputation off the ice precedes him, but it might not have to anymore if he can lead the Oilers somewhere. Anywhere.
The Oilers should provide an update on Bryzgalov's condition at some point today.
Marcy, a former hockey player, is a hockey correspondent on CTV News and TSN radio. She began her career as a Sports Journalist in 2009 and has been part of The Hockey Writers since 2010, where she is currently a senior writer and editor.