Martin Marincin was a player who coming into the season, was not on anyone's radar.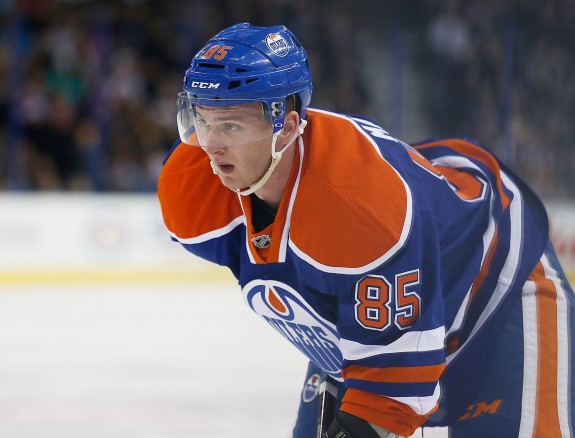 He was acknowledged as  one of the potential leaders on a young Oklahoma City Barons blueline and one of the Oilers better prospects, although not one of their upper echelon ones.
Marincin started somewhere in the 9-11 range on the Edmonton defensive depth chart to start the season with Andrew Ference, Jeff Petry, Justin Schultz, Ladislav Smid, Nick Schultz, Anton Belov, Corey Potter, Denis Grebeshkov all starting ahead of him and based on training camp potentially Oscar Klefbom, Darnell Nurse and Taylor Fedun getting longer looks.
The Oilers defense as a group has struggled this season, and that would be an understatement. They just aren't good enough to compete. Marincin has provided a silver lining to the group's play this season.
Called up to stay after Christmas, he has played in 17 games and has not looked out of place. Eased in with lighter minutes, he has recently been called upon to carry a heavier workload with some injuries. On the season is averaging 17:53 of ice time, but over his past five games has averaged 21:17 and has played with Jeff Petry in the Oilers top four.
Martin Marincin 23 minutes tonight. Exceeding expectations. Guys also seem to play well with Petry. I wonder why? #figureitout

— Bob Stauffer (@Bob_Stauffer) January 28, 2014
The Oilers can use any hope they can get in terms of their defense. While they weren't expected to be an elite group this season, they were expected to be better. Jeff Petry has been arguably the team's best defender, but also one of its most inconsistent.
Andrew Ference has been good, but far too much has been expected of him and Justin Schultz has not taken much of a step forward and is still a roller coaster in his own end.
Ladislav Smid has been traded and Nick Schultz, Corey Potter and Anton Belov have certainly not exceeded expectations.
Even one of their top defense prospects in Oscar Klefbom was supposed to push for a spot this season, but hasn't even been good in the AHL.
While no one is expecting Marincin to be the top pairing stud blueliner the Oilers so desperately need, but he has been a bright spot on a defense that has had very little positive to talk about.
As bad as the defense has been there is hope on the horizon. In addition to Marincin, the Oilers have two blue chippers in Klefbom and Darnell Nurse that will hopefully arrive within the next couple of seasons.
At 6'5″ but only 188lbs he has some filling out to do and some muscle to add. He has some work to do on his defensive game, but is sound positionally, has a long reach and uses his stick well. He's a very underrated skater and has excellent offensive instincts, evidenced by his 30 points in the AHL last season.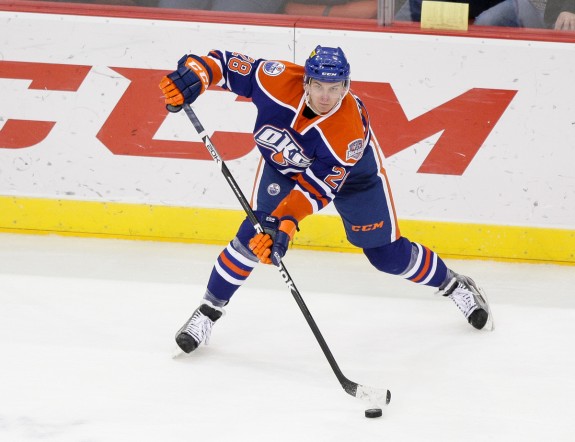 The biggest positive and encouraging sign for Marincin is that he has not looked overwhelmed yet in any games and has played with poise and maturity. He also leads the team in his short time with a +2 rating, which may not jump out as impressive, but when compared to a team where the majority is in the double digit negatives, it starts to look pretty good.
His play has also been noticed by others as he was recently named to Slovakia's Olympic team where he will get a chance to further his progression at the best tournament in the world. He'll also get a chance to play with Zdeno Chara and hopefully pick up a thing or two.
If Marincin continues to improve and progress, the Oilers are hoping he will be part of the solution and not the continuing problem.
___________________________________________________________________
Follow Carl on twitter @carlTHW  and Google+ for more articles