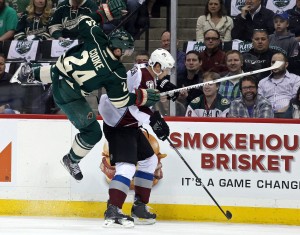 It probably is a little premature to talk about Matt Cooke being eligible to play in game four against the Chicago Blackhawks. The series is only one game old (entering game two at time of writing). After sitting out a seven game suspension for injuring Tyson Barrie of the Colorado Avalanche, Matt Cooke might return to playoff hockey after all. Minnesota Head Coach Mike Yeo says that he plans to play Cooke. Yeo values the goon.
The only scenarios that I can see where playing Cooke would be valuable or a no lose situation is if the Wild fall three games to none or three games to one to the Chicago Blackhawks. Other than those scenarios, I think it's too great a risk to play Cooke.
Can You Trust Matt Cooke?
The unfortunate thing about Cooke is that he's possessed the ability to be a good player and someone who could be a game changer. If Matt Cooke didn't play dirty, we could be talking about how valuable he is to his teams.
That's not the case with Cooke. The truth is that he's a dirty player and has been for his entire career (but for a couple of seasons). Matt maintains that he tried very hard to stay away from dirty player and that he worked hard to be a better player.
The Wild had started to buy into the charade that Cooke was a changed player. Cooke was a valuable player this season…then the dirty vicious knee to knee hit put Colorado Avalanche player Tyson Barrie out of game three with a knee injury. Barrie would not return to the series. His injury is expected to take six to eight weeks to heal.
So you have a player who was a good boy for two seasons and then in an instant, Cooke's true colors appeared. The Wild were left without a key player. I don't think that the Wild should take another chance on Cooke.  You never know when he will snap and injure another player.
Innocent Matt Cooke?
Poor innocent Matt Cooke might find himself at the wrong end of an incident where a player is injured. That's too much of a risk for the Wild to take. Matt will not be able to play a clean game, because he would have to worry that another player's mistake will make it look like he played dirty.
There are a few hockey fans on message boards that believe Tyson Barrie, the player that Matt Cooke injured with his knee to knee hit, was to blame for the injury or that Cooke didn't mean to injure Barrie. Some people believe that Matte Cooke wasn't at fault for his dirty and vicious hit.
You never know if victim Cooke will be at the wrong end of hit where an opponent puts his head to Matt's swinging stick. How would Cooke be able to prevent that? The poor guy would only be swinging his stick aimlessly.
Maybe an opponent will turn their body as Matt is about to hit them,  making Matte hit them from behind (Boarding). Matt wouldn't be able to stop that play. The poor guy might be an innocent participant in a brutal play.
I'm obviously kidding around here. Truth be told, Matt Cooke is a ticking time bomb. You never know when he's going to cheap shot someone and injure them. You never know what will set him off. You never know when Matt Cooke will have a lapse of judgment and injure someone.
Matt will not be given the benefit of the doubt. His past dirty play is known around the NHL by officials, fans and players.
Why would the Wild want to take a chance that Matt might do something dirty and stupid? I don't think they should.
The Wild Have Found Chemistry with their Current Lineup
The Minnesota Wild won their playoff series against the Avalanche after Cooke was suspended. Matt was in the lineup for the first three games but the Wild found themselves down two games to one. Cooke played well in those games but the Wild went on to win the series without him. They didn't need him.
I don't think the Wild should change things up and put Cooke in the lineup. Why should they shuffle their lineup and change their chemistry? Sure the Minnesota Wild lost game one to the Chicago Blackhawks and game two's outcome is still a few hours away but the Wild played well for most of game one. If a couple of bounces had gone their way, the Wild could have found themselves up by a game in the series instead of one game behind.
The Wild have also played a physical game without Cooke. They can be physical without being dirty. Why change that up by playing Cooke? I think it's a bad idea and I think it could come back to hurt the club.
You also don't have to give the Chicago Blackhawks added reasons to play more physical. Game one was a physical affair and the Wild led the charge in that regard. Let's keep it that way by keeping Matt Cooke out of the lineup.