If you love, or hate, Marc-Andre Fleury as the Pittsburgh Penguins starter you are going to be stuck with him no matter what the outcome is at the end of the 2014 playoffs. And, that may not be a bad thing. Yes, he seems like he is always just one allowed goal from a meltdown. But, he is also a goalie that has averaged 35 wins over the last six seasons.
He is the equivalent to the Charles Dickens book, "A Tale of Two Cities." With Fleury it's the best of times, and then it's the worst of times. WIth him as the Penguins number one option you know you are going to get a great regular season. He is going to give you a great chance at not only the playoffs, but a division title.
However, once the postseason starts you have a goalie that just won his first playoff series in four years.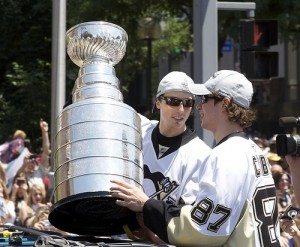 Since winning the Stanley Cup in 2009, Fleury has an 18-19 record with 118 goals allowed on 1,032 shots. That equates to an abysmal save percentage of: 874 and a goals against average of 3.18.
What ties the Penguins goaltender to the club after this postseason run ends with a Stanley Cup championship, or an exit to the New York Rangers in the Eastern Conference Semifinals, is his contract. With one-year left for $5million it seems as if the front office will ride him until his deal is up.
After he was replaced by Tomas Vokoun, in the first round of last year's playoff run, Penguins head coach Dan Bylsma quickly pointed out that Fleury was still the team's starter and franchise goalie saying:
"Marc-Andre Fleury, I'm not sure the definition of 'franchise goalie,' (but) he's our No. 1 goalie. He's a No. 1 goalie for this franchise and he will be going forward."
Bylsma would continue to say: "We were in a situation where Tomas Vokoun went into net and won the third and fourth games of a series for us and continued to play in our net. But Marc-Andre Fleury is a guy who's going to come back to our team and he's going to be the No. 1 goalie. He's going to be the franchise goalie. He's going to be this franchise's goalie."(H/T ESPN.com)
Looking at the crop of free agent goalies that will hit the open market at the end of the season you'll see that there isn't a viable option to replace Fleury. Ryan Miller will be the biggest draw, but he has his own playoff shortcomings. After Miller, there's the past their primes goalies of Martin Brodeur, Tim Thomas and Nikolai Khabibulin. And, if you are a Penguins fan do you really want Ilya Byzgalov to replace Fleury?
The only reasonable replacement, should the front office decide to move him for a player or draft picks, is Jonas Hiler. However, the Anaheim Ducks may decide to bring him back. Plus, Hiler is 32 years old, and has a current deal that pays just $500K less than Fleury.
Penguins fans will continue to see him allow that head scratching soft goal. But, then come back with a jaw-dropping save to keep the Penguins in a game. It's just like that "In Living Color" sketch, Mr. and Mrs. Brooks, where the old husband and wife fight and threaten each other. But, in the end, Fleury and the Penguins fanbase will always say, "But we stilllllllllll together."
Follow me on Twitter by clicking: @tjmcaloon