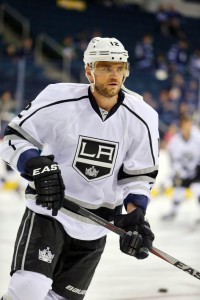 The L.A. Kings drew first blood in their Western Conference semi-final against the Anaheim Ducks with a gutsy 3-2 overtime win. This is the first time the division/state rivals have met in the post-season.
Some thoughts from last night's game:
—————-
The Kings opened the scoring in the series on the power play with a goal from Alec Martinez off a ridiculous pass from Marian Gaborik.
The Slovak star had a breakout game with two goals and an assist, including the game tying goal with seven seconds left in the game, and the winner in OT.
This is exactly why they acquired the talented speedster: potential game-breaking plays in crunch time. Few players have the hands to make plays like the one on Martinez's goal.
Gaborik has some postseason pedigree, too. I still remember the '02-'03 playoffs as his coming out party, when he racked up 17 points (nine goals) in 18 games for an underdog Minnesota Wild team. He was dynamic leading the Wild over the powerhouse Avalanche.
Though the Kings have a capable clutch scorer in Jeff Carter, it doesn't hurt having a pair of them. Especially if they meet the Hawks next round, who have an abundance of guys that can take over a game.
Gaborik was just another shrewd move by GM Dean Lombardi. How perfect would Gaborik have been on a team like the St-Louis Blues? If anyone needed a clutch scorer it was them, who relied on the young Vladimir Tarasenko for that role this spring.
Ryan Getzlaf wasn't to be outdone by that Gaborik feed; he had a dandy of his own to knot the game at one:
Getzlaf really took advantage of Jonathan Quick's aggressive play style, displaying uber patience to get the star netminder puck watching and out of position for the easy tap-in.
That was only the second shot of the game for the Ducks.
The most compelling match-up, of course, will be Getzlaf going head-to-head with Anze Kopitar. There isn't much between the Hart Trophy finalist and the Selke Trophy finalist; both are big bodies who can dominate a game with their playmaking and skill.
Kopitar is making a case for the Conn Smythe along with his Selke nomination. He's had at least a point in every game these playoffs, and leads the NHL with 13 points in just eight games.
Devante Smith-Pelly picked up where he left off in game seven, injecting energy and speed into the Ducks lineup. His trio, with Nick Bonino and Emerson Etem, were buzzing all night. The Kings had a hard time containing their speed on the fore check.
Etem, in for Daniel Winnik last night, is an intriguing addition on that line. The 2010 first-round pick is a speed demon and arguably the fastest skater on the team already. He's still young and won't be counted on to contribute, but his skating can give defenders fits.
The Anaheim power play looks anemic. They were awful against Dallas and could barely get set up against L.A. If they don't figure it out soon it'll be their downfall, like the Blues' power outage against the Hawks that cost them game seven.
One area L.A. owns Anaheim in: the faceoff dot. Anaheim only has one regular faceoff man – Saku Koivu – above 50%. Mike Richards, Jarret Stoll and Kopitar are all above that mark. It has to be a concern for Anaheim, considering how strong of a possession team the Kings already are.
I agree with the decision to start Jonas Hiller. He's the number one who got you here during the season, and might as well see what he's got as free agency looms in the summer. Regardless, he probably isn't resigned next season with 24-year-old Fredrick Andersen and super-prospect John Gibson in the organization.
Hiller looked shaky all night, too. He made some stops, but nothing in his game would instill confidence in his team going into next game. Looked really unsure on many relatively easy shots, and couldn't hold it down in the last minute to send the game to overtime.
—————-
They're back at the Honda Center for Game Two on Monday.