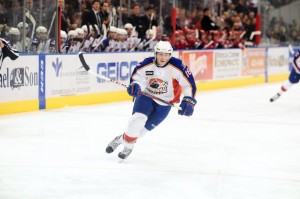 After a dramatic overtime goal by Max Sauve and a stellar shutout performance by goaltender John Gibson, the Norfolk Admirals overtook the Manchester Monarchs 1-0 Wednesday night in Norfolk which gave the Admirals a slim one-game lead in the best of five series.
Currently Norfolk leads the series two games to one going into game four. If Norfolk wins Friday they move on to the second round; however; if they fail to win the series moves to game five which is scheduled for Saturday.
Anaheim added Rickard Rakell to the Norfolk roster Thursday afternoon, a welcomed offensive presence for Norfolk.
               Pre Game Thoughts With Power Play Post Show Host Bob Howard
"It's pretty simple, we are going to see another tight defensive battle without a doubt. Berube and Gibson have been the two stars of this series, only four goals between the two teams and eight goals in three games and that's not a lot of scoring. If one of these teams can capitalize on the power play that could be the deciding factor."
"Berube is the type of goaltender where he is very solid fundamentally just like John Gibson is. You have the best goaltenders in the Calder Cup playoffs. 1.24 Goals Against Average for both of them. You're going to see what you saw in the first three games, somebody who protects his angles and does not come out of the net too far and allows guys to skate around him. That's what you're going to see tonight as well."
Starting In Net
It will be a re-match of Wednesday's contest as rookie netminder John Gibson (2-1) took his position in between the pipes. Staring him down was J.F. Berube (1-2) who skated out to his crease hoping to force a game 5.
Gibson and Berube started the night on the same heel in the GAA department with a 1.24 average while Berube had the lower save percentage of 0.955 and Gibson had the higher save percentage of 0.958.
Norfolk Scoring
Nic Kerdiles (1) Assists- Sami Vatanen, Rickard Rakell
Chris Wagner (1) Assist- Nolan Yonkman
Max Sauve (2) Assist- Chris Wagner
Manchester Scoring
Andy Andreoff- PPG (1) Assist-Jordan Weal
Andrew Campbell- (1) Assists- Jordan Weal, Linden Vey
Post Game Quotes From Head Coach Trent Yawney
" I'm excited for the guys because they earned it. Anybody that has been around here knows that the guys who left here pushed it through and for them to have that opportunity to put a team away that's pretty special."
"I think confidence and feeling good about themselves and understanding your not always going to get a great shot, it's about getting the puck to the net and I think on the winning goal you saw that."
"They're (rookies) getting opportunities to do things that they didn't get to do at the start of the year, but it also shows the growth they've made throughout the season. He's (Gagne) a guy we put up front here in the lighter part of the year and he's done an excellent job for us and we added the penalty kill to his role because he's quick and he can read the play really well."
"This was our best game of the series.  The game before, our goalie was the hero. He won us the game and that's the way it has to be in the playoffs and every night it's going to be something different. There is an opportunity to do something special."
Post Game Quotes From Chris Wagner
"We got away from (putting the puck on net) in the second there. We were turning pucks over at the blue line and it kind of showed. They were kind of building momentum and we came back and played a great third."
" I gave it back to Yonks. There at the point and our game plan was to get pucks to the net and he threw it at the net and it was the right time and I out muscled the guy and it was a huge goal."
"They were first in the league in points, but they're still pretty good teams out there that can make some noise. Wilkes Barre won tonight. They're probably one of the best teams in the league. We're definitely confident and we're not afraid and I think it showed."
"They're a really fast skilled team and defense wins and Gibby stole us the last game and kept us in the second game and it's all about finding a way in the playoffs. It doesn't have to be pretty."
"It's fun scoring goals in the playoffs. It makes the game a lot more fun when you're contributing point wise. I like to think I'm more of a defensive guy to start with killing penalties, taking faceoffs, hitting, and blocking shots, but it's always a nice bonus.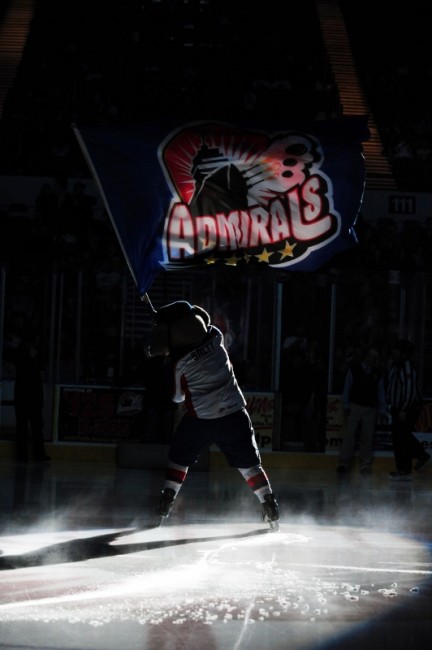 Post Game Quotes From Captain Garnet Exelby
"It's great! I think everyone is happy moving on to the second round no matter who it was or who it is and we're looking forward to get the next round going after a day or two of rest."
"Lets call it our identity is built for the playoffs. Sometimes getting there is a challenge and it's always a challenge for that matter and we did that job number one. I think it started to show during some of the games in the playoffs for us and we had some success with it which is great. We have one of the best young goalie I've ever played with or maybe ever seen and we use him and try to give up few chances and be strong defensively and be strong PK. If we do have a few outburst games where we have a couple or three goals or more it's an added bonus, but we're ready to win one to nothing or two to nothing we'll go all the way doing that."
Norfolk's Forward Lines
Kerdiles-Rakell-Petersson
Sauve-Bailey-Wagner
Laganiere-Steckel-Friberg
Gagne-Kurtz-Stortini
Norfolk's D-Pairings
Exelby-Manson
Vatanen-Eminger
Blacker-Yonkman
Video Highlights
This And That
The following On Ice Officials were assigned by the American Hockey League to officiate game four:
Referees Dave Lewis and Tom Chmielewski
Linesmen John Grandt and Luke Murray
Manchester lost every game that they played in Norfolk this season.
John Gibson stopped 108 out 114 Monarch shots. J.F. Berube allowed 7 goals on 110 shots over the course of the series.
Attendance- 3776
Follow Ted on Twitter @Bauerhockeydude