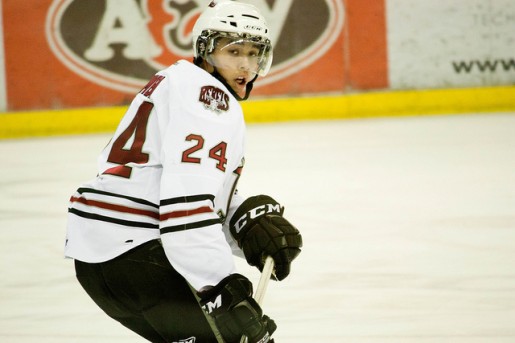 Tonight, Team Canada trimmed their roster down to the 23 players needed for the Ufa, Russia tournament to be held later this month. Amongst the final cuts was goaltender Laurent Brossoit, forwards Tom Wilson, Hunter Shinkaruk, Mark McNeill and Daniel Catenacci and defensemen Frank Corrado, Ryan Sproul and Minnesota Wild 2012 1st round pick Mathew Dumba.
Dumba was the last man cut from the roster for the second year in a row. It's tough to see but the promising young defender took it in stride saying, "I'm disappointed but I understand". Matt captained Canada's Under-18 WJHC squad last spring to take the bronze and led the tournament in scoring as a defenseman with five goals and seven assists for 12 points and 20 PMs in seven games. At just 18 years of age, he'll have one more shot next year and will be highly motivated to claim it for his own.
What does this mean for his development? His scoring has been down thus far this season, however, it is most likely due to the fact he's trying to play as a more "complete" defender. Dumba is most effective when he plays his game and plays it his way. Most likely the best option for his development at this point would be to finish the year in Red Deer, play there next season as well and hopefully he'll make Canada's 2014 U-20 WJHC team. There's no need—no point—in rushing him. If he's developed properly, he'll come into his own and Wild fans can't wait for when that time comes and he explodes onto the scene in a big way. The "Dumba Train" is coming!