When an NHL hockey team wins the Stanley Cup, each player from the cup winning team gets 24 hours with the cup. Last Tuesday, former Fighting Sioux defenseman Matt Greene had his day with the Stanley Cup.
Following the travel of the Stanley Cup this past summer, it's been to some very interesting places. Recently, the cup has been to the beach, and fishing in Canada. So where did Greene take the cup during this 24-hour period?
Lord Stanley's Cup traveled to Grand Ledge Michigan on Monday and then took a private jet to Grand Forks, North Dakota, on Tuesday. Kind of low-key, but it appears that's what Greene intended.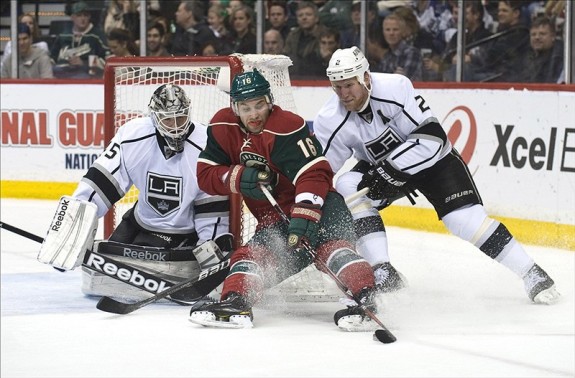 According to Greene, the University of North Dakota and Grand Forks community is a special place for the Kings defenseman. So bringing the Stanley Cup to Grand Forks seemed like a logical choice.
"It's just a real special place for me," Greene said. "To be to be able to go to school here, be part of the Fighting Sioux family and to be able to bring it back up here – it's special – like a home town to me."
"It's been awesome and been lot of fun coming back here," Greene add. "It's been a whirl wind. I think that cup kind of does it, though. It brings out the crazy in a lot of people. It's always fun."
Matt Greene brought the Stanley Cup to Grand Forks and a couple people waited to see it. #couplethousand @UNDMHockey pic.twitter.com/YMv3vUudK5

— NCAA Ice Hockey (@NCAAIceHockey) August 13, 2014
Grand Forks, a hockey crazed town
The city of Grand Forks is a hockey crazed town. That fact didn't go unnoticed by Greene during his time here, either.
"It's been awesome, the fans have been great," Greene said. "It's a big hockey community. I still have a lot of friends here, a lot of family. Good to be able to see that and share it with them."
Greene continued, "I wanted to share it. I know how much the community means to me. I just wanted to make sure that they know that I was proud to have spent some time here and to call this a second home."
Greene was asked what it was like to attend school at the University of North Dakota.  The former captain had a lot of nice things to say about his time at UND and Grand Forks.
"It's an unbelievable place to go to school," Greene said. "It's a great place to live, a great community. The (hockey) program is number one in the nation. They made the sacrifices and adjustments to stay on top. It was a real special time in my life, and I recommend it to everybody."
Grand Ledge and Grand Forks, two similar communities
Greene was asked if the two communities of Grand Ledge and Grand Forks were similar.
"I think that Grand Ledge and Grand Forks are very similar," Greene said. "Grand Forks is a lot bigger, but at the same time, a lot of my best friends from home are up here right now and get along with my friends from college. Very similar in terms of the people and that's what makes this place special."
The Stanley Cup goes to Judy's Bar
Grand Forks is also a relatively small town, but still has its fair share of historic, memorable places. Greene was asked where he where he took the cup during his stop in town.
"I just went to the places that we hung out when we were going to school," Greene said.   "Lee Marvin was a classmate of mine and one of my best friends here. We used to go to Manvel and see his grandparents and hang out. I think that if anyone bumped into me when I was at school, I was at Judy's (bar), maybe too much. That was a real special place. Just places we hung out."
The fans appreciated Greene bringing the Stanley Cup back to Grand Forks . The event was well attended, and many hockey fans had their chance see the cup and get a picture with it.  The Kings return a fair share of their cup winning lineup, so there's a good chance that Grand Forks could see the cup again soon.