Okay, so maybe hero is a bit of a strong word. Or is it?
When the regular season kicked off about a month ago, it was startlingly unclear as to who would be awarded the seventh defensive spot with the New York Rangers. Those days seem to be a thing of the past now, for when full health and availability does eventually return for the Blueshirts, the spot will be held not by some ever-changing phantom defenseman, but instead by either John Moore or Matt Hunwick.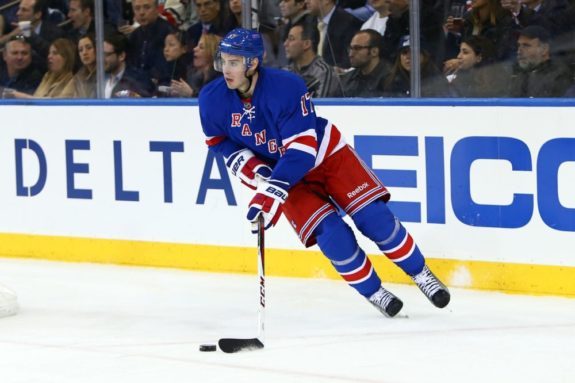 Now I know what you're thinking. You're thinking, "well of course, Matt Hunwick has more than earned that seventh spot." And yes, that's exactly right. When it really boils down to it, with his recent play during the absences of Boyle, Moore, and McDonagh, he has certainly earned that seventh slot, and possibly even more. I'd even venture to say that there's a very real possibility that Hunwick is, and will continue to give John Moore a serious run for his money for the full-time job in the Rangers top-six on defense.
The Need for Someone to Step Up
The Rangers have dealt with defensive injuries since opening night. It started with Dan Boyle and his broken hand, and the absences have made their way down the Ranger blue line.
Both Matt Hunwick and Mike Kostka were given opportunities to prove why they each deserved the open spot on defense. It was brutally clear pretty early on, however, that the spot wasn't going to go to Mike Kostka.
And so, Matt Hunwick was given his chance.
Now, 12 games into the season, Hunwick has played in 10 of those games. He's currently averaging 18:09 of ice-time per game, he leads all Ranger defenseman in points with five (0-5-5), two of which have come on the power play, and is an even in the plus/minus category. Pretty impressive for a guy who was recently given up on by the Colorado Avalanche, played the majority of last season in the AHL, and barely made the Rangers this season.
Advanced Version of Hunwick Equally Impressive
I'll be the first one to admit that I have my reservations and questions regarding the advanced stats movement currently taking place in the hockey world. I do think that when coupled with other, more "traditional statistics" (i.e. plus/minus, points, etc…), measurements such as Corsi and Fenwick can effectively help measure the performance of individual players. I do not, however, subscribe to the idea that advanced stats are the be-all-end-all in the evaluation of hockey talent, nor will I claim, at this point in time, to be an advanced stats guru. I do think, though, that to pigeonhole ourselves into blindly following advanced stat sheets is to not see the entire game for what it is.
That said, I believe that there is a place for Corsi and Fenwick statistics in hockey, and when you do take into account Hunwick's Corsi-For (CF) percentages, both individually, and how other defenseman play with him on the ice compared to when they don't, his numbers are equally impressive as his play has been to the naked eye, sans analytics.
Speaking very generally, with Corsi, if a player's CF percentage is above 50 percent, it's a good sign meaning that when that particular skater was on the ice, more shots were directed towards the net for his team on offense, than shots were directed towards his own teams net. When a player has a CF percentage that dips below 50 percent, it's not quite as impressive.
Believe me, this is Corsi in its absolute simplest form, and the depth to which we could dive into right now is mind boggling. But that's for another author, in another article, on another day.
Now, with Matt Hunwick, on the most basic level at even-strength, Matt Hunwick's Corsi-for percentage is the best among active Rangers defenseman at 53.1 percent. Additionally, when other defenseman play with him, their numbers go up.
Just take John Moore (inactive due to a five-game suspension), who leads all Ranger skaters in CF percentage at even-strength. Moore's overall CF percentage is 56.9 percent, however, when playing with Hunwick, his CF percentage is elevated to 58.3 percent.
It's a similar situation with Marc Staal. Staal's overall CF percentage at even-strength is 50.9 percent, but, when he's paired up with Matt Hunwick, that number is elevated to 58.8 percent. Granted, Hunwick and Staal have only played a little over 18 minutes together this season, so that stat should be taken with a grain of salt. The same could be said for Kostka when he's paired with Hunwick, but again, it's such a small sampling that it could very well be rendered irrelevant.
The point here, though, is not to delve too deep into the advanced statistics of Matt Hunwick, but more to show that Hunwick isn't just playing good hockey on the surface, he's also effecting the play of certain other defenseman in some pretty positive ways, and it reflects through both traditional and advanced statistics.
Again, for a guy who almost didn't make the team, this is all pretty darn good.
You may not believe me, but I really do see some good in hockey analytics. I just think too much of any good thing isn't always good. The same goes for this movement in hockey.
A Hero? Or Just the Right Fit?
Matt Hunwick is 29-years-old, and he's has now played in over 300 NHL games. I think it's safe to call him an NHL veteran. It's also safe to say that he's never quite found a consistent role on any of the now three NHL teams that he's played for.
It's probably still a little too early to tell, but it seems, at least for the time being, that Hunwick and the Rangers just may have a future together.
The Rangers signed Matt Hunwick during the summer of 2014 to a one-year deal, worth $600,000. If you ask me, Hunwick has far exceeded expectations, and has permanently earned himself, if nothing else, the seventh spot on the Rangers defense. Whether he's earned more than that is still up for discussion.
Anthony Scultore of the FullTilt Rangers could smell it from way out in the distance. He wrote back in August that Hunwick could replace John Moore if it really came down to that, and he was absolutely correct.
Whether or not this will all actually come to fruition is yet to be seen, but it's hard to argue with the play of Matt Hunwick so far. If he continues his strong play, he's certainly going to make the decision for Alain Vigneault and company a pretty difficult one in the not so distant future.
During a time when the Rangers have been in such desperate need of someone to step up their game, Matt Hunwick has answered the call almost flawlessly. For $600,000, I'd say the Rangers struck gold.