April 1, 2016, Marc-Andre Fleury declared that he didn't feel right upon arriving to work. The Pittsburgh Penguins' staff sent Fleury to see their doctors and that afternoon, he was diagnosed with his second concussion of the 2015-16 campaign. The Penguins were nearing a first round playoff series against the New York Rangers and thankfully, they had a young, highly touted prospect by the name of Matt Murray to hold things down during his absence. Except that, Murray also suffered a concussion roughly one week later leaving Jeff Zatkoff to man the crease.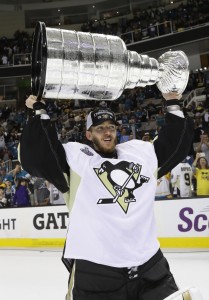 Things clearly worked out for the Penguins. Murray took over after Zatkoff played two games in relief and ultimately led the Penguins to a Stanley Cup championship. While plenty of storylines regarding a goalie controversy and the demise of Fleury in Pittsburgh would follow, it was also abundantly clear that the Penguins had an advantage most teams could only dream of.
They had two NHL-caliber starting goaltenders on their roster.
Penguins' general manager Jim Rutherford was clear and concise in his plan for these netminders. He wanted both on the roster for another Cup run, and he'd worry about the impending expansion draft when the time comes — which could lead to losing Murray to Las Vegas if Fleury is still rostered due to his no-movement clause — because that's what was best for Pittsburgh at the time. Now, with Murray injured again, you first have to appreciate that he was able to keep both but you also have to ask; Is Murray's injury prone start to his NHL career something the Penguins should consider this summer?
A Rough Year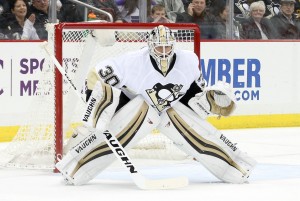 There aren't many 22-year olds — soon to be 23, in fact — who can say they've led an NHL franchise to a Stanley Cup. Whether or not Murray is a special goaltender isn't a question that needs asked but whether he's capable of being a workhorse starter in this league, well, that's a different conversation.
Since his concussion diagnosis in mid-April last year — Murray has suffered a broken hand, a lower-body injury in December and another that he's currently dealing with — and there's no timetable for his return. For the second consecutive season, Pittsburgh's backup will have to lead this team when the stakes are at their highest. Imagine if Tristan Jarry was launched into that role after starting just one NHL game prior. That's hardly an ideal situation.
The Penguins have experienced similar situations with promising young talent. Beau Bennett, originally drafted in the first round (20th overall) by the Penguins, is a great example of how a promising young player can have issues staying healthy in the NHL. Olli Maatta comes to mind as well, and we've seen his play negatively impacted by his health issues. Each of these individuals come with different circumstances but this time, when you're talking about your starting goalie, can you take a chance with him and let Fleury walk prior to the June 18 expansion draft?
Ultimately, that's the most important question that needs answered.
No Easy Decision
First, it's important to understand that Fleury doesn't have to go anywhere.
Earlier this season, the biggest reason most people felt Fleury should be traded was cap space. The Penguins needed to address their blue line and had very few options to do so because of how close they were to the cap ceiling. After Maatta and Daley were injured in February and placed on IR, that provided Rutherford the flexibility he needed to add Ron Hainsey and Mark Streit. And with names like Daley, Matt Cullen, Chris Kunitz, Nick Bonino, and Rob Scuderi's retained money coming off the books this summer — combined with cost-effective youngsters and RFA's that Pittsburgh maintains bargaining power over — they're set up pretty nicely for the foreseeable future. Even if they decide to re-sign a few of those individuals.
This is where things get really interesting. Pittsburgh could, in theory, expose Murray at the expansion draft and if he's selected by the Las Vegas Golden Knights — they can groom Jarry behind Fleury for two more seasons. If they decide to expose him and he isn't taken, they maintain the best goaltender depth in the league until Fleury's contract expires or they're forced to trade him down the road. They'll have a larger sample size from Murray and his ability to carry the load at that point, too.
Pittsburgh's brass will need to consider all options, and they'll certainly mull over this quite a bit prior to this summer. One thing is for sure, though. Murray's inability to stay healthy has to be a concern when making a decision on Fleury's future with the Penguins. This isn't a debate about which goalie is better, but instead, which goalie can you rely on to stay healthy and be good enough to win. This Penguins team doesn't need stellar goaltending, they just need their netminder to be steady. And, of course, healthy.