Anticipation. It's what makes sports great. Even if the game ends up being a dud, it was the possibility of witnessing something epic that made you tune in. For the NHL's hype train, manufacturing excitement is the name of the game. That's why NBC pushes rivalry night (even though most of the games don't actually feature teams with any real history). That's why individual players are shoved in our faces. For that feeling when you can't wait for the puck to drop. You count down the hours. It's the anticipation that greatness might happen. And right now, the future of hockey is in very good hands.
NHL Needed an Injection of Youth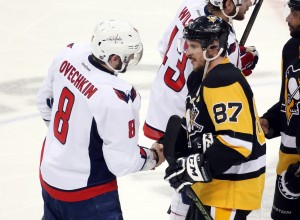 There are plenty of talented stars in the NHL right now, and for the most part, they're spread out over the continent. Guys like Sidney Crosby, Alex Ovechkin, Patrick Kane, Carey Price and P.K Subban are often the ones making headlines. But it felt like a bit of lull was ascending on the world of hockey, as games became tighter defensively, goal totals went down, systems and structures took the place of creativity, and there weren't enough standout superstars. When Jamie Benn only needed 87 points to win the Art Ross Trophy in 2015, many wondered if we'd ever see a 100-point player again.
Last season, Kane won the honours with 106 points, though no one else cracked the plateau. Ovechkin was the only player to score at least 50 goals. The days of flashy celebrations and highlight reel plays felt like old news. The NHL needed some more excitement. They needed some good old forced hype to reel in the fans. This season, they got just that. In influx of young players, particularly in Canadian markets, has brought back a lot of life to the league. Rookies such as Auston Matthews, Mitch Marner, and Patrick Laine have been making headlines. And of course, we're getting a proper look at the wonder that is Connor McDavid.
It was perfect timing when Sidney Crosby reasserted himself as the best player in the world in the middle of last season and carried it over into the World Cup of Hockey because now he's got some competition. Now the NHL can really hype up meetings between some of the best players in the league and some of the best budding young stars. But even more than that, we have everyone's favourite narrative, the player rivalry. And it's not between guys in their late 20's or early 30's. It's between an 18-year-old and a 19-year-old. A Canadian and an American. Both first overall picks. Can't get much better than that.
Auston Matthews' jersey outsold Connor McDavid's in the month of October so he's already ahead in this matchup

— Kristen Shilton (@kristen_shilton) November 1, 2016
Birth of a New Rivalry?
Connor McDavid plays for the Edmonton Oilers, a member of the Western Conference, while Auston Matthews plays for the Eastern Conference-dwelling Toronto Maple Leafs. Unless they both qualify for the Stanley Cup Final, they will only meet head-to-head twice in a season. The irregularity of their meetings might be seen as a detriment, but it's actually the perfect situation. Everyone loves a good rivalry, but they can also be easily played out.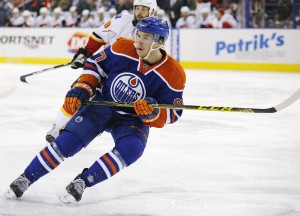 Does anyone get amped up to watch Sid vs. Ovie? Probably not as much, for a number of reasons. Firstly, it was pushed way too hard by the media. Secondly, Crosby has had the upper hand for a while now, so there's not much drama there anymore. Thirdly, they've faced each other so much over the course of their career that the rivalry has lost a lot of its cache. That won't be the case with McDavid and Matthews.
Going into round one, the hype train was in full motion. At least it was here in Canada. The fact that both these guys play on Canadian teams will dampen the excitement south of the border, despite Matthews' citizenship, because the game wasn't even broadcast in the States. Sid vs. Ovie was perfect because they were both in American markets. Canada is just as good at hyping things up, but it won't gain as much traction league-wide.
When Crosby and Ovechkin came into the league, they were immediately compared, despite not even playing the same position. Because of the lockout, they broke out in the same season and went head-to-head for the Calder Trophy. That wasn't the case with McDavid and Matthews. But these guys are both centermen, and they're both the face of storied franchises. They haven't accomplished much of anything at the NHL level, though that is rarely a pre-requisite for a rivalry such as this. In order to keep the rivalry narrative rolling, however, they have to meet the expectations.
Hope NBCSN is enjoying that 4-0 Tampa-Islanders game while McDavid and Matthews are going head to head.

— Mike Harrington (@BNHarrington) November 2, 2016
Can They Live up to the Hype?
The fascinating thing about all this is that just a year ago, the hype was about Connor McDavid and Jack Eichel. One-two in the same draft year, Eichel bent on proving he is the better player, but it seems that rivalry has already lost steam with the emergence of Matthews. Part of that is a product of him being a Maple Leaf. Plus he was a first overall pick, and he started his NHL career with a four-goal performance. It seemed more fitting to place him side by side with McDavid, who by all accounts looks like he'll be the next great face of the NHL.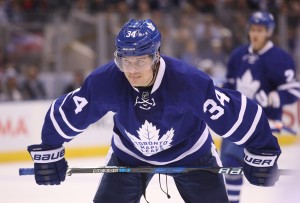 At this point, none of these players has earned superstar status just yet, so expect there to be some fluidity in terms of rivalry partners. Eichel might come back from injury with a vengeance and assert himself into the conversation again. But for McDavid and Matthews, will they be able to provide the much-anticipated excitement that everyone is hoping for? The Oilers and Leafs faced each other on Tuesday (yes, there were more than just two players on the ice), and it wasn't the barn burner we wanted it to be.
There was an expected regression in the Oilers' game after their hot start to the season and the Leafs trapped their way to victory. Nazem Kadri (with two goals, including the overtime winner), Anton Lander, Ben Smith and Darnell Nurse provided the goals, and both McDavid and Matthews were held pointless. Sometimes the end result is worthy of the hype, sometimes it isn't. But, take heart, because this is just the beginning.
The young Oilers captain is good enough to carry the hype machine around on his own. Any team he plays will feature the headline of McDavid vs. (insert opposing superstars name here). If Matthews continues on the trajectory of success, the same thing will follow him around (if it doesn't already). Neither player needs each other to sustain the excitement, and that's the best part. Rivalries, real or not, are part of the game, and they bring a lot of juicy possibilities. But there appears to be more young stars than ever at the moment, and the NHL loves it.
I love the hype about McDavid and Matthews but seriously how can it be a rivalry when the teams play each other once a year?

— Kyle DeGiuli (@kyleDeGiuli13) November 2, 2016
McDavid and Matthews might find themselves drawing comparisons to each other for a long time. One or the other might pull away in terms of success. One or the other might not live up to expectations. But individually, these two guys are brimming with talent. The excitement will be there in every game they play. Bet you can't wait for their next head-to-head meeting, though.