Darryl Sutter Said it Best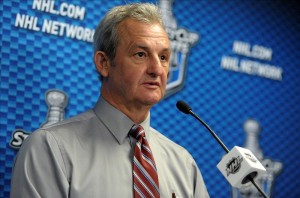 Prior to puck drop of Saturday's Stadium Series contest, San Jose Sharks head coach Todd McLellan made what has become a typical Sharks decision. With the Kings in town, he inserted a "five, six, or seven minute" type player in John Scott. Or in other words, the same type of fourth line player to which Kings head coach Darryl Sutter told me are not utilized on playoff teams. Yet McLellan called the Sharks a playoff team leading up to Saturday's game. Well, I'll certainly be siding with the two time Stanley Cup winning head coach on this one. Playoff teams don't use these types of players and the Sharks are not a playoff team. Certainly not built for the playoffs.
Playing the designated enforcer was one thing, but McLellan broke up by far his best line from their previous game to do it. In their 5-2 win in Dallas on Thursday, San Jose's "fourth" line of Tomas Hertl, Andrew Desjardins, and rookie Chris Tierney was by far their best line of the night. After having a terrific game though, Tierney was a healthy scratch against Los Angeles. Desjardins, who scored twice against the Stars, was rewarded in the Stadium Series game with two new linemates in Scott, and Tyler Kennedy.
Kyle Clifford vs John Scott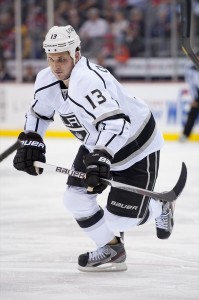 This "new" fourth line combination against the Kings was predictably awful. Earlier in the season this same trio was benched the entire third period in a loss to the Edmonton Oilers. Yeah, those Oilers. The Kings got on the board in the first period when their enforcer Kyle Clifford redirected a Jake Muzzin point shot moments after the Kings' fourth line had gotten the better of San Jose's. In fact, LA's "fourth" line of Clifford, Jordan Nolan, and Nick Shore were at one point cycling in the Sharks zone against San Jose's top line of Patrick Marleau, Joe Thornton, and Melker Karlsson. A fourth line out playing one of the opponent's top scoring lines is a feat that good teams are able to accomplish here and there. The Sharks' fourth line with Scott on it however, was never going to be able to cycle around Dustin Brown, Anze Kopitar, and Marian Gaborik.
In the third period, Clifford saw 2:48 in ice time while Scott saw just 1:28. The Kings continually roll four lines against the Sharks while San Jose is forced to overuse their top three. Certainly being down a goal meant San Jose had to heavily ride top offensive producers. However, as mentioned above, the fourth line against Dallas was their top offensive producing line for sixty minutes. Their best shifts weren't even the shifts they scored on. Yet with the lineup switch, the Kings easily iced a better bottom six. These are decisions that are costing the Sharks games. The top skill guys on both sides are so close, it is the depth guys that make the difference. These two teams feature some of the best talent in the world on the top lines and top pairs. They generally battle each other very evenly. The Kings however, get big goals on the regular from a guy like Justin Williams, the Conn Smythe winner from last year, playing on their third line. San Jose doesn't have that type of scoring threat on their third line. Not even remotely close to a guy of Williams' caliber.
Need Four Quality Lines in Playoffs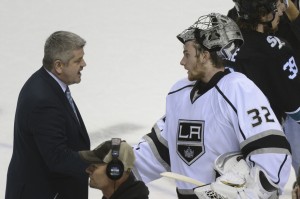 And remember, the Kings rolled out four better lines than the Sharks while still missing one of their top wingers in Tanner Pearson. Technically still a rookie, Pearson clicked on a like with Jeff Carter and Tyler Toffoli last season and into the playoffs as part of the famous "That 70's Line" and this season he has 12 goals in 42 games. San Jose doesn't have any impact forward out with injury unless you count Raffi Torres who has basically been out for two years.
McLellan and the Sharks believe they are better off matching toughness and size with toughness and size against the Kings. The problem is San Jose's toughness doesn't have enough skill attached to it. If the Sharks want to beat the Kings in a best-of-seven, they need the ability to match four lines that can play effective minutes. That is where they are continually failing time and time again.