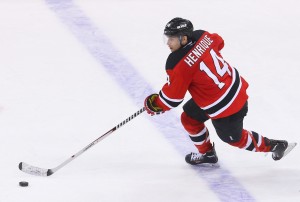 The New Jersey Devils at the moment are eight points out of a playoff spot. The teams in front of them, Florida, Philadelphia, and especially Boston have played inconsistently over the past month. Now it's not like New Jersey hasn't been a victim of inconsistency themselves having lost four in a row before this three-game winning streak. However, something feels different about this team. They are playing better in many facets of the game except in the shots on goal department. They are playing better defensively, and are making the most of their scoring opportunities. It's still a long shot, but the thought of New Jersey somehow creeping into the playoffs, and possibly giving someone an early scare sounds almost too good to be true.
Can They Keep up the Pace?
Obviously New Jersey will need to continue the winning streak they're on, and with six of their next seven at The Rock, they have a good chance of doing that.
Coming up first on Monday is a matchup with the Arizona Coyotes. They are in second to last in the Western Conference, and should hypothetically be an easier game for New Jersey. Mike Smith has had for the most part a terrible season. The teams both score the same about of goals-per-game at 2.19, which is tied for third worst in the league. What makes the teams different though is their place in the standing; Arizona has only accumulated 47 points while GM Don Maloney has already suggested that its time for a rebuild out in the desert. This is a game the Devils have to win.
Calgary coming in will be a special occasion for one particular player, New Jersey native Johnny Gaudreau, or, as he's better known as, Johnny Hockey. He's been a sensation for the Flames this season, and will definitely want to put on a show for his home state, but also to help Calgary stay in playoff contention. The Flames were for a while, a team other teams could overlook, but not anymore. While it's just another west Vs east matchup, New Jersey can't overlook any team that gets between them and the playoffs.
Devils now 8 points behind Boston for 2nd wild card spot in the East with 23 games left.

— Tom Gulitti (@TGfireandice) February 22, 2015
The last game of New Jerseys' six-game home stand will be their most important if they want any chance of making the playoffs. They must defeat the Boston Bruins. Even if New Jersey were to win their games against Arizona and Calgary, losing essentially a four-point game to Boston would put them almost too far back in playoff contention. What's working in the Devils favor is the horrendous play of Boston. They are 3-5-2 in their last 10 games including a 5-1 beating in their previous game against the Blues. Boston has the Blackhawks and Canucks in their future so it remains a possibility that if everything goes the Devils way they could pull to within two points of Boston with a win.
New Jersey would travel to Columbus on Saturday, and then host Nashville next Tuesday, which begins a three-game home stand.
Taking Advantage at Home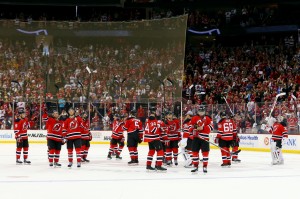 The Devils are already off to a great start on this home stand, and still have three games remaining. It's a streak of home games that's been coming the Devils way for a while. New Jersey has been on many road trips early in the season, and is already finished with their California trip, and Western Canada swing.
New Jersey has been especially good at home lately as well as they are 10-2-3 in their last 15 home games. While the skill on the ice is the main component to winning, having a good atmosphere in your building is a key to a team's success. New owners Josh Harris and David Blitzer's impact on The Rock's atmosphere has been especially noticeable as of late. The Rock looks close to packed on a nightly basis, and playing in front of an energized crowd is definitely having a positive effect on the players.
Knowing When to Stop
While the game against Boston on Friday should give New Jersey a good idea of where they're at, they have to realize when it's the right time to stop the push towards the playoffs.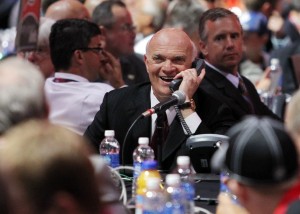 I'm specifically referring to the upcoming March 2nd trade deadline. New Jersey has too many pieces where if they don't think they can overcome Boston for the last playoff spot, then they have to move those pieces. Jaromir Jagr, Marek Zidlicky, Dainius Zubrus, Michael Ryder, and possibly up to 10 members of the team could be moved by the deadline. The reason for so many players being moved is because the average age of this team is 31. Having the average age of 31 is almost two years older than the second highest team in Philadelphia, and four years older than the league average of 27.
The Devils are in an awkward position to say the least. However, if everything in the upcoming week falls in their favor, they could be a playoff team.
Do you think New Jersey will make the playoffs?