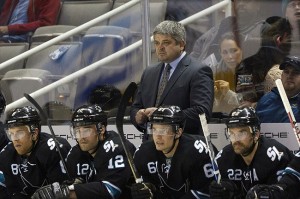 Todd McLellan's reputation as a strong head coach is nearly universal throughout the NHL. However, no coach is perfect. Not even Joel Quennville and his three Stanley Cups with the Blackhawks. McLellan, now with the Edmonton Oilers, made many mistakes while with the Sharks the past seven seasons. Arguably his biggest mistake was made last season when he completely and utterly misused No. 1 defenseman Marc-Edouard Vlasic.
Vlasic Could Have Bailed Sharks Out…
The Sharks' blue line behind Vlasic last season was, in a word, dreadful. Brent Burns may have made the All Star team because of his flashy offense but he was a train wreck in his own zone. The normally reliable two-way Justin Braun had an off year. The combination of Jason Demers and Brenden Dillon (traded for each other in November) played well below expectations. First-round pick Mirco Mueller was rushed to the NHL and McLellan took him in and out of the lineup as a healthy scratch. Playing Mueller at 19-years-old next to a forward reverting back to defense after two years away from the position was another poor move by McLellan.
The biggest mistake McLellan made last season though was not riding Vlasic the way other teams rode their top stars. Since 2011, Vlasic owns a studly 55.3 percent goals for. That is higher than Duncan Keith, Brent Seabrook, Drew Doughty and Victor Hedman, just to name a few. Speaking of Keith and Seabrook, we all saw how the Blackhawks' top-four defensemen handled huge minutes in the playoffs. The best defensemen in the world, (which Vlasic is one of), can play big minutes and remain effective.
Considering Vlasic was the shut-down stud on Team Canada's top pair in the 2014 Olympics, and the fact the Sharks defense was terrible in 2014-15, wouldn't you think Vlasic would have been top-20 in the NHL in ice time?
But Instead, Vlasic Barely Played
Sadly, McLellan didn't even come close to giving Vlasic the ice time he deserved and that the Sharks needed him to play in order to be more successful. Vlasic is one of the top-20 defensemen in the world, yet he averaged less even-strength ice time than guys like Justin Schultz, Francois Beauchemin, Brooks Orpik (yeah that Brooks Orpik who got burned by John Scott, yeah, that John Scott), Erik Johnson, Matt Niskanen, Damon Severson (who?), Ron Hainsey, teammate Burns, next year's teammate Paul Martin, and even his usual partner Justin Braun.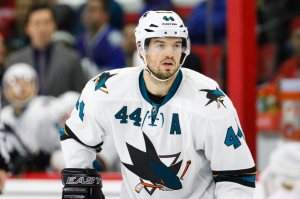 Vlasic was the 57th most used defenseman at even strength last season and that is an absolute travesty. How in the world does Vlasic see less even-strength ice time than two players who are going to be his teammates next season on a lower pair? Vlasic is a top pair guy in the prime of his career. The 28-year old could have easily handled big minutes.
Unfortunately, not only did he not get big minutes, he didn't even get expected minutes of someone of his caliber. McLellan played him less than dozens of defensemen who aren't anywhere close as dominant at even strength. To make matters worse, McLellan decided to give him more power play time than he ever had before. This in spite of the fact Vlasic is the furthest thing from a power play quarterback.
No Business Being on the Power Play
At even strength and penalty kill Vlasic is one of the best in the league, he makes a strong breakout pass and can skate like the wind. However he does not have the offensive creativity that belongs on the man advantage. San Jose's second unit struggled mightily this past season and one of the main reasons was because Vlasic was the quarterback instead of Braun.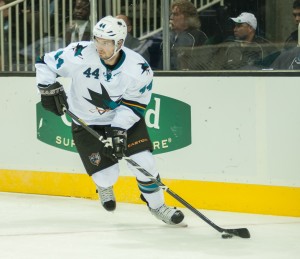 In earlier seasons Braun saw significantly more power play time than Vlasic, but last year Vlasic inexplicably averaged 1:24 compare to Braun's 0:30 on the man advantage. This makes absolutely no sense. Anyone who has watched the Sharks in recent years will tell you that Braun is by far the more offensively gifted defenseman despite mundane point totals.
During the 2013-14 season when the Sharks had a better year, Braun averaged 1:01 in power play time, whereas Vlasic averaged a mere 0:42. These two had no business being switched up on the power play. None whatsoever.
Call me a conspiracy theorist, but ice time allocation like this makes me wonder what McLellan and perhaps general manager Doug Wilson were thinking last year. Were they trying to win? Or were they hoping to get a top-10 pick in the deep 2015 draft?
Essentially Limited Their Best Defenseman
You could make the case the Sharks were purposefully limiting the ice time of their best defenseman. Remember, Vlasic was the rock that allowed Drew Doughty to dominate the 2014 Olympics. How in the world did the aging and declining Orpik and Beauchemin average 40 seconds more of even-strength ice time per game than Vlasic? These two had plenty of other quality defensemen on their respective teams, better than the Sharks group by far.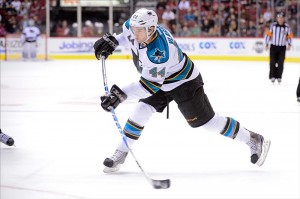 Yet Vlasic was used an entire shift less per game? Vlasic overall finished 53rd in the league in ice time last year with 22:06. Had McLellan and the Sharks used him wisely, he would have averaged 25 minutes per game with next to zero time on the power play.  This would have put him in the top 12-15 overall in ice time and top-10 in even strength and penalty kill total where he belongs.