Less than a week after skating around the Tsongas Center with the Isobel Cup raised above their heads, members of the Buffalo Beauts packed a car and headed southeast hoping for another championship.
But this time, they left their skates home.
Hockey Is Hockey
In a small community just outside of Philadelphia, down a small winding two-way road and over a set of railroad tracks sits an industrial complex. Nestled among the warehouses and businesses, and down another small road, sits a large sports complex. Past the gymnastics center on the right and the swimming pool on the left, the sounds synonymous with hockey can be heard.
But these are not your typical hockey rinks. While there are glass panels and dasher boards, benches and penalty boxes, blue lines and goal lines, ice is only kept in the cooler for the wounded.
These rinks are only for running.
This past weekend, NWHL champions Devon Skeats, Paige Harrington and Emily Janiga laced up sneakers instead of skates and participated in Cool Hockey Events' North American Ball Hockey Championships.
The Buffalo Beauts won the 2017 Isobel Cup on Sunday night, defeating Boston 3-2 in the NWHL championship. https://t.co/KHRZYPjLHn pic.twitter.com/uwI72Rf1yU

— IIHF (@IIHFHockey) March 20, 2017
"I haven't even moved in my stuff [back home]," said Harrington with a smile. "But I was asked to play, so I figured why not give it a shot. I was like, ball hockey? I've never tried it but you hear such good things."
Like Harrington, Janiga was also new to the sport.
"Skeats has played before," added the East Aurora, NY native. "I've never really heard of ball hockey … [But] I saw these teams coming in and both rinks, the surfaces and the parking lots filled – what big tournament did I come to? I think it's awesome, and it's awesome to stay involved and try different sports."
Hockey Is Hockey, but With a Twist
As in ice hockey, teams play five-on-five with goalies and referees call icings and offsides—but with a slight twist. While the blue line is the line of demarcation for offsides, ball hockey plays with a "floating blue line." Once an offensive player acquires the blue line, the offensive zone expands to the red line—something that trips up even the most experienced ice hockey player.
"Floating blue line," sighed defenseman Harrington. "I didn't even realize. I was on the power play and I was stepping on the red line [and the referee blew the whistle]."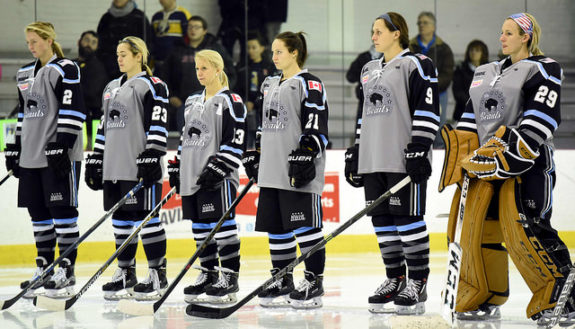 This is not just an organized game of street hockey, a sport many ice hockey players participated in growing up. These games are played on enclosed rinks measuring 185 feet by 85 feet. In comparison, NHL rinks—where players can glide around if they want—are 200 feet by 85 feet.
"When they said it's going to be the full ice surface I was like, 'we're going to run the full ice surface?!'" Janiga said with a grin. "Skating is enough, let alone running it."
Add in a bouncing orange ball, instead of a flat rubber puck, and things can get a bit tricky.
"The ball is a little lighter, so the first couple of shots I took flew over the net," laughed Janiga, who scored three big goals in the Isobel Cup playoffs for the Beauts.
Added Harrington, "the ball is so bouncy and so light so it flips over you. You don't even realize it'll pop over your stick. You go to look for a pass and the ball's off your stick … It's tough."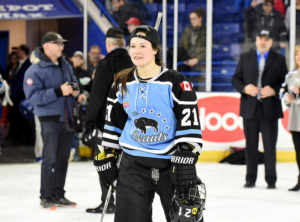 "Trying to run and shooting at the same time is a lot different than skating and shooting," noted Skeats, who notched 20 points in 31 regular season games over her two NWHL seasons. "I think it's a little bit harder [on the dek] because you're running. Skating, you can stop skating and just glide and catch your breath; where with running you're constantly moving—unless you're standing still, and when you're standing still you're useless. It's a pretty intense sport."
Intense Is an Understatement
Watch from the stands, or stand by the glass, and you'll see some of the top players in the world lay it all out on the line. The physicality and the skills on display in the Women's A division at the NABHC were awe-inspiring. Teams from the United States and Canada faced off with benches filled with national team members including Skeats, who exclusively announced during the interview that she will be retiring from the NWHL. This June, Skeats will be playing for Team Canada at the 2017 ISBHF World Senior and Women's Ball Hockey Championships in Pardubice, Czech Republic.
"I love it," exclaimed the Buffalo Beauts forward. "I think it's an incredible way to get some exercise in, and you're running a lot. Not a lot of people like running, but when you're running in ball hockey you don't really notice. It's fun. It's hockey, and hockey I think is hands down the greatest sport in the world."
While the Beauts will always be bound by their love of running and their championship run on the ice, during the NABHC these teammates were adversaries:
https://www.instagram.com/p/BSE-q9KDDJi/
Ball Hockey Has Some New Fans
By the end of the tournament on Sunday, the women definitely got their ball hockey legs under them. The skills they acquired from a young age in cold rinks effortlessly translated to the warm dek hockey rink.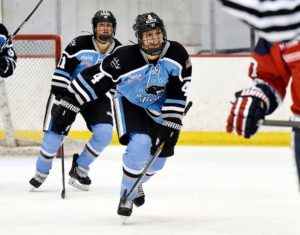 "It's awesome," Janiga said with a smile as big as that of a kid on Christmas. "I want to find a summer team. It's something to keep me active and you meet a lot of new people on here … It's a small, niche community so it makes it a little more fun and enjoyable that you get to meet people from all over the country and make connections through them."
"Ball hockey is a great way to continue playing hockey," noted Skeats. "It's not on the ice, but it's in the rink and it's a great and incredibly fun sport to be a part of."
Unfortunately, another championship was not in the cards for the Beauts. Harrington and Janiga's team, Happy Endings, lost in a shootout to Skeats' London Norstars in the semifinals. Skeats' squad would then lose in the finals to the Atlantic Crush.
But, if anyone is looking for some new teammates for their ball hockey team this summer, there are a few Beauts looking to stampede your league.