On their way to the Stanley Cup Final last season, the Pittsburgh Penguins sizzled through March and April, winning 14 of their final 16 games. We are not yet to April, but this season, the Penguins appear to be limping to the finish line.
For the most part, the Penguins have dealt with injury adversity extremely well. They won eight of the first 11 games this month and earned points in 11 of the first 13. Over the last week, though, Pittsburgh has dropped four in a row. The last time the Penguins lost this many games consecutively, Mike Sullivan had just taken over as coach in Dec. 2015.
It's no secret what's been the problem – Pittsburgh has yielded 15 goals in the last three games alone. Even the No. 1 offense in the league can't win with that kind of leaky back end.
With this many goals, it's easy to blame the goaltenders, but the Penguins' biggest problems are definitely not in the net.
Reasons for Concern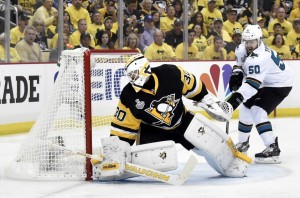 There's been a lot of talk in the Steel City recently about the lackluster play of 22-year-old Matt Murray. He called his own play "mediocre" a couple weeks ago, and that's pretty much continued through March. Since March 5, he owns a .908 save percentage and 2.98 GAA. That's a far cry from his .923 save percentage and 2.08 GAA from the postseason last spring.
What's worse is Murray doesn't appear to be his fully confident self. He seemed rattled early in the first period versus the Jets on March 8 and looked unorthodox on a couple save attempts against the Flyers on Sunday.
Marc-Andre Fleury has been the better Penguins goaltender in March, but that came to a screeching halt Wednesday against the Blackhawks. He yielded four goals in the first period and posted a .860 save percentage in the 5-1 loss. That performance led to many negative reactions to both Penguins goaltenders.
A live look at Marc-Andre Fleury tonight. #CHIvsPIT pic.twitter.com/ujhDwkMMll

— J-Bone (@Jbird_Showtime) March 30, 2017
Marc Andre Fleury playing like he's heading to Las Vegas in the expansion draft!

— Eric Is Hiding (@Not_The_Eric) March 30, 2017
Surprised Matt Murray didn't let Dumoulin's helmet in behind him…

— Pens of Anarchy (@PensOfAnarchy) March 27, 2017
And Then There Were Four
Rational fans, though, must realize goaltending isn't the problem for this team. Criticizing Murray or Fleury extensively for either of the last two losses is wrong.
The Blackhawks received five odd-man rush opportunities in the first period alone and 10 throughout the whole game Wednesday. Chicago cashed in on three of those opportunities. That's not a recipe for success no matter who is in net.
Leaning on goalie to bail out D isn't a winning formula. This is about the skaters

— Matt Gajtka (GITE-kah) (@MattGajtka) March 30, 2017
Despite possessing eight NHL-caliber defensemen, the Penguins only have four of them in their lineup because of injuries. Cameron Gaunce continued to struggle Wednesday; he failed to out-battle the Blackhawks behind the Penguins' net, which led to the second goal of the game.
Chad Ruhwedel, who might be playing hurt because he did sit out Sunday's contest, committed a costly turnover Friday night, which immediately led to the go-ahead goal for the Islanders with seconds remaining in the second period.
Right now, the alternatives to these two are Derrick Pouliot, David Warsofsky and Frank Corrado. The Penguins have tried them all at one time or another, and none proved they deserved to stay in the NHL.
The mistakes these players have made are the true problem in Pittsburgh. The only recipe to solve it would be heathy bodies returning on the Penguins' blue line.
https://twitter.com/KolyaSeleznev/status/847301998252666880
Eggs in One Basket
If getting healthy is the main recipe to turn this around, Penguins fans might very well get their wish. There's no exact word on Olli Maatta and Trevor Daley, but both are inching close to their original estimated return dates.
Additionally, Ron Hainsey skated in a no-contact jersey on Tuesday. It's very possible all three could be back for the playoffs.
The big one, though, is Kris Letang. As important as it would be to get back the first three defensemen, the Penguins can't be considered real threats to win the Stanley Cup if Letang doesn't return. And that doesn't make Pittsburgh a special case. Very few teams in the NHL would be able to survive without the services of a No. 1 defensemen such as Letang.
Honestly does not matter losing now. I just want a healthy team with Kris Letang back. No letang.. no chance of a repeat.

— Clint Bobski (@TheClintBobski) March 30, 2017
Therefore, one could say Pittsburgh's eggs all lie in the Letang basket. They must get him back. Fortunately, there's good news out on him too.
Mike Sullivan was asked if he expects Kris Letang to be ready for the playoffs: "Yes."

— Josh Yohe (@JoshYohe_PGH) March 30, 2017
Until then, though, Murray and Fleury will likely continue to receive the blunt of the blame for games like Wednesday's. Rational Penguin fans, though, realize it's not their fault.
Dave Holcomb is excited to join The Hockey Writers team, covering the Pittsburgh Penguins. Holcomb began his NHL work as a fantasy columnist at The Sports Network. In 2015, Holcomb joined the fantasy NHL team at FanRag Sports, where he eventually worked into a beat writer position, covering both the New York Islanders and Pittsburgh Penguins. He continues to cover the Metropolitan division, along with the NFL and Syracuse basketball, for FanRag Sports. To find more of his work, follow Holcomb on Twitter at @dmholcomb.