The 2013 MasterCard Memorial Cup gets underway this Friday in Saskatoon with the hometown Blades getting things started against the London Knights.
There are plenty of interesting storylines in this year's tournament including the amount of draft eligible talent and potentially the first three picks in this year's NHL Entry Draft with Seth Jones, Nathan MacKinnon and Jonathan Drouin all participating. Not to mention other draft eligible talent such as Max Domi, Bo Horvat, Nikita Zadorov, Zach Fucale and Nicolas Petan among others.
There is plenty more talent to watch with the WHL, OHL and QMJHL champions not only winning their individual titles but were also the best team's throughout the year in their respective leagues.
There is also the host Saskatoon Blades who had a disappointing playoff, being eliminated in the first round and how they will fare with plenty of time to prepare.
Here's a look at the team's participating in this year's tournament.
Halifax Mooseheads (QMJHL)
2012-13 Record: 58-6-3-1, 120pts, GF: 347 GA: 176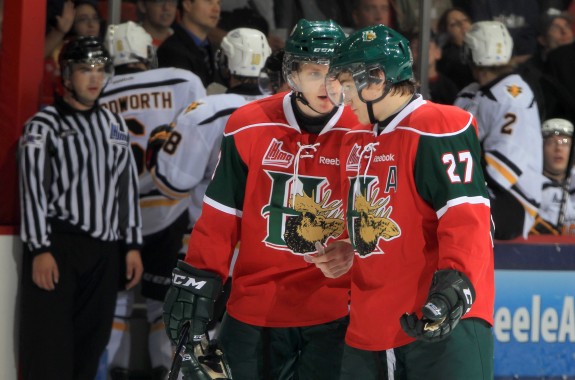 The CHL's top ranked team is coming off it's first QMJHL title and they're looking to add a Memorial Cup to the list. They boast the best offence in junior hockey with some dynamic pieces and have rolled through the QMJHL to get to Saskatoon.
HOW THEY GOT HERE: Defeated the Baie-Comeau Drakkar 4-1 in the QMJHL final. The loss was their only loss of the playoffs.
KEY PLAYERS: The best line in the QMJHL features the second and third ranked draft prospects with Nathan MacKinnon and Jonathan Drouin with winger Martin Frk being the third member. The three have combined for 101 points in their playoff run and have been dominant.
The group on defence may not be as flashy or get the headlines that the forwards do, but they are efficient and have gotten the job done. Led by veterans Konrad Abeltshauser and Brendan Duke they are as solid defensively as it gets.
Goaltender Zach Fucale is the youngest of the Memorial Cup goaltenders at 17 but may be the most talented. A projected first round draft pick in 2013, Fucale has put up impressive numbers for the Mooseheads this season. He will have to be good in the tournament as the team has not faced the kind of competition they will see in Saskatoon yet this season.
London Knights (OHL)
2012-13 Record: 50-13-2-3, 105pts, GF: 279 GA: 180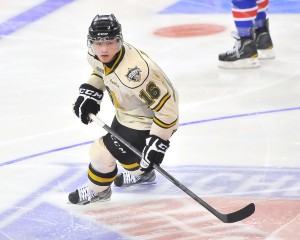 Back to the tournament after their second straight OHL title, they will look to avenge last years loss in the finals to Shawinigan. The scary part is that the team is still young enough to return much of their roster to the 2014 Memorial Cup, which they are hosting.
HOW THEY GOT HERE: Defeated the Barrie Colts in game 7 of the OHL Championship series.
KEY PLAYERS: Their offensive strength lies in their depth and have a number of capable leaders in that area. They are led by two draft eligible players in Max Domi and Bo Horvat as well as two 19 years olds in Seth Griffith and Alex Broadhurst.
Their defence may not get the headlines like some, but they have a very deep and talented group. Led by Canada WJC stalwart and captain Scott Harrington, who is one of the best shutdown defenders in the country, 2012 first rounder Olli Maatta and 2013 possibility Nikita Zadorov, they have a very capable group of six.
They have two good options in goal with Anthony Stolarz and Jake Patterson, both contributed in the OHL playoffs and both capable of backstopping them to a Memorial Cup.
Saskatoon Blades (HOST)
2012-13 Record: 44-22-2-4, 94pts, GF: 280 GA: 221
Saskatoon had a disappointing start to their playoffs being ousted in the first round by the Medicine Hat Tigers, but will still enter the tournament as the host team. While they have been idle for some time they still will possess home ice advantage and have the talent to surprise. They will certainly be an underdog, but they can look no further than last year's tournament where the Shawinigan Cataractes won as the host team despite not winning their league.
HOW THEY GOT HERE: The Blades are the host team and gain a berth despite losing in the first round of the WHL playoffs
KEY PLAYERS: They have two 40+ goal scorers in Josh Nicholls and Matej Stransky who will lead the offence be counted on for goals. They also have two way threat Lukas Sutter who could be a factor if he finds his game following a disappointing season.
They have one of the top scoring WHL defencemen in Darren Dietz on the backend who will log big minutes as well as Duncan Siemens and Dalton Thrower who both play a solid two way game.
The team will need goaltender Andrei Makarov to be at his best to have any chance of success. He lead the WHL in wins in 2012-13, and when on has the ability to steal a game.
Portland Winterhawks (WHL)
2012-13 Record: 57-12-1-2, 117pts, GF: 334 GA: 169
The WHL champs have been the league's dominant team in 2012-13. They have very few weaknesses and are deep and talented. They have been not only the best offensive team in the WHL but also one of the best defensively.
HOW THEY GOT HERE: Defeated the Edmonton Oil Kings in the WHL Championship series 4-2.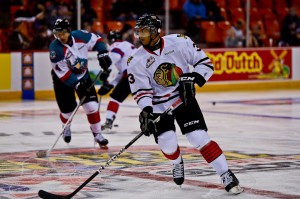 KEY PLAYERS
: Look no further than
Ty Rattie
, one of the most prolific goal scorers in junior hockey and the WHL playoff scoring leader by a wide margin with 20 goals and 36 points. He's the engine that makes the offence go.
Leading the WHL with 120 points a piece in the regular season, forwards Brendan Leipsic and 2013 draft eligible Nicolas Petan are two more offensive catalysts that teams will have to defend.
They also boast the best top four defence core in the tournament with Canada WJC member Tyler Wotherspoon, Derrick Pouliot, Troy Rutkowski and consensus 2013 No.1 draft pick Seth Jones. They are defensively sound, prolific offensively and have excelled in all areas to date.
They are backstopped by the winningest playoff goaltender in WHL history in Mac Carruth, who has the ability to bail his team out should the need arise.
2013 MasterCard Memorial Cup Schedule:
Round Robin
Game 1 – London vs Saskatoon – Friday, May 17
Game 2 –  Portland vs Halifax – Saturday, May 18
Game 3 – Saskatoon vs Halifax – Sunday, May 19
Game 4 – Portland vs London – Monday, May 20
Game 5 – Halifax vs London – Tuesday, May 21
Game 6 – Saskatoon vs Portland – Wednesday, May 22
Tie-Breaker (If Necessary) – Thursday, May 23
Semi-Final – Friday, May 24
Championship Game – Sunday, May 26
 Follow Carl on twitter @maloney3383 for more articles
Carl covers the Edmonton Oilers for THW as well as providing additional prospect coverage. Follow him on twitter @carlTHW, connect on Facebook or contact at carl.maloney@hotmail.com for questions, comments or if you're interested in him writing for you.