I attended the Kings game against the Blue Jackets on November 5, eager to see the well-oiled L.A. machine try to shrug off a much improved and more focused Columbus team. Instead I witnessed fight night at Staples, minus ring judges and an afro-ladened promoter. Several skirmishes took place between the two feisty clubs, but none more jaw-dropping then the second period dust-up between perpetual Columbus pest Scott Hartnell and L.A. starting goalie Jonathan Quick.
You read that last sentence correctly.
While Quick and Hartnell are two combustible elements that would assuredly have problems in any competitive setting from pro hockey to bakery store line, there is a bigger story-line developing in downtown Los Angeles. Are other NHL teams making it a point to bother the Kings netminder? It would certainly appear that way, as this is not the first nor will it be the last turbulent example in the time Quick has been in between the pipes. In a league known for copycats and learned behavior, many franchises are picking up on what could be a small crack in the Kings championship-quality armor.
Let's start by analyzing the aforementioned Hartnell scrum:
Hartnell's actions are no different from any other hockey player's in the same role. He is an agitator, someone who skates to annoy people like the Canadian border patrol and grunters at the gym. The whistle was blown a split second before his stick jabbed at Quick's glove, clearly without malicious intent. But it was calculated. Hartnell was trying to see if he could get a reaction out of the L.A. goalie, which he clearly did in the form of a whip-around slash in the name of self-defense. From there it was a simple path to follow: Hartnell would hit Quick, the goaltender would tie up, and reinforcements would outnumber and annihilate the red-headed instigator.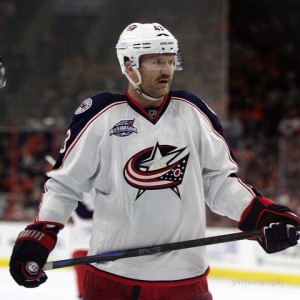 But look closer. This wasn't a surprise to Hartnell or his team in the slightest. He knew exactly what he was doing, and he did it for one simple reason. If there is any way to get an elite goalie off of his game, you simply have to do it in the NHL. The easiest way would be to light up the net like a Christmas tree in the form of goals, but if that doesn't happen, then what? The next most logical bet would be to get up close and personal with the keeper, and to take actions similar to Hartnell's. Players know that goalies are, for lack of a better and more wholesome phrase, sensitive about getting messed with. Whether it's an extra stick-tap in the crease, a bump along the boards, or the good old-fashioned shot off the dome to get their ears ringing, hockey players understand what really grinds a netminder's gears.
And after all, the Kings don't have just anybody in net. They have Jonathan Douglas Quick, an ultimate competitor with more passion than you can measure. With that passion though comes fieriness, and with fieriness comes an ultra swift temper. Saying that Quick has some hot-headed like tendencies would be similar to saying that Brett Bielema likes to eat, and each is easy to identify on a nightly basis. When the going gets tough, Quick does not back down. He confronts, attacks, and conquers his adversaries. But sometimes that competitive drive turns into uncontrollable rage. Like this:
And this:
Or even this beauty from the 2014 Western Conference Final (way to wait for the ref to get in between you two before shaking your gloves, Corey Crawford):
Quick clearly goes overboard from time to time, and teams know this more than Goldie Hawn and Kurt Russell. That's the beauty of the NHL; its complexity and attention to detail ensures that the book will be out on you in a heartbeat. That is of course, until you do something meaningful to change it. While the feistiness of the Kings goalie has propelled them to a pair of Stanley Cups, it can offer some challenges in the day-to-day process of achieving glory.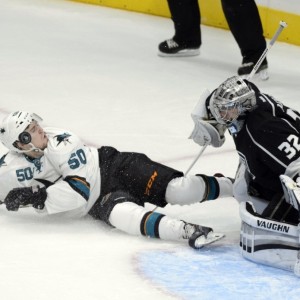 When Hartnell and Quick went full "Street Fighter" mode, Quick took an off-setting penalty while his opponent received an additional minor. What if that hadn't happened? What if the Kings were forced to serve an additional penalty? Besides, the skirmish did accomplish one thing for Columbus; it got them engaged. Suddenly they had new life, and suddenly they knew they had gotten through to the Kings last line of defense. It is in my opinion the main reason they notched a 3-2 victory in that game. The Blue Jackets mucked it up, and instead of looking for the next pass, defensive zone assignment, or scoring opportunity, L.A. got reckless. The Kings looked for revenge, and it cost them in the form of two regular season points.
And I'm not saying that Quick can be taken out of a game easily, or that he can't use a mini scrap to his advantage. This is a very dangerous line he continues to dance around, and it's one all goalies struggle with. You don't want to back down, but you don't want to get caught up in unnecessary drama. There are also Kings teammates to consider. Every hockey player and their mother knows one of the ultimate underlying lessons in this sport: you don't mess with the goalie. An opponent getting a couple licks in on your keeper is the equivalent to them making a move on your girlfriend, while you are standing right there. Each time Quick decides he wants to mix it up, he needs to consider the consequences. The Kings don't need to be killing penalties, losing momentum, or generally getting dragged into the octagon and away from their offensive potency.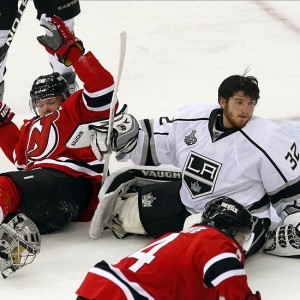 NHL clubs have painted a target on Quick's back, one that will take years of good behavior to remove. There is certainly no shame in stepping up for your goalie, or for Quick to handle his own business when the line is completely crossed (the repercussions for not stepping up and acting cowardly are also enormous). But the small ticky-tac head games that accomplish less than a political debate run by CNBC? Let them go. It's not worth it Jonathan, your team needs you too much to be distracted by such child's play.
Following their home loss to Columbus, the Kings defeated the Florida Panthers in a game they absolutely dominated. Aside from Jaromir Jagr's ageless lettuce, one thing really caught my eye. Early in the game, the Panthers attempted the same aggressive strategy as the Blue Jackets after a few whistles (they gave Quick some light whacks and a few snow-showers, or hockey stops designed to spray the snow off the ice and into the mask of the goalie). Rather than fight, Quick showed restraint. He harnessed the good energy and blocked the bad like Happy Gilmore. L.A. scored three second period goals and systematically destroyed Florida one shift at a time, all because they refused to let the Panthers get in their heads. And that started with Quick.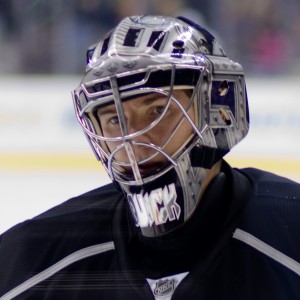 The Kings have seized an early lead in the race for the Pacific Division title, but everyone in southern California knows that there are bigger fish to fry. With a chance at a third trophy for the mantelpiece in range, L.A. would be best served not to worry about small potatoes. The more teams target their goalie, the more the Kings should be inclined to get revenge on the scoreboard. That, and only that, will teach them.
Just a hockey loving American. I grew up in Cleveland, Ohio, and attended Saint Louis University where I skated for the Billikens. From 2013-14 I covered the St. Louis Blues for ESPN Radio St. Louis. I currently work in sports video production in Los Angeles, and will always show solidarity for stay-at-home defenseman.