Playing alongside a superstar, a face-of-the-franchise type of talent is a daunting task and one that would make it easy to blend into the scenery. But don't tell that to Marc Methot, who has had a solid season without all the fanfare.
In his fifth year with the Senators as Erik Karlsson's partner on the blue line, Methot is well-versed in the art of playing with an incredible talent. Step one: Get the puck to Karlsson; step two: get out of the way; step three: reap the rewards. He's done the same this year, but he's also reaping the rewards now.
Doing More With Less
With Guy Boucher taking over as head coach in the summer, questions circulated about how a player like Methot – a model defensive defenceman whose style perfectly meshes with that of Boucher – would be utilized. As we have come to realize in Boucher's four-plus months at the helm, it would mean playing smarter, not more often.
Methot's average ice time of 20:23 is fourth most on the team this season, as are his 28.5 shifts per game, but the latter is a career-high for him while the former is his lowest average with the Sens. Even with less playing time, Methot is excelling in all facets of his game and is on pace for a career year.
Despite averaging more hits- and blocks-per-game in past seasons, Methot still projects to put up career-highs or near-highs in 2016-17. His 107 hits trail only Mark Borowiecki (who leads the league) and projections give him a career-best 189, while his 59 blocks put him on a 107-block pace (the second most of his career).
One of the biggest aids to Methot's success this season has been his health: He has missed just four of Ottawa's 51 games, after missing a combined 58 games over the past four seasons. Considering he hasn't played more than 75 games at any point in his career – and he figures to play in 76 this year – Methot's career year is less of a mystery.
Even on offence, an area he isn't known for, Methot has enjoyed some success. Despite failing to register a goal through 47 games, he has eight points and is on pace for 14 – not all that noteworthy in general, but still the fourth-highest total of his career.
A lot of praise for his success under the coach's tutelage can go to Boucher himself, who, in one of their first meetings, told Methot to focus on the defensive side of his game and leave the offence to those who are paid to provide it. Safe to say, Methot has taken the advice to heart and with good effect.
Fancy Stats Phenom
Traditional stats and the eye test do justice enough for Methot, but perhaps his most underrated or underpublicized contributions can be measured through advanced stats. His Corsi For percent – the most commonly referenced and all-encompassing of the advanced stats – is eighth on the team and second among defencemen at 48.12.
Skeptics will point to the benefit of playing with Karlsson as the reason Methot's numbers look so good, but take Karlsson out of the equation and Methot still passes the test. His CF RelTM (Corsi For relative to his teammates') is -0.35 per cent, which is the second to only Chris Wideman's 7.26.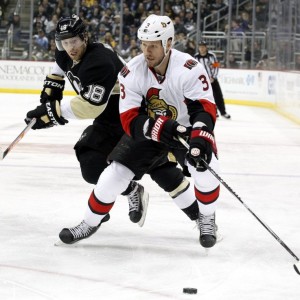 Take a look at the quality of the players he faces when he's on the ice and Methot's success gains another level of interest. The average CF percent of the opposition he faces is 50.54, a number that ranks tops among Sens defencemen (fourth overall) and puts his plus-12 rating in perspective.
That plus-12 is obviously not a comprehensive stat, but it is an indicator of something bigger: When Methot is on the ice, there's a good chance the Sens will score. His 45.57 percent of team goals for is best on the team and shows that in games in which Methot is playing, he is on the ice for roughly 46 percent of all Ottawa goals.
With those kinds of numbers and the experience that comes with being an 11-year NHL veteran, losing Methot in the expansion draft is a real possibility. All signs indicate that he will be the odd man out in the top four, and with experience sure to be at a premium in Vegas during their infancy, GM George McPhee might look to add players such as Methot to groom their abundance of youth.
That loss would be huge, because, while he doesn't get a lot of attention on a nightly basis, if he were to leave his absence would be noticeable.
Advanced stats courtesy of Puckalytics, all other stats courtesy of NHL.com and exclude players with fewer than 20 games played
Andrew is a sports nerd extraordinaire. He holds an undergraduate degree in journalism, as well as a journalism diploma, and has been in the sports writing biz for the past four years (previously with Hooked on Hockey Magazine and SportsEh). He has experience covering junior hockey and the Women's World Hockey Championships in Ottawa. Feel free to reach him on Twitter @littelitaly93.