On this date, Feb. 9, 1984, Guy Lafleur passes Jean Beliveau to become the all-time leading scorer in the history of the Montreal Canadiens. Lafleur scores three goals and has an assist in Montreal's 7-6 loss to the Vancouver Canucks. Lafleur's third goal of the game gives him 1,220 points, one more than Beliveau.
This was a guest post by our friend Michael Langlois from Vintage Leaf Memories, originally published on Nov. 21, 2009.
---
---
When sports historians speak in terms of true dynasties (that is, success that lasts for a few generations, as opposed to a few years), three franchises come to mind: the Yankees in baseball, the Celtics in basketball and the Montreal Canadiens in hockey.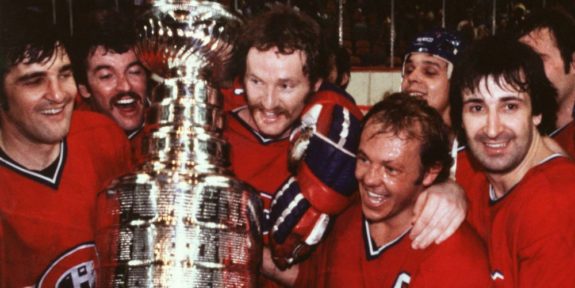 The Yankees earned that distinction with remarkable success from the 1920s through the mid-1960s. It was such a pronounced period of success that anti-Yankee dislike grew and seeped into popular culture—as evidenced, for example, by the creation of the play "Damn Yankees".
The Yankees went through a bad stretch from the mid-60s to the late 70s, then again from the early 80s to the mid-90s, but they remain in people's consciousness as a true dynasty- helped by their renewed success over the past 15 years.
The Celtics dynasty was much shorter. Red Auerbach was the architect of Celtic success in the 50s and 60s, helped by the great Bill Russell and a wonderful supporting cast that changed over about a 15-year period. Larry Bird rekindled the Celtic heritage in the 80s and 90s, and the recent NBA championship provided added luster to the team's storied history.
In hockey, the Canadiens were not quite as dominant as the Yankees, but from the 40s through to the early 1980s, they were contenders every year. Like the Yankees, the names of Montreal greats roll off the tongue quite easily: Morenz, Joliat, Durnan, Bouchard, Maurice and Henri Richard, Harvey, Plante, Beliveau, Lafleur, Savard and Lemaire are just a few of the all-time franchise greats.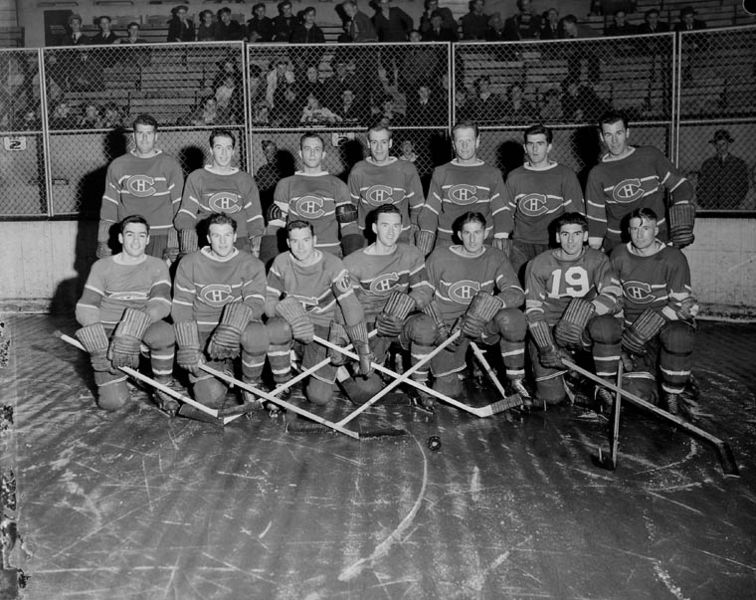 Though Montreal won Cups in 1986 and 1993, in truth, the Canadiens dynasty died many years ago.
Some may trace the end to the departure of former General Manager Sam Pollock. Others may link it to poor drafting.
But I tend to believe the slide began on an April night in 1980.
The Canadiens were shooting for their 5th consecutive Cup that spring. (No other team in history has won 5 championships in a row, except for those same Canadiens between 1956 and 1960, helped by some of the above names and others such as Dickie Moore and Tom Johnson.)
Some background is in order.
After winning the Cup in 1979, Scotty Bowman left as coach. The GM's job had gone earlier to Irving Grundman, and Scotty Bowman was offered the chance to be GM in Buffalo. Ex-Hab great Boom Boom Geoffrion was named as new coach and while he was a beloved hockey figure in Atlanta (where he had previously coached) and Montreal, he simply wasn't the right choice. His son Danny was on the team and it was not the best fit. Geoffrion didn't last the season.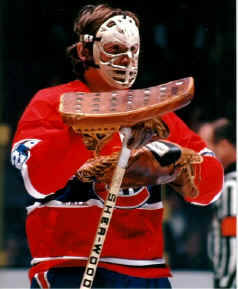 Significantly, Ken Dryden retired before the 1979-80 season. The Habs replaced him with 3 different guys, which was probably a telltale sign that there was no clear and dominant number one guy. (Bunny Larocque, Richard Sevigny and Dennis Herron were the three.)
Finally, Jacques Lemaire had also retired, and that was a huge blow to their strength up the middle. Lemaire had evolved over the years into one of the finest two-way forwards in hockey.
All that said, Montreal was battle-tested and favored to win again. They still had Shutt and Lafleur, Jarvis and Risebrough, Gainey and Lambert, Napier and Houle and Mondou not to mention sniper Pierre Larouche and the always-combative Mario Tremblay. On defense, the Big 3 was still a force—Lapointe, Robinson and Savard, and Rod Langway was emerging as a brilliant defender and future All-Star and Hall-of-Famer.
They had tough guys like Chartraw and Lupien, and were still "team tough".
So what went wrong?
They were playing Minnesota in the quarterfinals, and the longer the series went, you sensed something was off. But I still believed Montreal would advance.
Significantly, Guy Lafleur had been injured and was not playing in that series. I can't honestly remember the exact nature of the injury (shoulder or knee, I seem to recall), but he didn't play in the first 6 games, though he had played all 3 games in the earlier series before being injured.
The Habs were facing elimination for the first time that spring. There was talk Lafleur may return for Game 7, but when the game started I was stunned to see him not even dressed. I remember thinking at the time (perhaps unfairly) that had the Rocket or Beliveau, legendary team leaders, been around, they would have at least been on the bench to provide inspiration. But Lafleur wasn't, Montreal lost right at home in the Forum.
The run of 4 Cups in a row was suddenly over. The Habs had lost to a talented but still lesser team.
What people didn't know at the time was, the entire Montreal hockey dynasty was over, too.
Not having been a professional athlete, I, like many "fans", probably over-exaggerate the importance of things like a team leader being on the bench in a big game. Maybe it's worse having a guy there, if he really can't contribute at all. Coaches always say it's better to dress a healthy player than a guy who's not healthy enough to really contribute.
My dad had often told me the story, which was true, of how the Rocket was knocked out in one playoff game in his prime, and he came back in overtime to score the game-winning goal against the Bruins. Given Montreal's history of guys playing through painful injuries at playoff time and what was on the line—the once in a lifetime, if that, opportunity to win 5 Cups in a row, I was stunned to see Lafleur pass on playing.
Within a couple of seasons, Lafleur was forced into premature retirement by management, though he made a comeback (a la Boom Boom Geoffrion) with the Rangers, and then the hated Quebec Nordiques.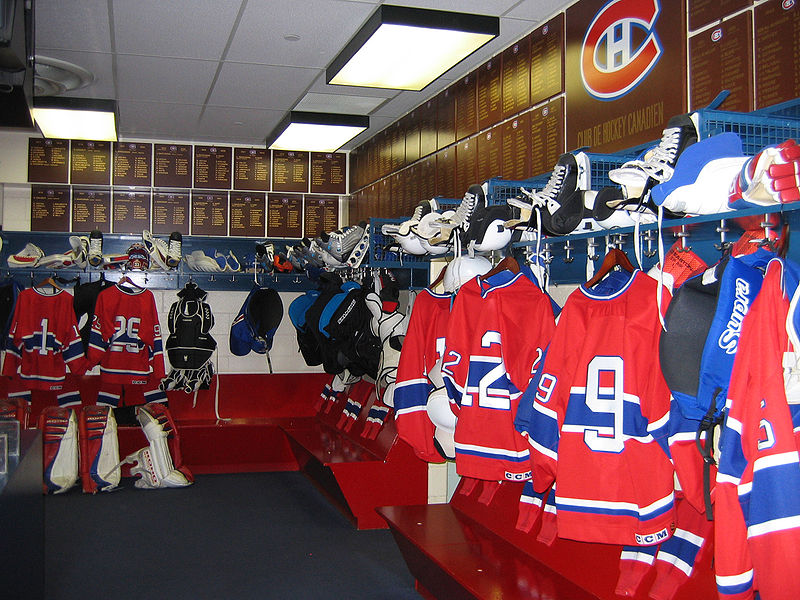 Again, I realize the Habs won a few years later, beating Calgary in the finals with Jean Perron as Coach. And they did so again in 1993, when they went on a seemingly miraculous run of overtime wins under Jacques Demers to earn an unexpected Cup triumph.
But there is no Montreal dynasty anymore. To some hockey fans who weren't around in the 50s, 60s or 70s, the
Canadiens may seem like just another team.
Whether Lafleur's presence would have made a difference that night in 1980 is impossible to determine. And even if he had played and inspired Montreal to victory that night, they may well have not had enough to upset the eventual champion Islanders, who were building their own short-lived dynasty.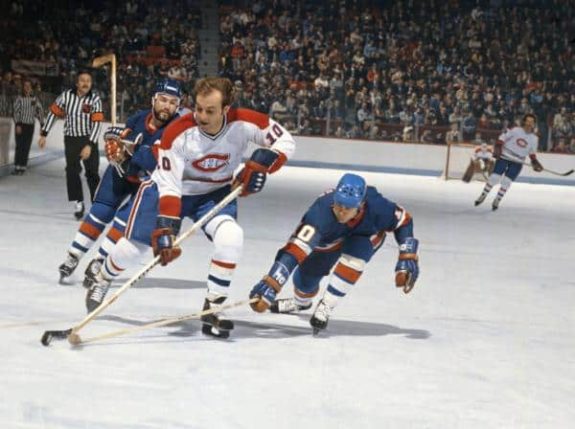 But for me, something changed that night in Montreal hockey history—and they have never fully recovered.
Images found at Wikimedia
Hall of Fame image from Aude