Few players in the San Jose Sharks organization create as many discussions as Nikolay Goldobin. Gripes are hardly universal, but they are diverse. Ask ten fans for their opinion of Goldobin, and you are likely to walk away with eleven different answers.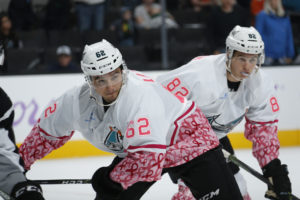 His play over the last season and a half, and often from shift to shift, has swung between electric offensive force and hardly visible.
Goldobin had an impressive start to the season, but he was riding shotgun to center Rourke Chartier and Kevin Labanc. However, around the time that Labanc was called up to the Sharks, something clicked for Goldobin.
Results From Early Season Changes Showing up
In mid-November, his effort increased. He was back-checking with regularity, and competition along the boards for pucks increased. Most importantly, the talented Russian was puck-hounding when the puck was not on his stick.
The simple changes to the talented winger's play moved the needle with the coaching staff, who pointed to the all-encompassing "little things" when asked in the past what Goldobin's needed to improve. 
"I think the biggest thing is when you lose a puck, get it back," said Barracuda coach Roy Sommer when asked if this was some of Goldobin's best play to date. "Don't just stand and look at it. Get back underneath the guy and get it back. He's been doing a pretty good job of that the last handful of games.
And in the last handful of games, the points have been coming in bunches for the Sharks' 2014 first round selection. Over the recent five-game road trip, Goldobin recorded four goals and four assists while being solid in all three zones.
"I'll tell you what, he played really good on the road for us. Five games we played, Grand Rapids, Milwaukee, the Stockton game before we left and the two games [in Winnipeg]. He did what they wanted. He played a lot of inside hockey and scored some big goals for us."
With the Barracuda in first place in the AHL's Pacific Division, Goldobin sits third in team scoring with 11 goals and 22 assists. He is one of three players to skate in all 40 games for the 'Cuda this season as well showing toughness to get through the bumps and bruises of a long season.
Offensive Never In Doubt
"The first goal he scored on Friday night, he took the puck, juked the 'D,' went inside and took it to the net," Sommer said of the opening goal in the first game against the Moose last week. "That was the nicest goal I've seen all year. That was a fearless move on his part."
https://twitter.com/zakkthebear/status/827691231782121472
When asked about the goal, Goldobin did not seem all that impressed with himself. He credited Marcus Sorensen for the pass and pointed to the team wins on the road.
"Marcus [Sorensen] gave me a good pass, and I just went to the net," Goldobin said of the goal. "Things are going good right now. We have five wins in a row. Hopefully, we'll continue our streak."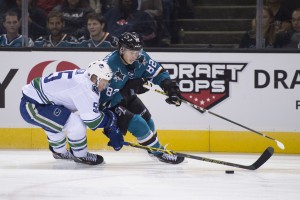 Once Goldobin has the puck, he has the offensive creativity, soft hands, and above-average shot to make things happens. But that was never in question with the skilled Russian. The soft, coasting play was a gripe of many Barracuda fans and followers of Sharks prospects last season. This season, he's shown a much-improved appetite to regain the puck.
It is simple: lose the puck work hard to get it back. It's one of the core tenets of hockey. And it's working for Goldobin and elevating all aspects of his game.
"Nothing complicated. Just play inside, and I think I'm doing a good job right now of that," said Goldobin of what's been the difference in the last few months. "I think I'm at one of the best levels of my game. Playing good D-zone, I didn't get any minutes lately. Everything is good right now."
Is Goldobin Feeling Left Out?
The San Jose Barracuda have sent nine players up to the Sharks this season: Labanc, Timo Meier, Ryan Carpenter, Tim Heed, Barclay Goodrow, Danny O'Regan, Mirco Mueller, Joakim Ryan and most recently Sorensen. Sorensen is deserving of a call-up and both he and Goldobin have been hot hands for the Barracuda. Still, it seemed odd that Goldobin's long stretch of good play was not rewarded. 
Joining that group as the 10th member is the goal of every player on the Barracuda and Goldobin is no different.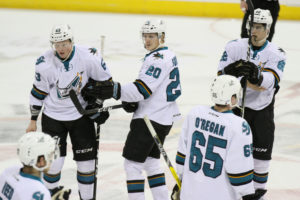 "I'm just sticking with what coach is deciding. If they think I'm not ready, I'm not. You can't do anything about it. I'm just playing," said Goldobin.
However, even with the improved play, many believe Goldobin is destined to be a top-six player or stuck waiting for such an opening to happen. His off-puck play is much improved, but will never be on par with a Carpenter or the physical play of a Goodrow. Skill is what Goldobin brings to the table, and that is what he will need to continue to bring even while improving on the details. But is there an organizational game plan being shared with Goldobin?
"Not really. Just play good. I'm doing the best I can and hopefully get a shot [at a call-up] soon."
Sommer thinks that the plethora of riches the Barracuda possess this year is creating a bottleneck of talent.
"He'll get his opportunity; we're just pretty rich down here. That's the way to look at it. When you can bring a Sorensen up and replace him back with a Labanc, you're not really losing much."
And Sommer is right. The 2016-17 season has seen the biggest influx of young talent into the organization in its history. Goldobin might have to continue to be patient, but like his overall play this year, his chances have significantly improved.
Covering all manner of hockey on the West Coast, including the San Jose Sharks, San Jose Barracuda, Stockton Heat, WHL, and random prospect news and notes with random SM-Liiga coverage tossed in as well.