Golden Knights fans can start the gossip. Recently dismissed New York Islanders bench boss Jack Capuano is reportedly in Las Vegas this week.
If he is in fact here to talk to general manager George McPhee about a job with the NHL's newest franchise, it's sure to kick off what promises to be a who's who of recent NHL coaching casualties through southern Nevada.
It's understandable if Vegas fans are not excited about this name with some of the other free agents out on the market. Don't bristle at Capuano's dismissal from New York, though. The Islanders have been a wildly unpredictable team this season. Sometimes up, sometimes down, often hard to evaluate. Last month came the news that they are soon to be without a home. So suffice to say, very little is stable in New York.
Capuano Meets Some Criteria
Capuano checks at least one important box on McPhee's wish list: he's got the NHL experience that the GM covets, albeit with mixed results. Capuano's most successful season in New York was a 101-point effort two seasons ago that ended with first round exit against the Washington Capitals. Forgetting his first season with the Islanders, abbreviated after he stepped in following Scott Gordon's firing, the team made the playoffs three of five seasons under Capuano's tenure.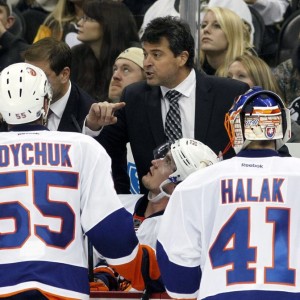 McPhee is very aware that he needs to create a product that the Vegas public wants to consume. With that in mind, he has stated that he wants to assemble a team that is "high scoring, entertaining." An inability to lead a team like that is a deal breaker. "The coach has to fit that model."
Based on his first season with the Islanders, Capuano most certainly did not fit that model. The first full season he was at the helm, 2011-12, his squad ranked 28th in the NHL in scoring en route to finishing fifth in the Atlantic Division.
Things got better though. The following year, New York scored the seventh most goals in the league, albeit in a lockout-shortened season. In total, the Islanders were 13th in scoring during Capuano's five full seasons at the helm.
There's a familiarity there that's sure to attract McPhee as well. The Vegas general manager worked closely with Capuano and Islanders GM Garth Snow the last two seasons as a special assistant to the team.
Plenty of Veteran Coaches Available
All of which is to say that fans of the NHL's 31st franchise needn't overreact. McPhee has plenty of candidates to evaluate. So far this season, four coaches have been shown the door, most recently Claude Julien, formally of the Boston Bruins. Additionally, with the recent report that things may be unraveling in Montreal, it's possible Michel Therrien's name may be added to that list.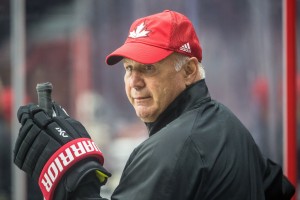 This is the deepest talent pool of coaches for new team to pull from in NHL expansion history. In 2000, the last time the NHL expanded, the Columbus Blue Jackets elected to go with Dave King as the first coach in their franchise history. King had three seasons of NHL head coaching experience under his belt at the time, and had not led a team since the 1994-95 Calgary Flames. King was fired 40 games into his third season after back to back fifth place finishes in the Central Division.
Minnesota, who also entered the league with Columbus in 2000, went a different route. The Wild hired Jacque Lemaire, who previously led the Canadiens and delivered the New Jersey Devils a Stanley Cup in 1995. He was afforded eight seasons in Minnesota, reaching the conference championship by Year 3.
It's safe to say that McPhee would prefer to go the Minnesota route. Whether or not Capuano will be the first head coach in Golden Knights history will have a lot to do with which other coaches are interested in the job. Stay tuned, there will be plenty of rumors to dissect over the next several weeks.
Las Vegas local covering Golden Knights hockey since 2016.
Ball State University '05
Other work:
Credentialed NBA writer covering the Phoenix Suns,
Credentialed NCAA football writer covering the UNLV Rebels