Over the past two or three seasons, winger Micheal Ferland has been a minor revelation for the Calgary Flames. Originally entering the league as a grinder, Ferland has shown remarkable – and somewhat unforeseen – offensive ability and chemistry while playing on the Flames' top line with Johnny Gaudreau and Sean Monahan.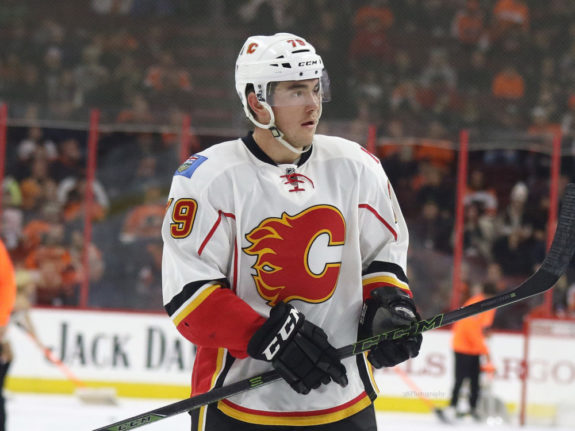 In many ways, Ferland represents a rare opportunity for the Flames' scouts, coaches and development staff. A player whose entry to organized hockey was delayed by personal circumstances and his dive into professional hockey was hampered by some off-ice issues, Ferland is arguably still very much a blank canvas of a player whose ceiling has yet to be fully determined.
Humble Beginnings
You could be forgiven if you thought Ferland was a long-shot to even make the NHL, let alone generate significant offense. A product of Swan River, Manitoba – a town in rural Manitoba of roughly 4,000 residents – Ferland crew up in a single-parent household where his mother had to support three children. Consequently, Ferland didn't play high-level organized hockey until he was 15 and made the AAA midget Brandon Wheat Kings on a try-out – he had played house league hockey to that point. His pursuit of his hockey dream was facilitated through the work of organizations such as KidSport and the Manitoba Metis Foundation.
Because he didn't play in an organized bantam league, Ferland wasn't selected by a Western Hockey League club in the 2008 Bantam Draft. His work with the midget Wheat Kings, where he showed remarkable offensive progression over two seasons, earned him a spot on the WHL's Wheat Kings in 2009-10. His 28-point rookie season was enough to earn him a ranking of 146th among North American skaters from the NHL's Central Scouting Service. He did enough to impress the Flames, who selected him in the fifth round (133rd overall) in the 2010 NHL Draft.
At the junior level, Ferland was almost a prototypical late bloomer. Blessed with good size and physical strength, he played a rough-and-tumble game and often opened up space for his teammates via both hits or fisticuffs. His offensive skills came along quietly – he had 9 goals as a rookie, then 23 and 46 his next two full seasons in the WHL – but he gradually learned to use his size in tandem with his puck-handling skills to help his team. He was a WHL All-Star in his 19-year-old season and drew comparisons in the hockey world to Milan Lucic due to his mixture of skill and physicality.
Early Pro Ups and Downs
The first two years of Ferland's professional career were arguably a crossroads in the direction of both his career and his life. The summer of 2012 was derailed by a fight outside a bar that led to a court case that dragged into 2014, eventually resolved when charges were dropped when it was deemed that he was defending himself.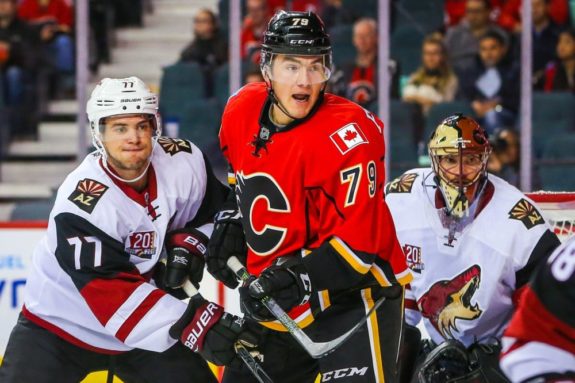 His first pro season coincided with the most recent NHL lockout. As a result, a roster crunch on the Flames' farm team in Abbotsford saw him bumped down the depth chart, eventually landing with the ECHL's Utah Grizzlies. He eventually landed back with the Wheat Kings as a WHL overager before moving again, this time to the Saskatoon Blades as they loaded up for their Memorial Cup hosting duties. He ended up finishing the season strong, but playing on four teams in three leagues likely wasn't ideal for his development.
The following season he was able to get consistent time in Abbotsford, impressing enough by mid-season that he was considered to be next in line for a call-up. However, his season was ended by a knee injury in practice that may have ended up saving his career. The setback of his injury led to Ferland finally dealing with his long-standing issues with alcohol, culminating with him approaching Flames management for help and being placed in rehab.
"I just couldn't have two beers — I'd want to keep going," said Ferland to Sportsnet's Eric Francis. "I was a pretty aggressive person. I was always trying to pick fights. It was pretty dumb. Thinking about the stories now, there were just a lot of embarrassing moments. All the dumb stuff I ever did I was always drunk. When I went out I would just do dumb s–t."
Ferland's been sober since March 2014. With his house in order off the ice, Ferland's game began taking off the following season. He split 2014-15 between the AHL and the Flames, impressing many with his physicality and energy in a bottom-six role.
Ferland's Breakout
Ferland's performance with the Flames in his short stint was enough to earn him a two-year, one-way contract that summer. Ever since then, the Flames' coaching staff has seemingly been trying to figure out what Ferland is at the NHL level.
During his first full season in 2015-16, he was used in a bottom-six energy role (but occasionally was bumped up the lineup). He was good and occasionally very good, which suggested he may have untapped potential. After 18 points in that first season, he spent more time up the line-up in 2016-17 – including spending significant time with Gaudreau and Monahan on the Flames' top unit – and began to score with regularity. By the CBA bye week in 2017-18, he had already set a career high with 19 goals – just two seasons removed from not even generating that many points over a full year.
The Flames return from their bye week this afternoon riding a seven-game win streak. Micheal Ferland has been a big part of it: https://t.co/zjMz2DUyoi

— The Athletic NHL (@TheAthleticNHL) January 20, 2018
While Ferland's pro career really was able to begin when he was able to get his off-ice house in order, his breakout seasons have coincided with him becoming a father in early 2016. Recently he reflected on the impact his daughter's birth has had on his life in a chat with Postmedia's Kristen Odland.
"I just love to watch her grow," Ferland said. "And she's definitely changed me a lot. If you have a tough time at the rink, you can go home and hang out with her. I've realized that hockey is my job and I've put that much more into it so I can take care of her."
You could argue that the changes in Ferland's life over the past few years have had an immeasurable positive impact on his play during that span. Another factor that may be playing into Ferland's emergence this season is his relative immaturity in the game. In an era where high-end players often have numerous skills and development coaches guiding them from a very young age, Ferland came to the game late, worked his way up the ranks on every team he's played on, and is a relatively blank canvas hockey-wise compared to many of his teammates.
When his coaches or teammates give him advice or guidance, Ferland probably has fewer bits of conflicting advice from old coaches in his head and so he's able to adjust himself to different game situations. He has a great degree of size and physicality and an underrated amount of skill, but Ferland's malleability as a player may be his greatest asset going forward.