Michael Grabner is no longer a member of the New Jersey Devils.
The Austria native, who joined New Jersey at the trade deadline in February following a deal with the rival New York Rangers, of all teams, is done as a Devil after just 23 games. An unrestricted free agent, he signed with the Arizona Coyotes on July 1 for three years at a total of $10.05 million.
Grabner's cap hit originally jumped from $793,333 in 2010-11 to $3 million the following year, and he is now slated to earn $3.35 million per season over the next three years with Arizona. He'll become an unrestricted free agent once again in 2021-22.
Grabner Not Long for New Jersey
Truthfully, it didn't appear as though Grabner figured in the Devils' long-term plans, even after so small a sample size, and even after Blake Coleman surrendered his No. 40 jersey to Grabner upon his arrival from Manhattan. Grabner was dealt to the Devils in exchange for a 2018 second-round draft choice, along with prospect Yegor Rykov, in what was New Jersey's first-ever trade with the Rangers since the former Colorado Rockies relocated to the Garden State in 1982.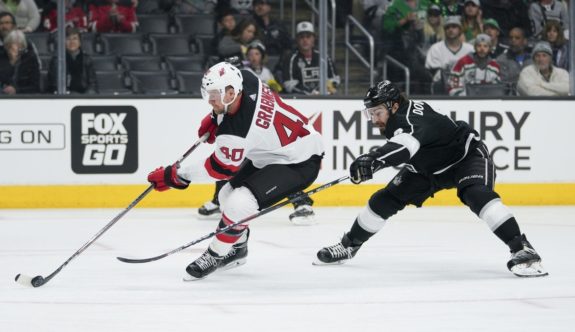 In 21 regular-season outings with the Devils, Grabner tallied just two goals and three assists for five points, then was held scoreless in two Stanley Cup Playoff contests in New Jersey's five-game Eastern Conference quarterfinal loss to Tampa Bay. The writing was on the wall back then—Grabner was a healthy scratch for the final three games of that series, including New Jersey's lone victory against the Lightning.
Grabner got off to a very slow start with New Jersey after the trade from the Rangers on Feb. 22. He went scoreless in his first nine games in his new surroundings before he notched a goal and an assist at Vegas on Mar. 14 as the Devils scored eight goals in a rout of the expansion Golden Knights. He followed up three nights later with his second and final goal in a Devils uniform, a shorthanded marker at Los Angeles, and then recorded two assists over the final 11 games before the playoffs began.
He failed to dent the scoresheet in the first two postseason games in Tampa, both New Jersey losses. He played just over eight minutes in the second contest, and then never dressed for the Devils again.
Grabner Put Up Points with Other NHL Teams
The surprising thing about Grabner's relative failure with the Devils is that he has put up points in his other NHL stops, which have included five cities in all.
His best scoring season to date came in that 2010-11 campaign with the New York Islanders, his first full NHL season, where he tallied personal highs of 34 goals and 52 points in 76 regular-season appearances. Prior to departing Madison Square Garden in February, Grabner had produced 25 goals and 31 points for the Rangers in 59 outings in 2017-18. He scored 52 goals for the Blueshirts in a season-and-a-half on Broadway, and has always been more of a goal-scorer than a playmaker. In 553 career NHL regular-season appearances to date, he has tallied 158 goals against 91 assists for 249 points.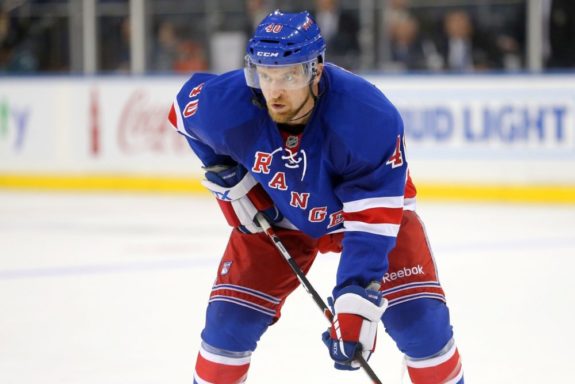 In all, Grabner, who will turn 31 in October, has put together four 20-goal seasons and one 30-goal season in his NHL tenure, but only topped 50 points in that one year. He began his NHL career in the 2009-10 season with the Vancouver Canucks, who drafted him 14th overall in 2016, after he skated for Spokane (WHL) in juniors followed by Vancouver's then-farm club in Manitoba (AHL). He posted back-to-back 30-goal seasons with Spokane, and had one 30-goal campaign with Manitoba in three full AHL seasons.
Why Didn't It Work with the Devils?
It's tough for a player to come to a new team in the middle of the season, especially a rival that sits just several miles across the Hudson River, and be counted on to contribute right away. Grabner, though, was expected to at least provide secondary scoring behind Taylor Hall and his MVP scoring pace.
It didn't happen.
Grabner started by playing alongside Pavel Zacha and Kyle Palmieri on New Jersey's second line, but Zacha has struggled at the NHL level while Palmieri fought injury in the past year. Grabner played with other linemates in his short tenure with the Devils, but despite his speed and skating ability regularly came up empty in the goal and assist departments.
"At the end of the day, if we keep winning and I don't score, I could care less,"
– said Grabner to NJ.com during his early scoreless slump with the Devils. That pattern continued down the stretch, with the Devils notching wins but Grabner himself not scoring.
Grabner had at least two shots on goal in nine of his regular-season appearances with New Jersey, and also averaged better than 13 minutes of ice time with the Devils, with eight instances of 15 minutes or more. Neither shots nor minutes, however, translated into points.
He finished 2017-18 with 27 goals and 36 points, which would have placed him second and fifth, respectively, on the Devils last season. The majority of those totals, though, came while he was with the Rangers. It may have just been a question of developing solid chemistry with the right linemates, which is difficult to do in just over a quarter of a season, but the Grabner experiment has come to an end in Newark.
Member of an Exclusive Club
Grabner is still one of just a handful of NHL players to suit up for the Devils, Rangers, and Islanders, a group of 11 that includes retired players such as Kevin Weekes, Sergei Nemchinov, Vladimir Malakhov and John Vanbiesbrouck. Of that near-dozen, only Nemchinov (Rangers, 1994) and Malakhov (Devils, 2000) won the Stanley Cup. After joining the Islanders in 2010-11 off waivers, Grabner proceeded to score 90 goals in five seasons on the Island.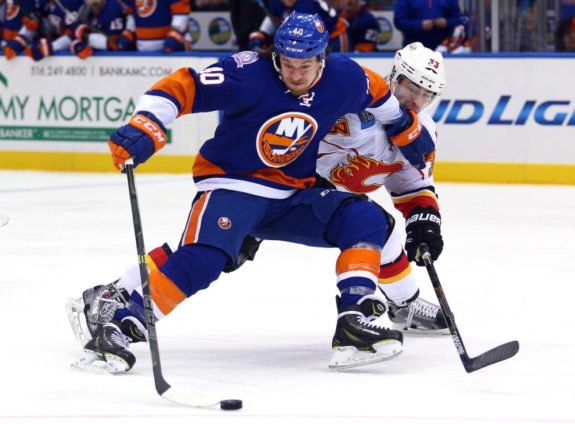 Grabner also represented his native country at the 2014 Olympic Winter Games in Russia, scoring five goals and adding an assist in six outings as the Austrians finished out of the medals. He previously represented Austria at the IIHF World U18 Championship, the World Junior Championship, and the World Championship.
Now Grabner will be looking to duplicate his early-career scoring success out in the desert, as his time out east—and with the Devils—is done.
Hockey freelancer since Boston College in 1989. Have covered Princeton University men's hockey for USCHO.com since 2006 and have also written about the NHL and NCAA for a number of other outlets, including The Hockey News, USA Hockey Magazine and USAHockey.com.