When the Minnesota Wild drafted Mikael Granlund ninth overall in 2010, he was expected to be an explosive offensive force. There have been stops and starts, hot streaks (mostly in international play), cold stretches, and playoff heroics. But the Granlund promised was an elite playmaker and top-line center. That wasn't the player the Wild had over the last few seasons.
However, Granlund has been excellent this season. He recently touted a 12-game point streak and over the last 17 games he's the owner of six goals and 13 assists. He leads the team with 50 points in 55 games. He leads the team in primary assists and ranks fourth in primary points. He's been a part of the team's one unshakeable line, which has their most important forward line defensively.
He's having the best year of his career statistically, but he's not a changed player. It feels more like what he's good at is being amplified this year under new coach Bruce Boudreau.
So, what is amplifying the 24-year-old's productivity? Here are two things that helping him this year.
Move to Wing
After a late-season audition on wing, Granlund started this season as a wing rather than a center. It's allowed him to capitalize on chemistry with Mikko Koivu and have someone else take on a good portion of the line's defensive responsibility. That shouldn't be underestimated as a part of his transition. Granlund is facing the most defensive zone starts of his career. That's not surprising given he's playing on Koivu's wing and the addition of Eric Staal has taken offensive burden off Koivu and his linemates. But the shift hasn't had a negative impact on Granlund's play.
More importantly, the move to wing has put Granlund in a position to focus more on the offensive zone, despite the increased defensive zone starts. He's an outstanding distributor. With a powerful center and a speed demon on the other wing in Jason Zucker, Granlund has been able to help the line transition with speed and create more offense.
Zucker ranks sixth league-wide in primary points per 60 minutes of even-strength play and that has certainly been aided by Granlund's passing skill, to take nothing away from a breakout campaign for Zucker.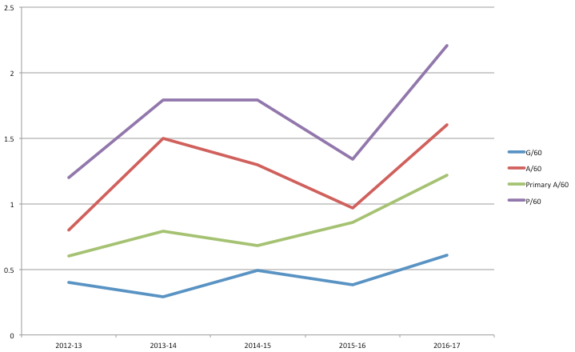 The move away from center has paid dividends in conjunction with the Wild getting a lot of their young core. The massive improvements from Charlie Coyle, Nino Niederreiter, Erik Haula, Zucker, and Granlund, as well as the addition of Eric Staal and the temporary arrival of a healthy Tyler Graovac, has altered what was the Wild's major offensive weakness. In year's past, with Granlund and Coyle playing center, the team lacked the center depth to make a run. With those players finding success under Boudreau, the Wild are suddenly a team with an abundance of centers, even if they're not the deepest team in the league down the middle.
Granlund and Coyle have largely spent time on the wings — though Coyle has thrived recently in a move back to center — and yet still it feels like the Wild are more secure down the middle than they have been in many years.
Taking His Shots
The other big change has been an increased shooting rate.
There are two parts to this. Shooting more matters in and of itself. Granlund is getting more opportunities, creating more offense. That alone is a positive change. But taking more shots also opens up the ice and makes Granlund more of a threat to opposing defenders.
It's evident over the last couple years defensemen at times cheat toward the pass when Granlund has the puck. Whether it's something he chose change on his own, a natural part of his development, a consequence of the move to wing, or something systemic from the shift to playing under Boudreau, Granlund is shooting. It opens up the game and helps to create space for teammates.
How much of a change has there been? A not overwhelming, but significant shift. Though a massive shift would be welcomed by the team, it doesn't feel like an outlier. It feels sustainable and hard-earned.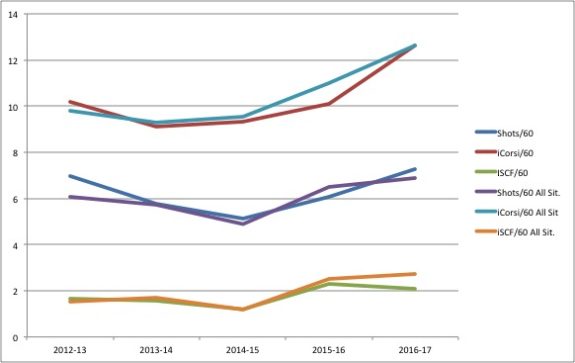 As you see in the chart above, he's seen a significant uptick in both shots and shot attempts, especially at five-on-five. There's also an uptick in all-situation scoring chances. He's attempting more than two-and-a-half more shots per 60 minutes of even strength play than he was last year, which at the time was almost the best rate of his career. (He only played 27 games in 2012-13, which was the highest of his career at that point.)
The ice has been tilted with Granlund out there. His adjusted relative CF% of 3.37% is the best of his career. As is his expected GF% of 58.88% and his actual GF% of 68.75%.
He hasn't changed his stripes, but he's become a more dangerous threat with the puck on his stick, capable of carrying and scoring or finding linemates in open ice. His growth has mattered a lot to the Wild's depth in a year where they are a serious contender for the Stanley Cup.