Jason Zucker understands his role as the Minnesota Wild's resident guru of go. Since his arrival in the NHL, the tempo with which he plays has gone relatively unnoticed because of the team's lack of success on a large stage, namely in the playoffs.
That's beginning to change this year. With the best record and offensive output in the Western Conference, the Wild have achieved leaguewide notoriety. As a result, Zucker has established himself as a threat by improving all aspects of his game.
Before and After
In terms of straight-line speed, there are few players in the game that can keep up with Zucker. It's clear that his fast pace is what makes him effective and he's utilized it since entering the league.
The issue in past seasons was that he was an enigma, playing his own run and gun style without understanding the pressure it put on his linemates. Despite not being an all-around player, the upside to his chaos was visible as Zucker found the net 21 times in 51 games during the 2014-15 season. Unfortunately, a stellar 16.9% shooting percentage took a sharp decline to 8.2% the next year while scoring just 13 goals in 71 games. Whether teams were prepared to stifle him or it was a stretch of bad luck, Zucker's game was rife with inconsistency.
Enter 2016-17. The former second-round pick has earned a permanent home alongside Mikko Koivu and Mikael Granlund as a cog in the Wild's suddenly high-powered top-six forwards. With 32 points, he's already surpassed his career high and has been a lightning rod by generating nightly opportunities in a multitude of ways.
Help Along the Way
In terms of overall success this season, two people not named Jason Zucker have assisted in creating the conditions necessary for his breakout season:
Mikael Granlund
It took longer than the Wild hoped, but the two 2010 draft picks are in the midst of breakout seasons. Granlund and Zucker have developed chemistry and compliment each other well. Granlund is the nifty playmaker that can pass while Zucker creates separation and is relentless on the forecheck. Of Zucker's 14 goals this season, Granlund has had the first assist seven times.
Bruce Boudreau
It's unfamiliar for the Wild to be scoring at the rate they are. From 2000 to 2015, Minnesota's best goals for per game in a single season was 2.77 due to the defense-first game plan. This season, it has climbed to an uncharacteristic 3.28. Fans can thank Bruce Boudreau for implementing a style that promotes offensive onslaughts. Zucker is tailor-made for this strategy and it's paying dividends.
Expansion Repercussions
It's not fun, but I'd be doing a disservice to avoid talking about the Vegas Golden Knights swiping a critical member of the Wild because it's inevitable.
Early in the season, the consensus was that a defenseman was overwhelming choice to be nabbed in the expansion draft. That's beginning to look less certain as Zucker is making himself an attractive asset considering the energy he brings and his marketability. At this point, he could be left exposed as a victim of numbers if the Wild can't get creative with other players, namely Jason Pominville.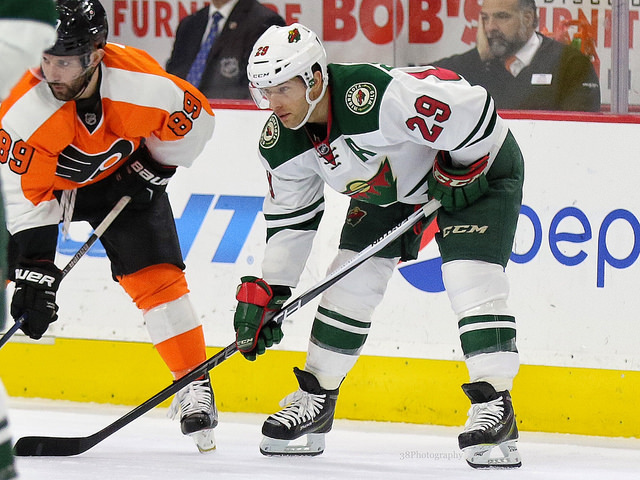 The Wild are in a tight position with Pominville and the remaining $11.2 million cap hit he carries over the next two years. If bought out this offseason, his cap hit next year would be $4.35 million, a number I don't think Minnesota is willing to pay just to get him off the books. Asking him to waive his no-movement clause makes more sense and is likely being explored. Whether either player realizes it, Pominville likely controls Zucker's future with the Wild.
Previous blog experience on GonePuckWild and ISportsWeb.
Winter in Minnesota would be awful without hockey.