There have been a lot of double-digit winning streaks in hockey recently it seems, but none of them have matched the 21-game winning streak that the NWHL's Boston Pride are currently on. Including playoff games (four), the Pride hasn't lost since Jan. 3, 2016 — and that was an overtime loss. "There's just so much camaraderie on this team I think that just makes us so successful. You feel it in the locker room, you feel it on the ice," said goaltender Brittany Ott. "We're a unit and that makes a big difference in our game."
There have been a few close calls, namely two, one-goal wins (one in a shootout) in Newark over the New York Riveters, but the defending champs have been flexing their muscles when needed, as the strong got stronger this offseason.
The first Isobel Cup winners struck gold this summer when general manager Hayley Moore was able to sign Meghan Duggan (Captain America) and swing a trade for rookie Alex Carpenter (leads league in goals and points) who was the first-ever player drafted in the NWHL.
https://twitter.com/aqbelsarafl/status/822990104671174656
The Rich Get Richer
Their defensive core also got stronger with the addition of Lexi Bender on the blue line, to compliment standouts Kacey Bellamy, Gigi Marvin, Alyssa Gagliardi and Blake Bolden. In the game the Pride beat the Riveters in a shootout, they had raced out to a 2-0 lead before the home team rallied back to send the game past regulation.
#MemeMonday pic.twitter.com/xTqM2icBJr

— NWHL (@NWHL) January 23, 2017
"Yeah, that's one that wasn't how we drew it up, not the style of hockey we want to play. But you have to play what they give you and credit to them, they played a really good game and we went to a shootout," said Gagliardi. "We were fortunate to get the win in the shootout there with Otter making all the stops and I think Zoe (Hickel) scored the winner. There are close games like that, but we just have that expectation that we are going to find a way."
Domination
For Ott (7-0-0, 0.98 goals-against average, .960 save percentage), as the season has evolved, she is learning the tendencies of the other three teams and seems to have picked up on some trends. "Every time we play the Riveters it goes down to one goal or two goals and it's always a grind against them, they're a physical team. They do a good job of getting under your skin and they try to take us off of our game that way, but I think the more the season goes on, the more resilient we're becoming."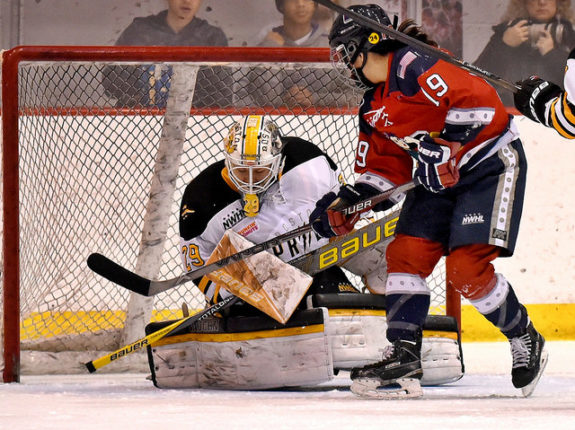 Gagliardi admitted that one of their biggest assets is to not get too high or too low, as each game will have it's ebbs and flows, and the confidence in their room is that they will always find a way. As a team Boston has only given up 11 goals against in 10 games played; they've only scored six first period goals, but have lit it up in the middle period with 19 tallies.
"We have people on this team that refuse to lose, that's the mentality. People who come from winning teams, from an Olympic level, things like that," Gagliardi told The Hockey Writers. "If we're ever back on our heels – we take a breath, take a step back, and play how we know how to play. Not every game goes according to how we draw it up or how we imagine it but I think we have great leadership and great mental toughness."
Score update: @TheBostonPride leading 1-0 against @NYRiveters at end of the 2nd. 2nd period goal by @Hilary_Knight (assisted by @Bdecker14) pic.twitter.com/4AKWdQVfGK

— bdz sports (@bdzsports) January 22, 2017
A majority of this season the Pride have done their damage without perhaps the NWHL's best player, Hilary Knight, who has played in just three games — and oh by the way, she scored a goal in each of those games.
Boston has two games left before the NWHL All-Star Game on Feb. 12 in Pittsburgh, and both games will be against the Connecticut Whale (one home, one away). Connecticut is the last team that beat the Pride in regulation…on Nov. 29, 2015. It's hard to imagine that they were 3-3-0 after that loss and since then they are 25-0-1 with 21 consecutive wins.
It will be a tall task for a team to not only beat them once but have to beat them twice in three games to eliminate them from the playoffs. But that's why they play the games and just like Kevin Garnett once shouted: ANYTHING IS POSSIBLE!