Alyssa Gagliardi is getting used to winning championships. She's already been part of the US Women's National Team twice at the Four Nations Cup (gold in 2015, silver in 2014). Last season in the CWHL with the Boston Blades she was part of the 2015 Clarkson Cup championship team and was selected to play in the All-Star Game. This season in the NWHL, with the Boston Pride she was again named to participate in the All-Star Game and, you guessed it, was a key part of the 2016 Isobel Cup championship team.
Gagliardi joins 11 of her current teammates that are now champions in both leagues in back-to-back seasons, in the same city, which is pretty rad and probably unprecedented. One thing she doesn't have in common with so many of her teammates, though, is her hometown. While many of the players on the Pride are from Massachusetts (eight of them to be exact and two others went to school at Boston College), Gagliardi's path took her from Raleigh, North Carolina to Cornell University where she was a standout player and a senior co-captain until she linked up with her new crew in Beantown.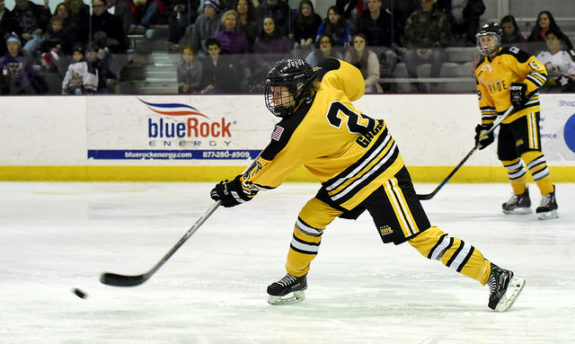 As during the regular season, Gagliardi's fine play continued in the playoffs, helping to limit and shutdown many quality chances from the New York Riveters and Buffalo Beauts. Her presence on the blueline, along with studs Gigi Marvin, Blake Bolden and Kacey Bellamy, helped the Pride sweep both series and make history by becoming the first Isobel Cup winners.
Usually we conduct our interviews off the ice, but following the Pride's 3-1 Isobel Cup-clinching victory over the Buffalo Beauts in Game 2, The Hockey Writers spoke with Alyssa Gagliardi on the ice about why this team is so special and being an inspiration to the younger generation in not-so traditional hockey markets.
The Hockey Writers: With the clock running down at the end of the game what were you thinking out there?
Alyssa Gagliardi: Just keep the pressure on them, we don't want back off and give them any opportunities. They got one there at the end with I think 35 seconds left but we felt pretty comfortable with our lead. It was huge for us to get those two goals in the third period.
Playoffs this weekend and #14strong wristbands still for sale! Help us support our biggest inspiration 💫@dlaing14 pic.twitter.com/DOwt8Ijnra

— Alyssa Gagliardi (@AGagliardi92) March 2, 2016
THW: What is it about this team that is so special? You all have that swagger when you are out there on the ice it seems.
AG: We have some of the best players in the world; you saw them step up tonight. I think that just gives us great confidence throughout the whole lineup and from top to bottom we have great players. We're pretty comfortable with whoever is on the ice that they'll get the job done.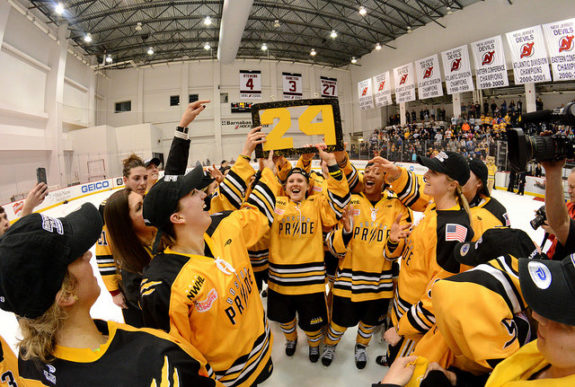 THW: You're hometown is in Raleigh. How did you get into hockey down there?
AG: We lived in Philadelphia when I was like 7, 8 or 9-years-old, so that's when I started playing roller hockey and switched over to ice. Then we moved down to Raleigh and I played with boys and they had one girls program down there at the time; it's grown a lot since then, so it's great to see. Then I went to Shattuck (-St. Mary's) for boarding school. It was a great experience, but yeah hockey in North Carolina is growing. Not quite a hockey hot bed yet, but it will get there.
#tbt to when playing professional hockey was just a dream. #HistoryBegins Oct 11th ✨ @TheBostonPride pic.twitter.com/jEm65XUj3L

— Alyssa Gagliardi (@AGagliardi92) October 8, 2015
THW: Now you are a huge inspiration to all the little girls down there…
AG: Yeah (smiles) hopefully I can be someone who they can just look to and that they know they can keep playing (hockey) after graduation.
Related: On the Ice with Isobel Cup MVP Brianna Decker
Related: On the Ice with Isobel Cup Champion Zoe Hickel
Dan Rice can be reached via Twitter: @DRdiabloTHW or via Email: drdiablo321@yahoo.com.