For years, it has been all about the playoffs. The Ottawa Senators are focused on that simple task each and every season. But, as the years go by and the team's goals remain the same, one can't help but wonder if Ottawa needs to adjust their angle and re-evaluate their organization's direction in order to generate better performance.
At this point in the season, there is almost no debate that the nightly effort delivered by the Senators isn't going to cut it for playoff hockey. Yet, with 11 games remaining, they find themselves holding onto a glimmer of hope echoed by the words "not mathematically eliminated." And, along with the odds incredibly stacked against them, 9 of Ottawa's 11 remaining games are against teams that are contending for postseason play.
Now, more to the point.
Ottawa Senators Management – Is Change Coming?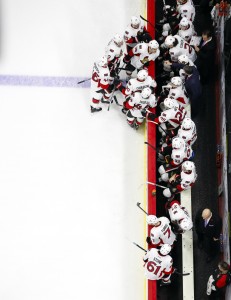 If you find yourself able to ignore the flurry of negative (albeit well deserved) press the Senators' have received this season, you may see the positives in missing out on the playoffs. Throughout the bad news that has gone around (Mike Hoffman's treatment or Dave Cameron's bizarre coaching tactics – just to name some headlines in case you did forget) you could say management might experience a wake-up call when they start to evaluate what went wrong this year.
Related: How Different Could The Ottawa Senators Look Next Year? 
In that evaluation will come decisions regarding Cameron and GM Bryan Murray's future. While Murray's decision will be based solely on the status of his health, Cameron is in a different boat having taken lots of heat for the way he has played his team this season.
Ottawa's issues this year have not come solely from management or behind the bench but, in what looks to be an offseason full of potential change for the roster, moves in coaching or front office staff may inevitably be the solution.
Erik Karlsson Can Cheer You Up
If my attempt at providing hope for the future of Ottawa's organization failed to perk you up, just shift your eyes on Erik Karlsson. Following a three point night against the Minnesota Wild – in which he scored the game-winning goal in OT – Karlsson is having an unbelievable year. He is making an incredible case to win his third Norris Trophy in a row (depending on who you ask) and also has proven his worth for The Hart Memorial Trophy.
#Sens Erik Karlsson is the first defenceman with 60 assists in a season since Nicklas Lidstrom had 60 in 2007-08.

— Sportsnet Stats (@SNstats) March 16, 2016
Related: Ottawa Senators – Put The Blinders On And Put Your Head Down 
https://twitter.com/sens_adnan/status/710175180988026884
If nothing else impresses you, Ottawa has some offensive talent brewing in prospect Colin White and newly signed forward Francis Perron. The season may be close to finished, but the future could just be getting started. Though it may be hard to see, there are some positives to look forward to.
College Student. Ottawa born and raised. Senators, Blue Jays and Raptors. Prov 3:5-6.