The Pittsburgh Penguins are scoring at scary rates. Their 169 goals this season leads the NHL, with only the New York Rangers — thanks to their insanely hot start to the year — in the same vicinity as them. And while they continue to find success in the regular season, one has to wonder if they can continue this type of play into the postseason and claw their way back to the Stanley Cup Final.
They seemed to make it work last season, right?
The 2016-17 campaign has been a different beast, though. Simply put, Pittsburgh is a bad defensive team. From a goaltending perspective, good, but inconsistent sums it up best. When you also consider just how good their divisional opponents are this season, there are multiple areas they'll likely need to improve before spring. The important questions of course, would be what areas do they address and how can they do so without disrupting this special group?
Getting Defensive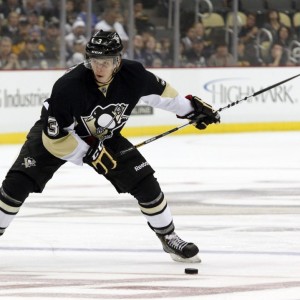 Defense is a clear need, and something that general manager Jim Rutherford will certainly consider addressing prior to the NHL's trade deadline on Feb. 28. Depth defensemen like Chad Ruhwedel have filled in nicely but if the Penguins want to repeat, they need to fix this blue line.
Of course, that's easier said than done.
Pittsburgh currently ranks 25th in the league for shots against per hour. They also rank 25th in scoring chances against per hour of play, two defensive categories that are quite telling in how poorly they've performed on that side of the puck. These are also categories in which the Penguins excelled last season after Mike Sullivan took over, hence why 2016-17 has been a different animal for this team.
The offense is clearly still there. The shot suppression and effective defensive play is not.
Combined with their middle-of-the-pack save percentage, it could mean disaster — even for a team that scores at the rate Pittsburgh has — when the postseason rolls around. They don't have to be the best defensive team in the league, but they will likely need to be better.
A healthy Brian Dumoulin and Kris Letang is the first step to turning things around. Unfortunately, that may not be all Pittsburgh needs, though.
Big Fish Attainable for Penguins
When it comes to big fish in the sea, Kevin Shattenkirk and quite possibly Jacob Trouba will top that list for blueliners. Interestingly, both the St. Louis Blues and Winnipeg Jets are experiencing issues in the crease, and could really use a goaltender like Marc-Andre Fleury.
I'm not in the business of speculating, or creating trade rumors unless there's truly smoke surrounding a situation. In this case, it just makes sense that the teams mentioned would consider a move to bring Fleury to town. Could the parties make things work, considering each team will have it's own salary cap issues to deal with?
Of course. Where there's a will, there's a way.
Recently, Blues general manager Doug Armstrong doubled down on his support of Jake Allen, stating that the struggling goaltender is indeed their netminder for the foreseeable future. He spoke as if he's completely committed to Allen's four-year contract signed this past summer, with no urge to make a change between the pipes. But, what else could he say in this situation?
The decision to leave Allen behind this past weekend as St. Louis began a three-game road trip — which Armstrong referred to as a 'reset' — should tell you exactly where he stands.
This is a bad situation for a team that believes they're a contender and Armstrong isn't going to standby and watch an entire season fall apart due to Allen's issues.
Still Looking to Jet Out of Town?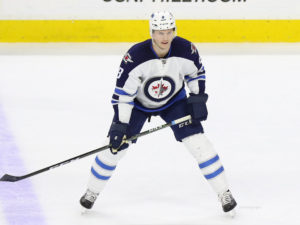 Trouba, though conversation surrounding him cooled off drastically since he originally requested a trade this past offseason, fits Pittsburgh's needs perfectly.
Winnipeg currently boasts the fifth worst even strength save percentage in the league. They're a bubble team that could potentially become a contender in the near future with a more reliable figure in the crease. Connor Hellebuyck is the future for the Jets, but Fleury could be the now.
And the idea of including Ondrej Pavelec in the deal to backup Matt Murray for the remainder of 2016-17 — prior to him becoming an unrestricted free agent this summer — makes this even more intriguing.
The addition of Trouba immediately boosts Pittsburgh's top four. It would create some decision making on the part of Sullivan — just as the addition of Shattenkirk would do — since it would mean bumping someone like Olli Maatta or Trevor Daley down the depth chart. That would also mean Justin Schultz and Ian Cole would have some added competition in the bottom pairing.
And competition is a good thing. Plus, injuries will occur.
Dark Horse Partners
We can avoid the rumor that Pittsburgh is interested in Gabriel Landeskog. While that may be the case, defense has to be the priority over the next few weeks.
The Calgary Flames could still be in the mix but Chad Johnson has played fairly well there since ultimately assuming the starting role, though he has struggled a bit recently. From a salary perspective, they're best suited to take on Fleury's contract but they may not feel it's as pressing as they once did.
Lastly — a team that's flying under the radar in this conversation but could provide Pittsburgh at least a small boost on the blue line — is the Buffalo Sabres. Robin Lehner has provided solid backstopping and will be a restricted free agent this spring but do they view him as a long-term solution?
Looks like 5 starts in a row for Murray. IF Fleury starts Thursday at BOS, that will be 12 days from his previous (1/14). Still a timeshare?

— Jason Mackey (@JMackeyPG) January 24, 2017
It's becoming more clear that Pittsburgh is fully committed to Murray. Considering the defensive issues Pittsburgh is facing, it's a no-brainer that Fleury will most likely be moved at some point in the coming weeks. Rutherford's patience up to this point makes total sense, but it feels like we're approaching a point where the Penguins will use what is undoubtedly their best trade chip — and if they do — it's hard to imagine any scenario that steers them away from boosting their blue line and setting themselves up for a chance at repeating as Stanley Cup Champions.