The Carolina Hurricanes certainly have a lot on their plate right now. With the upcoming expansion draft, the NHL trade deadline and the possibility of playoff contention, there's no lack of influences weighing on the slew of decisions Ron Francis, the club's general manager, needs to make between now and the draft. As he rebuilds the team, a key focus has been placed on defensive stability. Francis has participated in three drafts since arriving and his highest selections were reserved for a defenseman at each one. Francis has made his intentions perfectly clear. Defense is the backbone to a well-engineered system.
Meanwhile, the need for an elite scorer continues to grow increasingly evident. For a team that started their rebuild two weeks apart from the time the Toronto Maple Leafs' started theirs, it's easy to see how an elite scorer can make an immediate difference. Yes, the Leafs focused on the top end first but that also means their weaknesses will be different. Yes, the Leafs have more flair, a better knack for scoring and at least 10 times the media coverage but both teams have 29 losses to date. The Toronto Maple Leafs just have more games lost in overtime, which is the only reason they have more points. It simply took them longer to lose.
The Canes & Point Production
An elite scorer is always needed regardless of what team we're talking about, but it's especially true in Carolina. Although this need continues to persist, we're beginning to see real progression from a number of key players.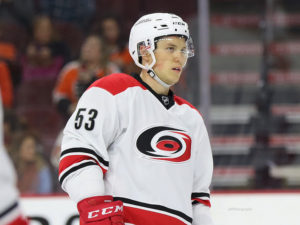 Jeff Skinner, a 24-year-old winger and one of the Hurricane's three alternating captains, currently has a point-per-game-played (P/GP) rate of 0.71. He ended the 2015-16 season with a P/GP of 0.62. Elias Lindholm, a 22-year-old forward, has a P/GP of 0.63. Last season, he played 82 games with a P/GP of 0.48. Then there's Sebastian Aho, a rookie drafted in the second round (2015 Draft). He currently holds a P/GP of 0.60. There's also Teuvo Teräväinen, another second-rounder, who currently has a P/GP of 0.54. He played 78 games last season and finished with a P/GP of 0.45.
At this stage in the rebuild, this is an ideal situation to be in. Furthermore, there are some really good looking prospects coming through the pipeline too. There's Haydn Fleury, Jake Bean and Julien Gauthier (2016 Draft, No. 21). Then there's Roland McKeown (2014 Draft) and Valentin Zykov (2013 Draft), both second-round picks drafted by the Los Angeles Kings, so you know there's an increased likelihood of these two reaching their full potential.
Yes, there's a lot of excellent talent in the Hurricanes' pool of prospects and their roster is seeing a great deal of improvement. These two things are particularly encouraging for fans of the franchise. However, there's still no sure thing cementing a real shot for Stanley Cup success in the future. There's no elite coach, no elite scorer, and no elite defenseman — not right now anyways.
So what could Francis be doing to ensure a brighter future?
Option #1 A: Advance Fleury & McKeown
Depending on who the Hurricanes protect and expose at the upcoming expansion draft and who they advance into their roster next season, they could potentially be playing with 10 first round picks next year:
Jordan Staal, F
Jeff Skinner, F
Elias Lindholm, F
Ron Hainsey, D
Teuvo Teräväinen, F
Noah Hanifin, D
Ryan Murphy, D
Jake Bean, D
Haydn Fleury, D
Julien Gauthier, F
Throughout the 2016-17 preseason, we saw the likes of Zykov, Gauthier, McKeown, Bean and Fleury. McKeown, in particular, was noted for having an exemplary performance. There's a good chance at least a couple of these guys will make the roster in 2017-18. It's just really hard to figure out who. Since Francis started drafting for the Hurricanes, only three of his picks have actually played in the NHL; Hanifin, Aho and Alex Nedeljkovic.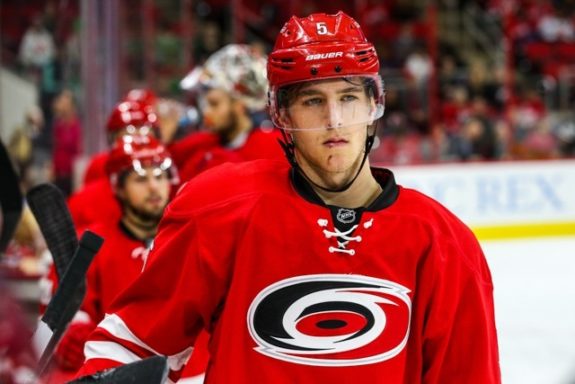 Although Hanifin isn't categorized as an offensive defenseman, he's making a big difference even at the young age of 20. Aho is actually turning out to be a really great choice for the Hurricanes, which could have been foreseen considering the fact that the 2015 Draft class was filled with high-level talent, even at the early positions of the second round. Nedeljkovic has only played in one NHL game so far and he's a goalie.
So who are some of next year's viable roster candidates? First, let's take a look at possible openings on defense. The contracts of Hainsey, Dahlbeck, and Tennyson expire at the end of 2016-17. However, in order to meet the player exposure requirements for the expansion draft, Francis will likely extend one of their contracts because that's the simple thing to do. Regardless of which one is exposed, none are overly attractive and probably won't get picked by the Vegas Golden Knights. So it's quite possible for the exposed defenseman to end up staying with the Hurricanes next year.
As a result, there would be at least two open slots to fill on defense. The most likely candidates are Fleury, who Francis drafted, and McKeown, who Francis traded for. Things could get tossed up even further during the 2017-18 preseason if some prospects start looking better than Murphy too. Francis has a track record for not rushing anyone into the lineup, so Bean could stay in junior for another year. The next likely candidates would probably be Keegan Lowe (third round pick from the 2011 Draft) or Trevor Carrick (fourth round pick from the 2012 Draft). However, Francis didn't draft these guys himself, so he may be more inclined to do something like trade them simply because he could get players who better fit his own building block's list of criteria.
Option #1 B: Advance Gauthier
On the top end, Gauthier could make the roster next year. He is a big boy (6-foot-4, 225 pounds) and he's Canadian. His nationality matters because sometimes European prospects need an extra year to adapt to the North American culture before they're NHL-ready. Sometimes, the unfamiliarity of the other side of the pond can add more pressure and that's something to keep in mind.
In some of Gauthier's scouting reports, though, he's described as a guy who thrives under pressure. Perhaps his aptitude for high-pressure situations will help him in more ways than one. Francis is uniquely qualified to evaluate Gauthier's readiness on a physiological and mental level, as he can draw on 23 years of experience as an NHL player. As mentioned earlier, Francis doesn't like to rush anyone into the roster because that can disrupt their trajectory. Considering the position he was selected at in the draft, that too may be a factor contributing to his readiness.
Option #2: Sign a Gamble
It's totally understandable why so many Hurricanes' fans want to see a truly elite scorer on the roster. And by truly elite, I mean someone who's point-per-game-played (P/GP) rate is more than 0.71 and still has some good years left in the NHL. Francis seems like a pretty smart guy and so far, his moves as an NHL general manager have been worth the wait. Unlike the Toronto Maple Leafs, though, the Hurricanes didn't play bad enough to earn a top three draft pick. It's pretty much too late for them to embark on a race to the bottom as well. The Colorado Avalanche and the Arizona Coyotes are far too ahead on that one.
Francis also doesn't seem like the type of guy to overpay in free agency for a player who's well past his prime. Furthermore, the chances of finding some random European diamond in the rough are slim to none. Then there's that option of hoping to find a late-round hidden gem. This strategy too often yields fruitless. Even if it did happen, it doesn't supply the team's immediate offensive needs.
The only thing that seems to fit Francis' track record of behaviors is simply not getting an elite scorer at all. With all the progress we're seeing with what he's got, that's more of a sure thing than any of the options presented here.
Option #3: Offer Sheet Someone
There's still one more option and that's the option of an offer sheet. If Francis really wanted an elite scorer right now, an offer sheet would do the trick.
At the upcoming Draft this June, the Carolina Hurricanes will be drafting one first-round pick (not a top three), two second-round picks, at least two third-round picks and the possibility of another (depending on unknown conditions), one fourth-round, two fifth-rounds, one sixth-round and one seventh-round pick. Francis can definitely afford an offer sheet with all these picks still available and so many top-tier prospects coming through the pipeline. The real question is, will he splurge for the right guy?
If he did, the following forwards are up for grabs:

Francis could use reason to justify not doing such a move, as we're witnessing individual players making huge strides on the point-production front.
But can he resist an offensive defenseman, though?
Probably. There's not really any truly offensive defensemen becoming restricted free agents at the end of the season.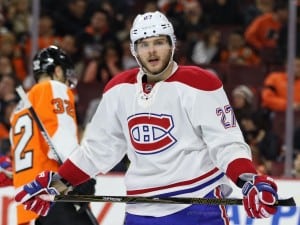 Alex Galchenyuk, a forward who currently plays for the Montréal Canadiens, is only 23 years-old and he's also a top-three player. Taking into consideration Francis' track record of known behaviors, spicing things up in the way an offer sheet would is totally out of character. However, maybe he's not used an offer sheet because he's waiting for the expansion draft to pass and waiting for the right time definitely fits his character. The most likely reason Francis won't offer sheet someone is because he rather not ruin a relationship with another club and risk the chance of preventing future trades.
As fun as it is to fantasize about the all the decisions facing Francis, reality always seems to seep in. The decisions he's made thus far have put the Hurricanes in the position they're in today. Most often, his decisions have no risk or low risk and for Francis, patience is everything. Nothing happens fast or with flair. In fact, desire for the spotlight is seemingly non-existent and that's just one of the many characteristics belonging to the NHL's second-best assister.