A few weeks ago I polled 35 contributors at The Hockey Writers, asking who is currently the best coach in the NHL today. The overwhelming winner with 18 votes was the coach of the Detroit Red Wings, Mike Babcock. In all, six coaches received votes, but none of the other five bench bosses even got half of the votes that Babcock did.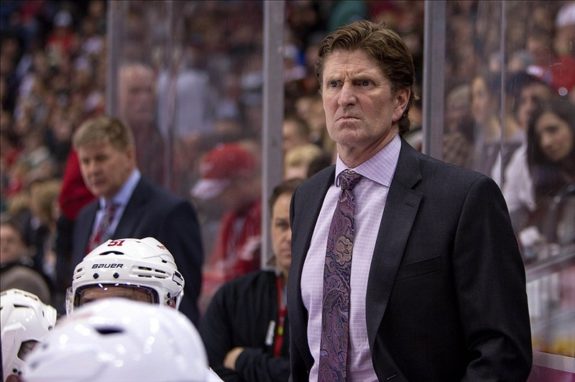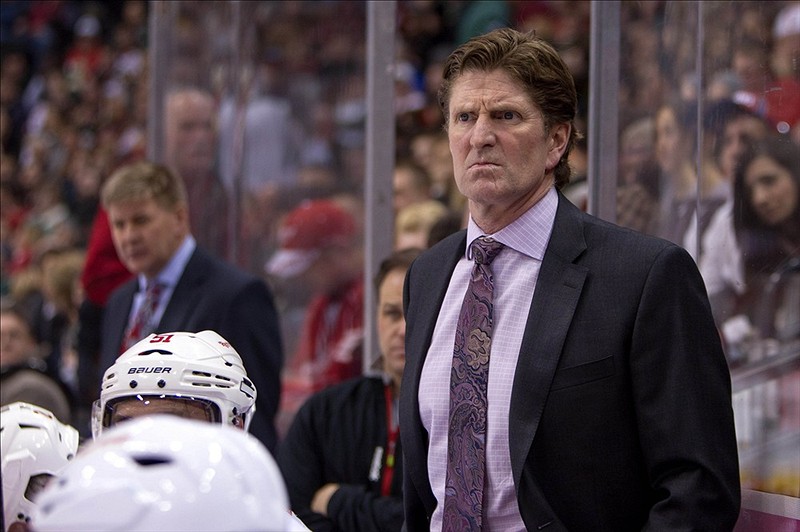 Those opposed to who our majority voted for will argue that Babcock hasn't guided the Red Wings to the Finals since 2009, which is a fair argument for sure. But his body of work speaks for itself, especially after the demise of Detroit has been written over and over again since '09 as the team has gone through some major changes and still remained a constant and consistent threat to win on any given night and win any given series.
The final vote count:
Mike Babcock, Detroit Red Wings: 18 votes
Joel Quenneville, Chicago Blackhawks: 6 votes
Barry Trotz, Nashville Predators: 3 votes
Paul MacLean, Ottawa Senators: 3 votes
Claude Julien, Boston Bruins: 3 votes
Ken Hitchcock, St. Louis Blues: 2 votes
Here are some of the arguments from our writers made for the coaches that didn't receive the most votes:
Mark Wallace Graham: MacLean; Ottawa wasn't expected to do much the past two seasons, but got into the playoffs in each.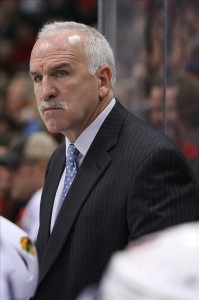 Luke Dixon: If we're going currently, I say Quenneville. I thought he would fall into Julien and the Bruins' trap of trying to play physical, like Dan Bylsma and the Penguins did, but he didn't; very smart coach.
Ton DeFrancesco: How is it not Joel Quenneville? 2 Cups in 4 years; not to mention, he beat Babcock, after being down 3-1 in the series this season. How are so many people overlooking this?
Robert Elbaz: Such a tough question; not really surprising Darryl Sutter and Bylsma aren't getting any love, but how different would these answers look a year or two ago? Gave my vote to Quenneville but could easily be Babcock.
Andy Eide: Weren't people calling for Julien's head during the Toronto series? My money is on Trotz; he seems to roll out competitive teams every year no matter how thin the roster is.
Finally, here is a little point/counter-point from three of our writers:
Marcy Dimichele-Sevior: I might get some hate for this, but I'm just being honest. Babcock is a great coach, one of the best for sure. But he's got only one Stanley Cup ring despite coaching some very strong Detroit teams. I'm not saying he isn't in the top 3, but not sure he should be the runaway winner.
Jamie Shinkewski: Even after losing a bunch of Hall-of-Famers Babcock keeps the Wings competitive; back-to-back Finals in 2008 & 2009 after losing the core of the early 2000's teams. Then after losing three of his top-four D-men over the last two seasons they push the (eventual) champs to overtime in game 7? Plus he is the only coach in the triple gold club (Olympic gold, World Championship gold, Stanley Cup).
Colin Pineau: The way I see it is that this year Babs almost eliminated coach Q's championship squad with a team that many said wouldn't make the playoffs.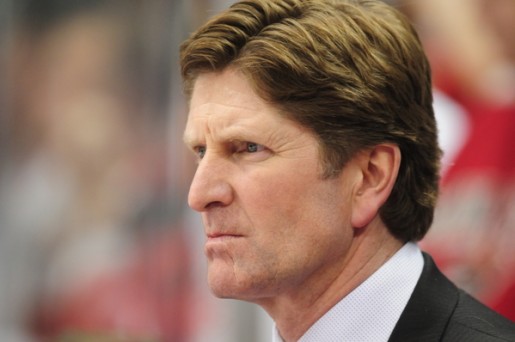 I can't really argue with anyone's opinion, because they all made a lot of sense to me and each coach is a great coach in the NHL without question. Especially Marcy's point about how Babcock has only one ring — resonated with me — despite the fact that he has guided teams to the Finals three times. My reasoning for why I voted for Babcock is a combination of things including, but not limited to: his overall body of work, his ability to get the most out of his teams and finally the way he speaks to the media.
Let me explain that last part a bit – as a journalist for almost ten years I have dealt with some very grumpy and uncooperative coaches (John Tortorella, Brent Sutter) some easy going coaches (Larry Robinson, Wayne Gretzky, Eddie Olczyk, Julien), some intimidating coaches (Lou Lamoriello, Pat Burns) and some really insightful coaches that you actually feel like you have learned something about the game after asking them a question (Jacques Lemaire, Hitchcock, Babcock).
Babcock is insightful, even after a loss in a playoff game:
Babcock's body of work speaks for itself, from taking the Mighty Ducks of Anaheim to the 2003 Finals as a 7th seed (eliminating the top two seeds along the way) to as Colin mentioned, guiding the 2013 Wings (again a 7th seed) to an upset win over Anaheim in the first round before putting the fear of God in the Blackhawks by taking them to an overtime in a Game 7. He gets the most out of his teams consistently and when you talk to or hear his players talk about him, you can hear how much they enjoy playing for him and his style of coaching. Also as coach of Team Canada, basically a team of All-Stars, he has found a way to manage those egos & keep everyone happy and on the same page, while putting a lethal team on the ice.
Mike Babcock's career coaching record is quite impressive.
Again each coach we spoke about is a great coach and has done some wonderful things in this league, it's just a matter of preference and opinion. If you would like to, you can vote for who you think the best NHL coach is by leaving a comment below.
Dan Rice can be reached via Twitter: @DRdiabloTHW or via Email: drdiablo321@yahoo.com.
The NHL regular season schedule was released on Friday. Check out our partners at TiqIQ for the best deals on Detroit Red Wings tickets for all 2013-14 games.