Just a few days ago, the San Jose Sharks came to terms on a new Joe Pavelski contract. The Sharks own number 8 agreed to a five-year $30 million extension through his 34th birthday. But there was a contract that Doug Wilson negotiated just over a month earlier that looked oddly familiar.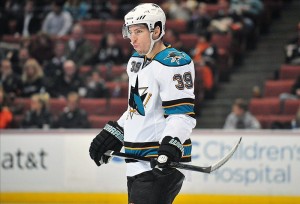 Oh yeah… That guy. Logan Couture got a contract of the exact same length and salary. Does that mean the Sharks brass values Joe as much as the "future of San Jose?"
Pavelski Contract Brings Big Pay Day
This upcoming season will bring in four million for The Big Pavelski. After that, he earns two million more. The second big signing of a quiet offseason for the Sharks puts them slightly over the cap in salary for the upcoming season. But Joe has definitely earned a pay raise by his work and production in his last few seasons. In 2011-12, he had his first 30 goal season. Pavelski has been a prime performer in the playoffs as well. His goals come at times when the Sharks need them most. Joe plays as if he were the size of Joe Thornton with the speed of Patrick Marleau.
A game-tying tally late in the third that sent the home crowd into a frenzy.
Couture vs. Pavelski: Sharks Steal a Deal?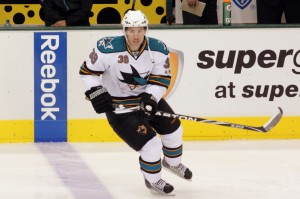 Logan Couture has been tabbed as the next captain and the franchise player that Doug Wilson will look to build around for the future. But with his contract being exactly the same as his teammate, Joe, does that mean Pavelski is on the same level as Couture?
No. In no way, shape, or form is Joe Pavelski as talented as Logan Couture. Joe is valuable. There is no doubt about that. Pavelski would have been a shame to lose to free agency.
The contracts come down to timing. Joe Pavelski is entering the latter stages of his career. He will be in his mid-30s by the time this contract is up. He has the ability to score 30 goals in a season and is a mean opponent in the faceoff circle. However, with this season being a contract year, teams will be scouting him. The Sharks do not have the history of competing in contract competitions. They never sign big names in the free agency market. Pavelski is still young and represents the other side of the Sharks plans in the future. Wilson had to lock him up before he could even be tempted by another squad looking for a second-line center.
Logan Couture, on the other hand, is 24 years old. He enters the prime of his career and will be spending it all with the Sharks. He more than doubled his paychecks with the new contract. In signing him first, the Sharks were able to give him a raise but not another contract to compare it to. Number 39 did not see the Pavelski contract and could not say "I want more than him."
Who Wins and Who Loses?
Well, no-one really loses in this situation.  Everyone got a raise.  In the eyes of an agent, however, Logan Couture got bought for real cheap.  In hindsight, he deserves more than the Pavelski contract.  Little Joe, conversely, must be very happy.  He earned a huge raise.  He avoids free agency and he gets some job security for a few years.  The Sharks as an organization can be considered the best winners.  They locked up talent for the years after Marleau and Thornton are gone.  They did not even pay that much for it.  Couture and Pavelski will lead the offense with Burns in support.  Once again, the Sharks prove they know how to move on when superstars age out of the NHL.
The NHL regular season schedule was released on Friday. Check out our partners at TiqIQ for the best deals on San Jose Sharks tickets for all 2013-14 games.