It might prove difficult to find the silver linings as a fan of the Detroit Red Wings at the moment, especially after a 4-0 thrashing at the hands of the Toronto Maple Leafs. Currently, the team sits dead last in the Eastern Conference, with a record of 20-20-9.
Still, the team has a number of players who have displayed personal growth this season. Thomas Vanek leads the Wings in points per game after the Minnesota Wild bought him out during the summer, both Anthony Mantha and Andreas Athanasiou have proven their worth as regulars in the NHL, and the other day I discussed Frans Nielsen's improved play with the team. You can add defenseman Mike Green to that mix, especially when you consider the way he has improved since the Red Wings signed him heading into the 2015-16 season.
An Increased Role on the Team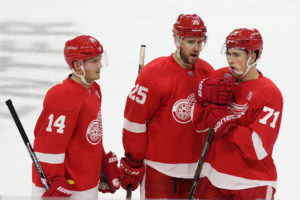 There was a mixed reaction when the team signed Green to a three-year deal worth an AAV of $6 million, and rightfully so. While the offensive defenseman was coming off a 45-point season with the Washington Capitals, he was heavily sheltered as a third-pairing defender, averaging 19:06 per game. Add in Green's history with injuries, and Wings fans were skeptical that he was worth the money general manager Ken Holland paid.
Truthfully, he probably was not last season. Green accumulated 35 points through 74 games during his first season in Detroit, while skating an average of 19:46 per game, including 02:46 on the power play.
Chalk it up the Niklas Kronwall starting the season on the sidelines, or earning the trust of head coach Jeff Blashill, but Green has more responsibility than ever with the Red Wings. The 31-year-old defender's ice time has increased substantially this season, jumping to an average of 24:04 per game. He's the Red Wings' go-to guy on the power play this season (03:15 PP TOI/GP), and even spent some time killing penalties early in the season.
A More Potent Offensive Weapon
With the increase in ice time, it is fair to assume Green's offensive production would jump from the 35 points he scored last season. Through 41 games, he has registered 24 points (on pace for 44 points), giving him 0.59 points per game. That places Green in the top-15 players in the league who have played in 30 or more games this season. When you consider just how poorly the Red Wings have played with the man advantage this season (11.1 percent, 30th in NHL), his production is even more impressive.
It's not just a matter of increased ice time, though, as Green is doing more to drive the offense. His primary points per 60 minutes this season (0.95) is a considerable improvement over last season's mark (0.32). It also places him in a tie for fourth among all defensemen who have played at least 500 minutes, according to Corsica.
Looking Ahead
So what does it all mean for the Red Wings? Depending on your perspective, it is possible you are content with Green playing as a top-pairing defender for the team, and think the team should hang onto him. Alternatively, you might think that his value is high enough that another team might bite on the last season of his contract, and that the Wings should try to ship him off for prospects and/or draft picks.
Perhaps you feel as if the team should expose him during the Las Vegas expansion draft, hoping they push forward with a rebuild, moving ahead with defensemen like Xavier Ouellet, Ryan Sproul and Nick Jensen. Regardless of where you stand, Green's growth with the Red Wings since last summer is a positive thing to note during a season of doom and gloom.