No one looked at the Pittsburgh Penguins acquisition of defenseman Justin Schultz as anything more than a flier. At the trade deadline last season, the Penguins acquired Schultz from Edmonton for a third-round draft choice.
But, he proved to be a very nice fit and provided some nice blue-line depth for the eventual Stanley Cup champions. Schultz replaced a struggling Olli Maatta at various times during the postseason, and he was also the next man up when Kris Letang missed a game versus the Capitals due to suspension. Eventually, Schultz found himself in the lineup for every playoff game once Trevor Daley broke his ankle in the Eastern Conference Final.
In 15 playoff games, Schultz recorded four assists, including a helper on the first goal of Game 6 in the Stanley Cup Final.
Most figured Schultz would cash in on his strong play and sign a big contract elsewhere, but that didn't come to fruition. The 26-year-old said Pittsburgh was his No. 1 choice, and he proved it by signing a one-year deal to stay in the Steel City. It's a good thing he did because he's become the Penguins' most reliable defenseman in 2016-17.
Struggles in Edmonton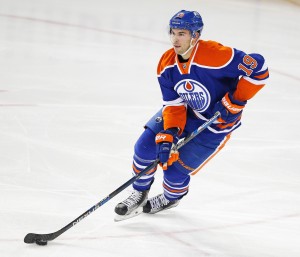 After Schultz led the American Hockey League in scoring during his first AHL season in 2012-13, the expectation was he would become a No. 1 defenseman. He scored 18 goals despite playing just 34 AHL games. That would skyrocket anyone's expectations, but then Edmonton general manager Craig MacTavish took it to another level when he said Schultz would be a "great Oiler" and had "Norris Trophy potential."
The truth of the matter was Edmonton never put him in a position to succeed. At that point, the Oilers were a bad team, and they were asking Schultz to lead the team in minutes and cover for all the team's defensive inefficiencies.
It turned out that the "baptism by fire" strategy didn't work. He scored 11 goals and 33 points, including 12 power-play points during his first full NHL season in 2013-14, but his defensive play was spotty at best. In the same season, he posted a minus-22 rating and 43.9 Corsi For Percentage.
Over three and a half seasons with the Oilers, Schultz scored 28 goals and 101 points in 248 games. He also had a minus-78 rating and 47.1 Corsi For Percentage.
Rebirth in Pittsburgh
Now it's easy to understand why it was considered somewhat of a curious decision for Rutherford to trade for Schultz. Last February, there was very little to suggest the 26-year-old would ever fulfill his potential, particularly on the defensive end.
Under the tutelage of Penguins defensive coach Sergei Gonchar, Schultz is doing exactly that. In his first 16 games in Pittsburgh, he scored a goal and eight points with a plus-10 rating. Over 18 regular season contests last season, the 26-year-old also posted a 50.1 Corsi For Percentage.
Although Gonchar's teachings certainly had an impact, Schultz benefitted greatly from simply playing bottom-pairing minutes. Pittsburgh didn't ask him to be the team's No. 1 defenseman. In some cases, he was blueliner No. 7, but in the playing time he received — 14:14 in 18 regular season games and 13:09 in 15 postseason games — he excelled.
Since Justin Schultz was traded, only 11 dmen in the league have more points than him, he leads all dmen in +/-, CF % of 52.1

Insane

— Dad Chad (@madchad412) January 19, 2017
Becoming a No. 1 Defenseman
In 2016-17, Schultz's minutes have increased nearly five minutes compared to last season. While averaging 19:08 this season still ranks Schultz fifth among Penguins defensemen, he's become Pittsburgh's most reliable blueliner over the month and a half.
Since Dec. 1, Schultz leads all Penguins defensemen, playing 21:20 per game. In the last 17 games, the 26-year-old has played at least that average in 13 contests, and he's received more than 25 minutes of ice time on five occasions.
Do the Penguins have two of Justin Schultz? He's been on the ice every time I've looked at the TV

— Blitzburgh Brian (@blitzburghblog1) January 13, 2017
During that stretch, Letang, Dumoulin and Daley have all been out for extended periods of time, so coach Mike Sullivan has asked Schultz to carry a bigger load. He's done so wonderfully, eating up tons of minutes and fulfilling his offensive potential.
Over the last 25 games, Schultz is averaging more than a point per game with seven goals and 21 assists. During that stretch, he has seven multi-point games, including a three-point contest and four-point night. He's picked up a power-play marker and eight man-advantage points during that stretch, but a vast majority of his production has been at even strength.
During December, no defenseman had more points than Schultz's 18. In fact, Sidney Crosby and Evgeni Malkin were the only players in the entire league who scored more points that month. And no player owned a better rating than Schultz's plus-16.
Interesting to note @penguins D-man @6Schultz6 hits the halfway mark of the NHL season 3rd among all defensemen with 2.11 points per 60 mins

— Newport Sports (@TheHockeyAgency) January 13, 2017
Also since December 1, only five NHL players have produced more points than @6Schultz6 , who has gone 6-14-20 in 17 games since that date

— Newport Sports (@TheHockeyAgency) January 13, 2017
Overall, Pittsburgh will be looking to improve its shot deficiency, goals-against average and penalty-kill percentage — all things Schultz will have to play a large role in doing — but the 26-year-old has more than held his own on the defensive end. His plus-26 rating for the season is second-best in the entire NHL, and his 52.6 Corsi For Percentage is the best of his career and second-highest among Penguins defensemen with at least 10 games played.
Pittsburgh is certainly hoping to get healthy on its blue line before the playoffs. The team would also benefit by adding another defenseman before the trade deadline. But the team now knows that, if needed, Schultz is capable of being a top flight defensemen — just as Edmonton once thought four years ago.
Dave Holcomb is excited to join The Hockey Writers team, covering the Pittsburgh Penguins. Holcomb began his NHL work as a fantasy columnist at The Sports Network. In 2015, Holcomb joined the fantasy NHL team at FanRag Sports, where he eventually worked into a beat writer position, covering both the New York Islanders and Pittsburgh Penguins. He continues to cover the Metropolitan division, along with the NFL and Syracuse basketball, for FanRag Sports. To find more of his work, follow Holcomb on Twitter at @dmholcomb.