Marian Hossa is one of the most respected, dominant and popular players on the Chicago Blackhawks. His NHL career has spanned nearly two decades and has been nothing short of NHL Hall of Fame worthy. Here are five things to know about the most recent NHL player to reach the 500-point milestone.
1. Third Time's the Charm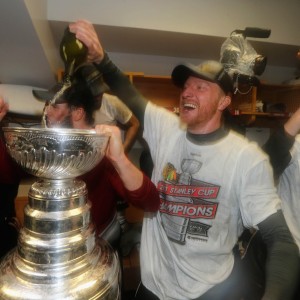 Hossa came to the Chicago Blackhawks in the 2009-10 season and won his first Stanley Cup that year after playing in the NHL for over a decade. He appeared in the Stanley Cup Final three years in a row, the first two ending without a Cup. The first was as a Pittsburgh Penguins star where his team lost to the Detroit Red Wings; the second was as a Red Wings forward and they lost to the Penguins. The third was as a Blackhawks member when they defeated the Philadelphia Flyers. What many don't know is Hossa needed convincing to sign with Chicago. He believed he would receive a better deal if he remained a free agent throughout the 2009 offseason, but his manager, Ritch Winter, convinced him otherwise. Three Stanley Cups later, it's safe to say Hossa made the right choice to sign with Chicago.
2. 44th to 500
Reaching the 500-goal mark is not only a remarkable accomplishment for an NHL player, but a rare one as well. Hossa became the 44th NHL player to reach the mark on Oct. 18, 2016, against the Philadelphia Flyers. The goal resulted in immense praise from Hossa among his teammates, yet he remained humble.
When asked how the massive achievement felt, he responded, "I'm just glad to be a part of the company and I thank all my teammates who I played with."
The Blackhawks celebrated the achievement with a pregame ceremony on Oct. 30, 2016. Hossa's family was present and his youngest daughter, Zoja, stole the show when she pinched his nose mid-ceremony. The 500-goal mark also lands him in the same category as NHL legends, such as Wayne Gretzky, as well as Blackhawks legends, including fellow Slovak, Stan Mikita.
3. Age Is Just a Number
It is no secret that Hossa is one of the most dominant players in the NHL. What makes this truly remarkable is his age. Hossa is 38 years old — most NHL players retire before reaching 38, yet Hossa is still in his prime. To put his age and length of NHL career into perspective, he was drafted in 1997, the same year Connor McDavid was born. Despite hockey becoming a young man's game more and more each season, Hossa is the exception to the rule.
Hossa's remarkable season has received praise from all over the NHL, including St Louis Blues head coach Ken Hitchcock. Hitchcock has been an NHL coach for almost as long as Hossa has played in the NHL and has watched him closely. When asked about him, his response was nothing but positive. He told the Chicago Tribune:
"I coached against him when he was like (Peter) Forsberg, when he could literally just go around the rink with the puck and nobody could check him," Hitchcock said. "When he was with the (Senators), he was completely dominant. Now, he's smart-dominant. This is a perfect example of the professionalism of a player. He has such a good mind for the game, and sense of timing, that until the day he hangs it up … he's just going to be a good player all the way."
4. Hometown Full of NHL Stars
Hossa's hometown of Trencin, Slovakia is home to a handful of hockey legends. Boston's Zdeno Chara and Los Angeles's Marian Gaborik also hail from Trencin. All three grew up when Slovakia was Czechoslovakia, and during the economic pitfalls of the communist regime, hockey was one of the few ways to have fun growing up.
Trencin is known to be a hockey town, seeing six Stanley Cup celebrations since 2008. Trencin is also hometown to Slovak hockey legend Pavol Demitra, who passed away in a plane crash in 2011. Hossa, Chara and Gaborik paid tribute to both Trenčín and Demitra shortly before the World Cup of Hockey, where they all played for Team Europe.
5. He May Retire as a Legend
Hossa is, without a doubt, a future Hall of Famer, but with his current pace, he may retire as one of the league's top scorers. Hossa currently has 517 career goals and has surpassed many legends in career goals this season so far, including Chicago's very own Jeremy Roenick. As the goals pile up, Hossa may very well reach 541 goals before the end of his NHL career — the same number of goals Blackhawks legend Stan Mikita retired with. If Hossa can retire with more goals that Mikita, he will retire as both an NHL and Blackhawks legend.