Justin Schultz signed on for three more years with the Pittsburgh Penguins this Saturday. His contract is no Carey Price-style bank-breaker, but it's not chump change either.
The deal's $5.5 million average annual value makes Schultz the fifth-highest-paid player on the team, cheaper only than Evgeni Malkin, Sidney Crosby, Phil Kessel and Kris Letang. That's a $4 million raise from what he was making in the 2016-17 season and a loud vote of confidence towards a player who was once known as one of the most disappointing turnouts in the NHL.
Schultz's History
The Penguins originally received Schultz from the Edmonton Oilers for the low, low price of a third-round draft pick. Why were the Oilers okay with letting Schultz go for such a small return? To put it simply, it's because he was wasn't very good. In 248 games with the Oilers, he averaged a plus-minus score of minus-19. He did hit about 30 points per season, but as one Edmonton journalist said, he was "costing the Oilers a goal every other game."
His painful plus-minus totals were part of the reason the Oilers were fine with getting rid of him. They also improved almost immediately once Schultz came to Pittsburgh.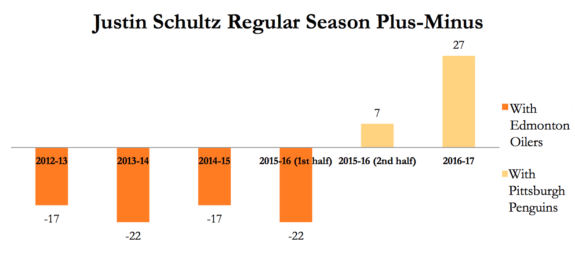 After the mid-season trade, Schultz finished his first 18 games with the Penguins with a plus-7 rating and eight points, both of which were fine. But he was vital in the 2016 playoffs, and in the 2016-17 regular season, he improved from satisfactory to stellar. His 51 points in 78 games made him by far the most productive defenseman on the team, and his plus-27 plus-minus rating was the best of any Penguin. He stepped up when Kris Letang was injured, becoming not only a top-four defenseman but also a key point on the first power-play play unit.
What changed between the Oilers and the Penguins? Who knows. Maybe that fresh Pittsburgh air agreed with Schultz. Maybe he was able to settle into his role better when he wasn't expected to be in a top defensive pairing. Either way, Schultz' 2016-17 season with the Penguins was very good. More importantly for the contract, it seems like it was sustainable.
Sustainability of Production
Sometimes players have very good seasons that are less an indication of a promising future and more an indication of good luck. Take the Washington Capitals' T.J. Oshie, for example. Oshie had a career-high 33-goal season in 2016-17; Capitals management saw that and signed him on for eight more years.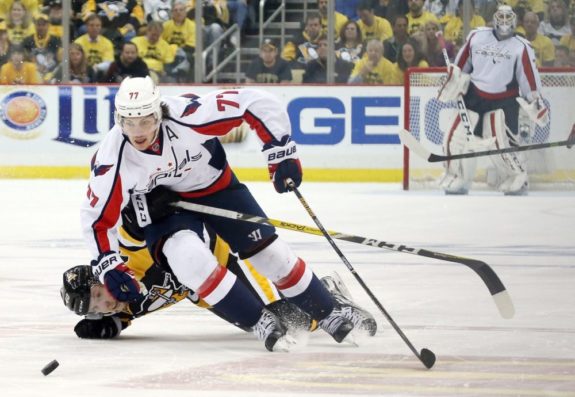 But there's a problem with Oshie's productive season; he ended that run with a 23.1 percent shooting percentage. His shot total didn't go up, but his accuracy skyrocketed. That high of a shooting rate indicates that Oshie's 33-goal season is unsustainable. The ridiculous shooting percentage combined with the unchanged shot total and the fact that his ice time has been slowly dwindling over the past few seasons mean that he is very unlikely to hit that mark again.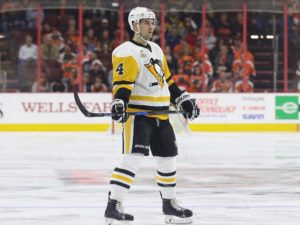 Schultz's numbers tell a different story. Despite the fact that he is supposedly assuming a less dominant role with the Penguins, Schultz has continued to average over 20 minutes per game, similar to the ice time he saw in Edmonton. And in last season's 12-goal, 51-point season— both career highs for Schultz— he was shooting at 7.8 percent accuracy, a high but not unsustainable number. Instead of just shooting more accurately, he was also shooting more overall—a good sign for his confidence as an offensive defenseman rather than just for his luck on the season.
Schultz's 2016-17 season showed that he's good, not that he got lucky. He could very well be looking at another 50-point season in 2017-18, and the Penguins were right to lock him down.
It Was Time for Schultz's Raise
Schultz saw a precipitous raise from his last contract, this time raking in $4 million more per year. But remember that Schultz most likely could have signed with other teams for far more than his 2016-17 one-year contract with the Penguins. He decided to stay with the Penguins to get another shot at the Cup. It paid off, and now it's time for him to get paid.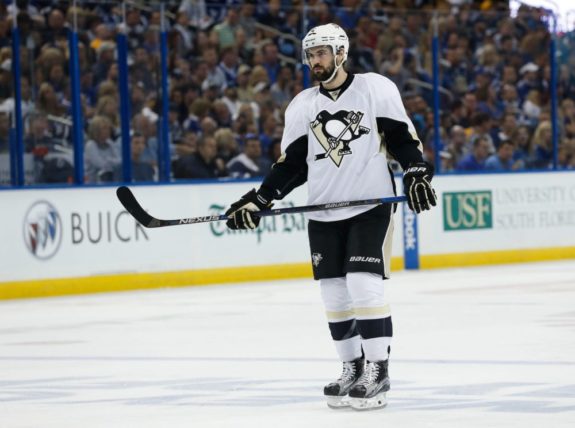 If Schultz's 2016-17 contract was a chance to prove himself with the team, he succeeded. For the top-four role that Schultz will play with this team, $5.5 million is a reasonable price and three years is a reasonable term.
The Penguins have some offensive talents waiting in the wings to get their shots at the big league, but a talented defenseman who clicks with the team is not common in the Penguins organization, a flaw which the 2016-17 playoffs exposed very well. This signing was a necessary one for the Penguins.