Erie Otters over-ager captain Kyle Pettit is ready to take the next step.
After five seasons in the Ontario Hockey League, Pettit will move on. Where will he play when October hits isn't certain yet, but a recent invitation to an NHL development camp with the New York Rangers may provide a hint.
Pettit Drafted by Canucks in 2014
The Vancouver Canucks drafted Pettit in 2014 with the 165th overall selection. That was four spots below where he was ranked by NHL Central Scouting. He attended the Canucks' development camp in 2014, but was nursing a shoulder injury and didn't go through testing.
Canucks GM Jim Benning visited Pettit in Erie in the 2014-15 season. The center returned to Vancouver's camp in 2015 despite breaking his knuckle a few months earlier.
However, the Canucks failed to sign him last summer. An NHL free agent, he returned for his fifth year with the Otters.
Early in the season, head coach Kris Knoblauch named Pettit team captain.
In his fifth OHL season, Pettit potted career highs in goals (26), assists (28), points (54) and games played (66). He more than doubled his point production from the previous season.
Knoblauch called Pettit "the ultimate selfless player."
"He doesn't care about goals, assists, or personal awards. He just wants to do what's best for the team," Knoblauch said in the team's release.
New York Rangers Development Camp
As a result of his growth, the center earned an invitation to the New York Rangers' recent development camp. The camp wrapped up June 30. Pettit was one of 14 players invited and one of six OHL players in attendance.
Pettit is a native of Komoka, Ontario, about 10 miles outside of London. Prior to his junior hockey career, Pettit played for the London Jr. Knights organization.
Over the years, Pettit has steadily grown into a solid offensive center. Now 21, he finishes his OHL career with a total of 118 points. Nearly half of those points came in his last season. The Otters made the playoffs in four of his five seasons.
They were OHL Champions this season and made it to the Memorial Cup final.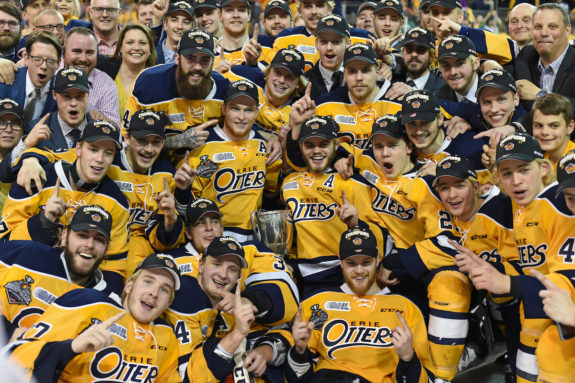 Pettit played with a number of notable players in his time in Erie. He entered the OHL alongside Connor McDavid and played with Andre Burakovsky, Connor Brown and Oscar Dansk. Dylan Strome later joined the team and held the captaincy prior to Pettit.
In addition to the captaincy, Pettit earned several honors during his junior career. Following this past season, OHL coaches voted Pettit best on faceoffs, the best shot blocker and the second-best penalty killer in the Western Conference.
In 2016, the league's coaches named him best defensive forward and second-best penalty killer in the conference. He was named the best on faceoffs in 2015, along with second-most underrated player and third-best defensive forward in the conference.
What's Next?
Kyle Pettit is a big centerman (6-foot-4, 200 pounds) who can hold his own at both ends of the ice. His role in Erie developed over the years. Despite his injuries, he's typically been a model of consistency. Whether playing alongside big-name skaters or making a name for himself, Pettit plays an honest game and knows how to use his size.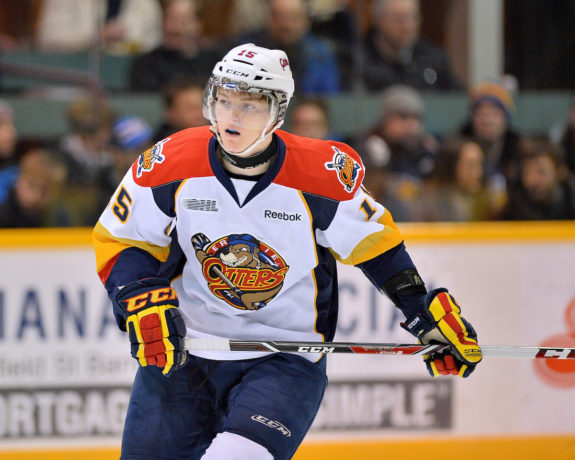 Pettit's future at this point is unknown. If he gets an NHL contract offer from the Rangers, he'll likely play for their AHL club when October rolls around. It's also possible that he gets an AHL deal from Hartford or another team. Either way, his days in junior hockey are over and it's time for Pettit to move on and move up.