It may not have been a successful last couple of the games for the Ottawa Senators, but more of their key players have been returning to their usual forms after slow starts from many of their forwards. There were three forwards in particular who were performing under expectations they had set for themselves during the last couple of seasons.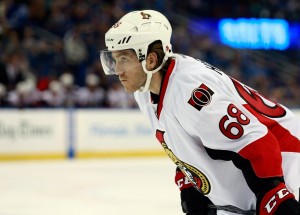 Since head coach Guy Boucher put them together to help them figure things out, the line of Mark Stone, Derrick Brassard and Mike Hoffman has been leading the team's offense as of late, scoring 10 out of the team's 17 goals since Nov. 11.
Despite having one of the best shots in the league, Hoffman has not yet scored 30 goals in a season, which is arguably the typical mark that one should reach to be considered an elite goal scorer. Playing in his third season, this may be the year that he will reach that mark.
Recent Successes
He scored 27 and 29 goals, respectively, in his two full NHL seasons so far, so reaching the 30-goal mark would be a good achievement for him and a sign of his progress as a pure scorer. There are a few positive signs that point towards hitting 30 goals being realistic.
What has been as noticeable as Hoffman's goal scoring during this hot streak is his passing ability, made excellent by his chemistry with his line mates, Brassard and Stone. In addition to his five goals in his last six games, Hoffman also has five assists, four of them being primary assists. If this line can stay together and continue to build off their skills as a unit, it could pay huge dividends for the Senators in their quest for the postseason.
With the chemistry he has with his linemates and the team's better commitment to defence, Hoffman's all-around game has been showing improvements — something many people thought would be impossible.
Coaching Mike Hoffman
A storyline heading into the beginning of the season was Hoffman reuniting with his old junior coach who helped develop his game on his way to the NHL. Hoffman had Boucher as a coach during his junior hockey days with the Drummondville Voltigeurs and played his best hockey under his tutelage. Before Boucher came onboard, it seemed that Hoffman's hockey career would go nowhere after previously being cut by two teams from two different leagues.
So when Boucher joined the Senators as the team's new head coach, many equated their reunion to Hoffman scoring up to 35 or 40 goals this year. Scoring at least 35 would be a significant step forward and would cement him as one of the league's elite.
If there would be one thing preventing him for setting a new record for himself, it is the fact that so far this season, the Senators find themselves near the bottom of the league in goals for, the polar opposite of where they've been in the last couple of years that Hoffman scored his 27 and 29 goals. Although the improved defensive game has allowed the team to remain in a playoff spot up until this point, every players' offensive production has suffered because of it.
However, the team ranked much lower in offense just a couple of weeks ago. There have been times when the Senators have opened up their offence by a significant amount, such as in the 5-4 loss to the Buffalo Sabres or the 4-3 win against the Montréal Canadiens. If the Senators can find the ideal balance between offence and defence, 30 goals should be little problem for Hoffman as he continues to play during his prime.