The Colorado Avalanche are arguably one of the NHL's biggest enigmas. Possessing a solid core of three of the NHL's top young players and a former Vezina Trophy finalist in net, the Avalanche took the NHL by storm in 2013-14, finishing in first place in the Central Division and earning head coach Patrick Roy the Jack Adams Award as the league's top coach. Despite their first round playoff exit that season, their combination of a promising young roster and the team's first division title in over a decade created a wave of optimism.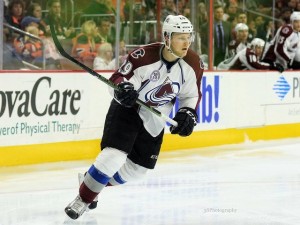 Fast forward to 2016-17, and the Avalanche are barely treading water in comparison to their dream 2014 season. Matt Duchene, Gabriel Landeskog, and rising star Nathan MacKinnon remain the offensive leaders of the team, but Semyon Varlamov has seen his star fall in recent years and is now entrenched in a timeshare with young backup Calvin Pickard.
Roy is out as head coach, leaving the team just before training camp opened in August. Colorado has now missed the playoffs in consecutive seasons, and have opened the 2016 season on a cold streak, currently sitting in last place in the Central Division and tied for the fewest points in the entire NHL. Colorado has the pieces to be competitive, but they continue to struggle through mediocre seasons.
Change in Leadership
Roy's impressive coaching debut led to his first Jack Adams Award, but there's reasonable evidence to suggest Colorado's overwhelming success in the 2014 season was largely the result of some fortunate luck. Colorado's PDO (team shooting percentage + save percentage) was the second-highest mark in the entire NHL, a full 2.1-percent above the league average.
One of the main narratives surrounding the Avalanche in the past few seasons has been their inability to maintain a solid Corsi mark — a possession metric widely accepted to be one of the best predictors of future team success. That trend held true in the 2013-14 season, with the Avalanche holding a 46.6% Corsi mark, good for 27th in the NHL.
Roy failed to improve on that in his second and third season at the helm of the Avalanche, as Colorado posted the second- and third-worst team Corsi percentages in the NHL in the following two seasons, only ahead of Buffalo's all-time low mark of 38.0-percent in 2014-15. Roy's somewhat eccentric coaching tactics also garnered their fair share of detractors, from his outspoken criticism of one of his top players celebrating a late-season goal to his tendency to give his goalie an early hook.
Roy may have left the Avalanche of his own accord, but his departure late in the offseason suggests it was far from on his own terms. One of Colorado's largest pitfalls in recent seasons has been their lack of quality depth players, but general manager Joe Sakic did little to address that issue in the offseason and instead, hired one of the league's most promising young coaches to right the ship in Colorado.
Draft-Day Struggles
The Avalanche possess three of the league's young stars in Duchene, MacKinnon, and team captain Gabriel Landeskog, but their inability to unearth NHL players in the later rounds of the draft has left them with a bare prospect cupboard and little depth at the highest levels of the minor leagues.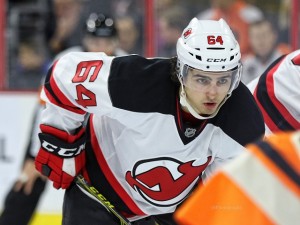 Aside from top defenseman Tyson Barrie, the Avalanche have struggled to draft and develop defenseman, which has left them with one of the league's weakest bluelines in three consecutive seasons.
Barrie and Johnson have remained as the team's top two options on the back end in the last three years, but the rest of their blue line corps have been filled with marginal names such as Andre Benoit, Nick Holden, and Zach Redmond.
Chris Bigras, the team's second-round pick in 2013, broke into the NHL last year and showed signs of becoming the left-handed top-four defender Colorado has been searching for, but more is needed before Colorado's biggest weakness can be considered improved.
Further exacerbating the Avalanche's struggles is their complete lack of success at the draft table. Since 2011, Colorado has drafted just two players outside the first round that have played more than 10 games in the NHL. Bigras, currently developing in the American Hockey League, played 31 games for the Avalanche last season. The second player, Joseph Blandisi, was released to free agency after the Avalanche didn't tender him a contract in 2015.
Beyond their failure to improve their defense, Colorado's forward depth has stagnated and been one of the team's biggest weaknesses. Beyond their top three forwards, Colorado was often found with Carl Soderberg and a revolving door of wingers alongside Duchene providing secondary scoring. Mikko Rantanen, the team's top pick in 2015, has returned to the NHL with a purpose after tearing up the AHL last season, but Colorado's prospect cupboard remains relatively empty.
Directionless?
The Avalanche are stuck in purgatory, not quite good enough to be a contending team but too talented to compete for a top pick in the draft.
Sakic seems to have made a solid draft selection with 2016 top pick Tyson Jost, but he's made a string of questionable decisions in recent years that have left the Avalanche without a clear direction.
He had a golden opportunity to replenish Colorado's prospect cupboard when he moved star centre Ryan O'Reilly, but over a year later, it's painfully apparent that the Sabres got the best of the Avalanche in that move.
Mikhail Grigorenko hasn't progressed as expected and is now thought to be a prime candidate to be selected in the upcoming expansion draft. Nikita Zadorov, thought to be an answer to Colorado's search for a top defenseman, has continuously failed to earn the trust of Colorado's brass with his uninspired play on the blue line. JT Compher is a great prospect that could become a solid secondary scorer for Colorado, but he's still developing in the AHL and remains a wild card for the Avalanche.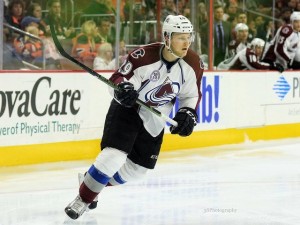 It's clear much work needs to be done to turn the Avalanche into serious contenders. They have the makings of a solid team if Nathan MacKinnon can continue his ascent into superstardom, as Duchene and Landeskog have both established themselves as consistent contributors in the tough Western Conference.
While Varlamov has regressed from his Vezina-worthy 2014 form, Pickard has shown brief flashes of brilliance and given hope that Colorado will be well-positioned in net even after potentially losing Varlamov to the expansion draft next June. With a brand new and well-regarded coach heading up the team, the Avalanche have a chance to turn themselves into serious playoff contenders in the next few seasons if everything goes according to plan.