Just like everyone predicted, right?
Of course everyone saw this start coming for the Columbus Blue Jackets. By everyone, I mean hardly anyone. The Jackets enter Saturday's game in Arizona with the fewest regulation losses in the league with five. They are the biggest surprise in the early season.
I thought now would be a great time to revisit our summer Pressure Points series. In it, we tackled eight hard questions the Blue Jackets had to answer. Given the incredible start they are on, it seems we have gotten positive answers to these questions.
We will focus specifically on the goaltending questions we asked here. If the Blue Jackets were going to enjoy any level of success this season, it started in net. Let's review.
Sergei Bobrovsky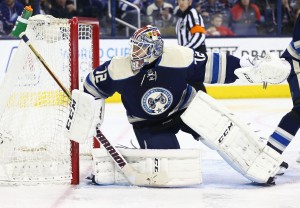 We started the series by asking the most important question facing the Blue Jackets. Would we see vintage Sergei Bobrovsky? Could he avoid the injury bug? If so, how many games would he play? Will the team be cautious with him?
Let's see. Vintage Bobrovsky is back. He has avoided injury to this point. In the team's 22 games, Bobrovsky has started 20 of them, amassing a record of 13-5-2 with a 2.08 goals-against average and .929 save percentage. And no, the team has not been cautious with Bobrovsky.
He's been nothing short of spectacular so far. He's a major reason the Blue Jackets are in the thick of the race.
We saw him before the season against the world's best players in the World Cup of Hockey. Although his team lost to Canada, Bobrovsky shined on the big stage, showing that he was past last season's struggles. He was Russia's best player. He has carried it over to the regular season in a big way.
Many are still concerned about playing him so much. It doesn't matter what sport it is. If you're out there, you're always at risk for injury. You can't back off out of fear. Bobrovsky and the team took the summer to change some things up in the routine. The result was a slimmer, faster Bobrovsky. One could argue that he was too muscular. Regardless, he's back to form this season. At least to this point, the team gets an A+ for how they've handled this. Nothing wrong with riding your horse.
Torts on Sergei Bobrovsky's workload so far: pic.twitter.com/TBM15IcNGN

— Columbus Blue Jackets (@BlueJacketsNHL) November 29, 2016
The Backup Goalie
Now this one is interesting. Curtis McElhinney has appeared in three games, starting two of them. He has a record of 0-0-2. He has a 2.09 GAA and .925 save percentage. Given the questions surrounding Bobrovsky's health, why hasn't he played more? His numbers this season look good.
In Pressure Points, we outlined the struggles of the backup in Columbus. McElhinney was hot and cold. His lack of consistency hurt the team, especially when Bobrovsky was out.
McElhinney won the backup role at the start of the season. At least to me, that signaled Bobrovsky was full-go. McElhinney is a spot starter at this point. His two starts have come against Western Conference opponents — the St. Louis Blues and Colorado Avalanche. Both were the second half of back-to-back games. Fact is, he's been good to this point. Even John Tortorella had a nice quote about this after the St. Louis game.
Torts not happy. Not enough from some top guys. Praised Curtis McElhinney's effort in a tough spot: "How can you not play for him?"

— Rob Mixer (@RobMixer) November 6, 2016
But, because of the way the schedule works out as we close out 2016, you can continue to expect a heavy dose of Bobrovsky. The Jackets play just two back-to-backs in December. I don't expect McElhinney to start more than twice this month. That's even a stretch.
Back to our original question. Why aren't we seeing McElhinney more? In my mind, it's simple. Bobrovsky gives you your best chance to win. McElhinney is not a 1-A candidate.
Now here's where it gets interesting. Given how the rest of the team is looking, what is the biggest area of need for the Blue Jackets? Many would have thought center, but look at what Alexander Wennberg has done. No, the biggest need is a capable backup who can start more games to give Bobrovsky a rest.
Joonas Korpisalo and Anton Forsberg each need more time in the American Hockey League. If Bobrovsky were to get injured, the team needs someone who can start several games. Now, who could be available?
I have a theory for you to consider. Keep an eye out for Sabres netminder Anders Nilsson. What would one look for in a backup goalie via trade? First, what's his contract status? Nilsson is an unrestricted free agent after this season. Check. Next, how has he performed this season? Nilsson is 4-2-2 with a 2.30 GAA and .934 save percentage. He is the current backup to Robin Lehner.
For those of you who enjoy the scouts listed here they are…BOS, NSH, MON, ANA, NYR (2), VAN, CBJ, LV, and TOR (2)

— Chad DeDominicis (@CMDeDominicis) December 1, 2016
The point here is that a player like Nilsson fits the mold of what the Jackets could be interested in. Now, an interesting note to consider. The Blue Jackets have had scouts in Buffalo throughout the season. Most notably, they were in attendance when Nilsson shut the Florida Panthers out 3-0 on Oct. 29. They were also there to see him beat the New York Rangers 4-3 this past Thursday. Is there a match there? We don't know. But file this one away for future reference, especially if the Jackets seek an upgrade behind Bobrovsky.
Bobrovsky is the Blue Jackets MVP of the quarter season. If he continues on this pace, he at least will get Vezina Trophy consideration. Now how will the backup situation shake out? We'll all find out together.