In many ways Mike Matheson is like any other normal 18 year old kid. He's halfway done with his freshman year of college and after a stressful week of exams he is headed home to be with his family like so many other college students on break for the holidays. However, Matheson isn't just any ordinary student; he is in fact the potential future of the Florida Panthers' defense.
Taken 23rd overall in the 2012 NHL Entry Draft, Matheson is currently playing hockey for Boston College of the Hockey East Conference. While former first round picks Jonathan Huberdeau and Nick Bjugstad look to be the future of the Panthers' offense, Matheson was selected to be the key piece of Panthers' future defensive unit.
Such lofty expectations would weigh heavy on the minds of most 18 year-olds and understandably so, but Matheson keeps cool under the pressure as he strives to better himself as a player both mentally and physically. After completing his first semester at Boston College, Matheson was kind enough to answer a few questions for me before heading home for a much deserved holiday respite.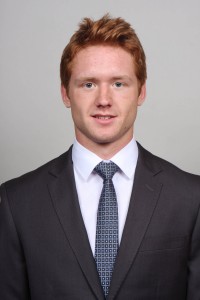 Q: Boston is known for not only being a huge hockey city, but an incredible sports city in general. In a town that is so used to titles in all major sports do you feel more pressure playing in Boston than you have in your other stops during your young career?
A: "Boston is a great area to play sports in because of how much attention they get. It's fun to play in a city where people care about their team and come out to show their support. Athletes enjoy pressure like that because it brings the best out of them."
After completing his final season in the USHL (United States Hockey League) Matheson had a tough to decision to make. Should he stay in his native Quebec and begin playing in the QMJHL or pursue other options for his hockey future? In the end, Matheson decided to enroll with perennial collegiate hockey power and defending National Champion Boston College.
Q: What factors lead to you deciding to play hockey for Boston College rather than playing in other leagues such as the OHL or QMJHL?
A: "I thought that I would be able to develop my game the most at BC. The schedule allows me to get into the gym a lot more often. I know I need to get bigger physically, while also continuing to work on my speed. A little less games also lets me get on the ice during the morning to work on extra things as well."
However, for many athletes college is just a tool used to improve their skills well enough until they are ready for the pro level. Thankfully for Matheson, the Panthers' aren't quite in need of his talents just yet. However, if called upon in the coming years would he leave his education behind in hopes of succeeding at the NHL level?
Q: Do you envision yourself graduating from Boston College, or is collegiate hockey more of a stepping stone on your way to the NHL?
A: "I'm not sure what will happen towards me graduating or not. I see that as an area that I will deal with year by year. It won't help me to think of that during the season though. All I can control right now is making sure that I am doing everything possible to get better and to help my team as much as I can."
While his play style could change both through coaching and improved size, currently Matheson has established himself as an offensive defenseman with a stellar slap shot that Panthers' fans will grow to love. In just 14 games this season for Boston College, Matheson has already amassed 10 points (4G 6A). He has the potential to be a power play scoring specialist much like Jason Garrison was for the Panthers this past season.
Q: What current NHL player do you most model your play style after, and in what areas do you hope to improve on while at Boston College?
A: "I have always watched players like Brian Campbell and Kris Letang as people to model my game off of. I think I have to continue to work on my defensive game. I also have to improve on little areas all over the ice that need work. For the most part, those little things would be working towards my positional play."
After being taken in the first round of the 2012 NHL Entry Draft, Matheson became part of a young but welcoming Panther organization with hopes of Stanley Cups on the horizon. While the team is still waiting on future prospects to ripen, current NHL players like Stephen Weiss, Brian Campbell and Kris Versteeg have been outstanding in their efforts to push to Panthers toward relevance.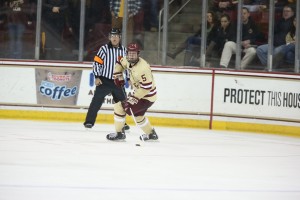 Q: What current Panther player do you most look forward to playing with when you do make the jump to the NHL? And have any current or former Panthers given you any advice since draft day?
A: "As someone I have watched for a long time, it would be really special to be on the ice with Brian Campbell. Hopefully one day that is possible, but I would have to make sure I don't get caught watching him instead of playing. Former captain Brian McCabe has been incredible since the draft. He has been there for me a lot with little areas here and there. I have also been speaking to Brian Skrudland on a regular basis, who will do absolutely anything for every player within Florida's organization. I am very fortunate to be surrounded by those types of people."
Former and current players like Brian McCabe could end up being invaluable to Matheson's development toward becoming a star NHL defender. However, as much fun as it is to envision Matheson taking the ice in a Panthers' jersey, there are still many challenges awaiting him at the collegiate level. One of these challenges will be playing under the shadow of an intense rivalry. Luckily for Matheson, the Boston College vs. Boston University rivalry or "Green Line Rivalry" is one of the best in college hockey. In his first taste of this epic battle for Boston, Matheson netted a beautiful slap shot goal in the second game of a home-and-home series to give Boston College a beautiful statement win.
Q: What has it been like playing in the BC vs. BU rivalry both in victory and defeat?
A: "The BC, BU rivalry is really special. Going into the weekend I was thinking of the fact that it is weekends like those that are why players want to play for BC and BU. Our games are fast, intense and exciting. As an athlete, there is nothing better than playing against your rival. It's always a packed rink with loud crowds. They are really fun to be a part of. It was interesting to lose one of those games, but also win another. When we play BU, emotions are everywhere and after losing that first game, it made us want the second win that much more."
Mike Matheson clearly has the right mindset and determination that is needed to make it to the NHL, but only time will tell if his decisions and work ethic will pay off. Until then, Panthers' fans should keep a close eye on Matheson as he rapidly becomes a force to be reckoned with at the collegiate hockey level.
Any fans looking to keep up with Mike should follow him on twitter @MMatheson7